HAL'S HAVEN, INC.
MAKE YOUR TAX DECUTIBLE DONATION TODAY THROUGH PAYPAL BY CLICKING THE BUTTON BELOW
Here is what a recent adopter had to say:

Heh Linda, I have a question that I was hoping you could answer for me. First of all, our family seems more complete than ever before, you did a perfect job of placing our cat Lucky with the temperament of my 2 dogs, Bacci and Otis. They have a 'daily routine' that starts after being fed in the morning of chasing each other up and down the stairs and throughout the house (and yes, Lucky chases the dogs). Then in the evening when we are all settling into bed (me reading and snapping pictures) Otis and Lucky go at it for about an hour with jumping up and down off the bed and chasing each other. It's hysterical to watch and never has Lucky brought out the 'claws' but friendly swipes and pounces that Otis loves (and me too – thus the camera).

There is something that Lucky does though that I was wondering about. He loves to curl up with us watching TV and then starts purring and doing this claw-paw thing – up and down with the paws as if he is 'nesting'. He seems highly content, but wanted to make sure. Also, is it normal for a cat to want to lick your hands, face and to be 'in your face' a lot? This cat is the most loveable animal and is not what you would expect from a cat. Has fit in nicely with the dogs and seems to be taking on their behavior. Lucky has also gotten better about sleeping through the night, I think that it's all the activity he gets during the day – between outside entertainment and play with Otis and Bacci, seems pretty tired at night. (Yipee) Oh, and you should see us all run errands. With the dogs AND cat looking out the windows, it's a funny picture that I've got to take and send to you. Can't imagine what people think, but again, makes me smile and chuckle inside.

I've attached a couple of pictures, Lucky outside with the dogs (he LOVES the outside – of course he's on his leash) and play time.

Laura
Our Featured Pet...
MELLOW MEOW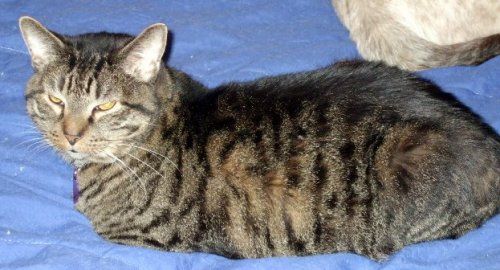 I am the mellowest, easy going guy you will ever meet. The only time I really get excited is when I think I am going to get some canned food (it does not bother me that I have lost my boyish figure). My human of seven years moved and decided she could not take me with her. She dropped me off at the local shelter. I am so large I was too big for the cages at the shelter. They called Hal's Haven to see if I could live free roaming in their main foster home. So in 24 hours I lost my human, went to the shelter (which was scary), taken to the vet for testing and then picked up by Hal's Haven and set free in a home with A LOT of cats and three dogs. Please save me from all of these frightening experiences and give me a loving permanent (Forever this time) home.
Approximate birthdate 1999
My adoption fee is $50 because I am special enough to have a sponsor. I am feline leukemia and FIV negative, neutered, up to date on vaccinations, dewormed, treated with Revolution.
If you inquire about one of our cats and do not get a response within 48 hours please call us as your message or our response is lost in cyberspace.
Help us raise funds by using the link below to order your pet supplies.
MOST OF OUR WONDERFUL ANIMALS ARE PULLED FROM THE DANVILLE BOYLE COUNTY HUMANE SOCIETY
If an irresponsible pet owner drops an animal at our rescue it will likely be turned over to the local Humane Society. An animal that is just dropped at the shelter runs the risk of being hit by a car, being attacked by wildlife or dying of starvation because it is too terrified to show itself.
Any cat/kitten not relinquished by their owner (strays, presumed strays, animals picked up because they are in a dangerous situation such as wondering animals likely to be hit by a car or outside in inclement weather, animals dropped at the shelter that are not immediately turned over to the local Humane Society) is placed on hold for seven days in order for their owner to claim the cat/kitten. We post "found" cats/kittens on our site with a date they will be released for adoption. We register all "found" cats/kittens with the local Humane Society in case the owner checks with them (as all owners should). We also watch for "Lost" posters and ads in the local newspaper. If an owner is found the cat/kitten is turned over to the local Humane Society for the owner to claim.
News
We have received our 501(c)3 status. This means that your donations are tax deductible. You can now verify our 501(c)3 status by clicking the following link Hal's Haven on Guidestar or sending a request by e-mail or snail mail. Your tax deductible donation can be sent to: Hal's Haven, Inc., 2122 Wells Landing Road, Danville, KY 40422. All donations go to caring for the foster animals. We are run strictly by volunteers, no salaries or overhead are paid.
Cats and Cancer
We have been rescuing cats and kittens for over eight years. The following story is one that everyone seems to love. I am often asked to tell this story at the American Cancer Society Look Good Feel Better programs.
In October 2002 I was diagnosed with breast cancer. Due to my age and the stage of the cancer I received chemo and radiation. Chemo started in December 2002. I promised my husband that I would not take in any animals that year because of the effects of chemo. He was unable to care for the kittens as he was working. Needless to say I got a phone call about a week before my final chemo treatment. There was a litter of three kittens less than a week old whose mother had been killed. I told them to bring the kittens to me. Kittens at this age need to be feed every two to four hours. I was usually gone for my chemo treatments for five to seven hours. What was I going to do with the babies who had to eat during that absence? I walked into my last chemo treatment with a kennel in one hand and a diaper bag over my shoulder. The nurses loved it. They came and got the babies and took them around the office showing them off. I do believe that was probably the first time (and only) this doctors office has had someone bring kittens to chemo.
Who We Are
We are a group dedicated to fostering orphaned kittens and finding permanent homes for orphan kittens and displaced cats. Most pets are fostered as family members and interact with other cats/kittens. Some of our cats are dog friendly as well. Cats in foster care may have different living conditions. Ask where the cat is fostered at. Once we accept a healthy animal it is kept until a permanent home is found. Any poor behavior is worked on to make the pet more acceptable in your home.
All purebred cats are pulled from high risk shelters and held in quarantine. Most purebred cats are then transported to approved breed specific rescues. If we do not have the cat or breed that you are looking for we can help you to find an organization with the cat/breed you are looking for.
We fully support our local humane society and solute them for the tough job they have to do. If you need to re-home your pet we strongly encourage you to work to find it a good and loving home. Only after you have exhausted all of your resources we encourage you to contact the local humane society. The cruel act of dropping your unwanted pet to exist on its own will likely result in its death due to starvation, disease or predation.
We cannot stress enough the need to spay or neuter your pet. Only when pet owners become responsible and spay or neuter their pets will we be on the road to having every pet be able to find a loving home. By spaying or neutering your pet you are saving the lives of unwanted kittens and puppies.
Adopting a friend for life
All kittens/cats adopted from Hal's Haven are spayed or neutered, up to date on vaccinations, de-wormed, treated for fleas and other parasites, tested for Felv and FIV, use to other cats and some are used to dogs.
We are a network of foster homes. An appointment is necessary to come and meet our cats.
Our adoption process is:
Potential adopters complete the application. Download our application here. You will receive an e-mail confirming receipt of your application.
The application is reviewed and information verified. A home visit may be made. Vet references are verified. Landlords are consulted to ensure that the pet is allowed.
The adoption agreement is signed and the adoption donation is paid after applicant is qualified. Adoption donations vary and depend on breed, age and veterinary care required. Download our adoption agreement here.
The kitten/cat is taken home.
A member of our team will call and/or visit to check on how everything is going.
---
HALS HAVEN, INC.
2122 WELLS LANDING ROAD

DANVILLE, KY 40422
Cell Phone: 859-319-2056


Email: lhudman@mis.net
Click here for a list of pets at this shelter

---

[Home] [Information] [Shelters] [Search]