Click here to learn more about Tap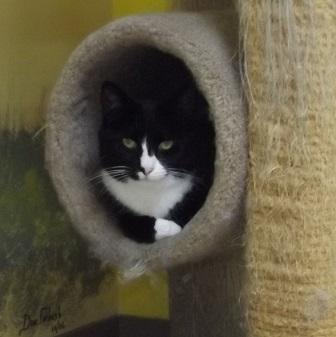 WHO ARE WE?
The Pope Memorial Frontier Animal Shelter is an almost entirely volunteer run organization that has been in operation since 1993. In the past the organization was run strictly out of foster homes but now we have a wonderful shelter in Orleans, Vermont. Our primary goals are to find loving, permanent homes for pets and to help control the pet overpopulation by having all the animals we adopt out spayed or neutered. We also hold a once-a-month spay/neuter clinic for cats. We have had thousands of cats and kittens spayed or neutered at our clinics.
OUR MISSION STATEMENT
The Pope Memorial Frontier Animal Shelter is dedicated to improving the welfare of the animals of Orleans and Essex counties by sheltering and caring for lost and unwanted animals, spaying and neutering, placing animals in humane environments, and implementing programs to provide services for the promotion of responsible pet ownership.
ADOPTING A FRIEND
All individuals in the home must visit the potential dog or cat they wish to adopt. If you have a dog (s) currently they must meet any dog you are looking to adopt here at the shelter at a scheduled time. To learn more about Frontier please visit our homepage: www.frontieranimalsociety.com. For adoptions inquiries please email us at animals@fasv.comcastbiz.net or call 802-754-2228. You can fill out an adoption application before visiting the shelter at this link: http://www.frontieranimalsociety.com/index.php/adopt/online-adoption-application-form or feel free to fill it out when you stop in during our open hours. Applications take 24-48 hours to process and no one goes home with an animal the same day they meet them unless they already have an approved application (from the past six months) on file.
ADOPTION FEES
Dog $150, Puppies $150.00 if already s/n, $200 if un-altered, (we will give you a voucher to have the puppy neutered for free at our local vet, $50.00 is then refundable with proof of spaying or neutering.)

Cats $95, Kittens $125 if un-altered, (we will give you a voucher to have the kitten neutered for free at our local vet, $30.00 is then refundable with proof of spaying or neutering.)

ALL Senior animals have discounted adoption fees. Call to ask about our Senior Incentive Program designed especially for senior pets (cats 6 and older, dogs, 7 and older, dogs/cats that have been here over a year) find home.

Age permitting, all animals are spayed or neutered before adoption. If an animal is too young for altering, we require an extra deposit of $50 if re-homed out of the state of Vermont. This will be refunded as soon as proof of spaying/neutering is provided.
COME VISIT US
Adoption hours are on Tuesday, Wednesday and Friday from 1 - 4, Thursday from 2 - 6, Saturday and Sunday from 12 - 3. We are closed on Monday. If you are unable to come in during our open hours, please leave your name, phone number and any other information on our voice mail (802-754-2228) and your call will be returned within 24 hours.
All surrenders are by appointment only. To do this, call 802-754-2228 for more information.
WHERE ARE WE?
Take exit 26 off of Interstate 91. Turn left toward Orleans and then right at the flashing yellow light, onto the Barton/Orleans Road. We are the 1st building on the right.
WHAT'S NEW?
We have a kennel full of dogs and condos full of cats! Come on in and check out the huge selection of animals, something for everyone. Large, small, young, mature, if you are looking for a new friend look no further!
HOW CAN YOU HELP?
No time to volunteer, canít have another animal??? You can still make a difference!!! Join the Keeper of the Kennel Club.
Make a donation to the shelter through our PayPal link! https://www.paypal.com/cgi-bin/webscr?cmd=_s-xclick&hosted_button_id=M5LMRWUZ7WUJA
For $25 per month or $300 per year, you can sponsor a homeless Dog or a Cat. You may choose the animal you want to sponsor OR have us choose one for you. Two posters will be made with your name or business name along with a picture and description of the animal you are sponsoring. One poster will be posted at the shelter , the other poster will be sent to you to keep or post at your place of business. Your name/business will also appear on petfinder.com, under the animalís description.
If you would like to be a Keeper, e-mail aniamls@fasv.comcastbiz.net or mail a check to Pope Memorial Frontier Animal Shelter with a note saying you would like to be a keeper, your name, address, phone number and e-mail address. Please indicate whether you would like to choose your animal or have us choose one for you. Include your mailing information and your phone number in case we have any questions.
Send it to: PMFAS, Attn: Keeper, 4473 Barton Orleans Rd., Orleans, VT 05860 or call us at 802-754-2228
Wish List :
-Dish soap -Laundry soap -Hand soap -Bleach -Paper Towels -Brooms -Mops -Cleaning Solutions -Dog Leashes -Catnip -Cat/Dog Toys -New cat boxes -Peanut Butter -Canned Dog Food -Canned cat food-the cats prefer pate in non fish flavors *Monetary donations are always greatly appreciated*
We use Patented Kuranda Dog Beds because they are durable, chew proof and easy to clean. If you would like to donate a bed to us, click here.