---
Our Featured Pet...
Our featured pet this week is:
FRANNIE PIE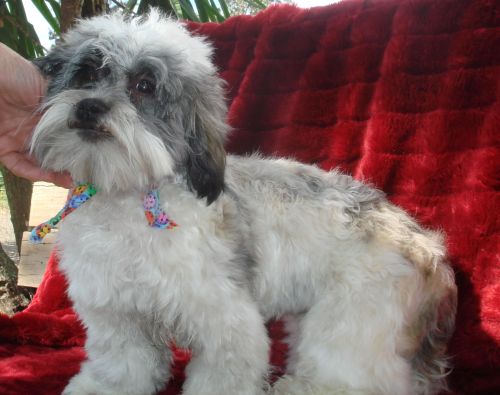 This one year old little girl Frannie PIe is just waiting to melt your heart. She is very special and a real sweetheart. But she has problems that perhaps caused two families to dump her before she was a year old - she has dry eye (keratoconjunctivitis sicca) a very common problem with certain small dogs & humans. She will need medications for life to stimulate tear production & to lubricate her eyes. She'll need meds (very easy to apply) at least 4 times a day. Her eyes are doing beautifully with us but have a way to go because they've been scarred because of neglect. (She looks adorable-you can't see scars.) She's a true lap dog and a great lover of dog toys, greets you in the morning with a toy in her mouth, ... She is a sensitive little gilr waiting for her very own special human to love and cherish her liek she deserves.

If you are interested in adopting FRANNIE PIE or any of our dogs, please complete our adoption application which may be found by clicking on the following:
http://www.shihtzurescue.org/application.htm

Our application can be completed directly online and submitted to our organization for consideration.

News
URGENT
We are in urgent need of foster homes in the Miami-Dade, Broward and Palm Beach counties. We will work tirelessly to adopt each dog that is placed in a foster home and we will pay for all the expenses. For every dog that we can place in a foster home, another dog can be saved - saved from the streets, saved from high kill shelters, saved from terrible, cruel home environments. Please consider becoming a foster parent. "How wonderful it is that nobody need wait a single moment before starting to improve the world." - Anne Frank

Shih Tzu Rescue has started a sponsor, guardian angel program for all of you who deeply care about animals but are not able to foster or adopt a pet at the present time.

To become a sponsor or guardian angel, you can choose one of the dogs on our Pet List or on our webpage. When sending in a donation, please list the name of the dog on your check. We will then update you on the progress of your sponsored pet and provide you with news and pictures. Any contribution, no matter the size, helps our pets by helping to provide food and medical care. "I cannot do everything, but I can do something. One person can make a difference." --- Anonymous

Thank You Section!

Who We Are
Shih Tzu Rescue, Inc. (also known as Shih Tzu and Lap Dog Rescue, Inc.) is a South Florida based 501(C)(3) non-profit, no kill shelter. Our organization rescues Shih Tzu's and other companion dogs and places them in quality lifetime homes. Although we originally began rescuing Shih Tzu's, we have expanded our rescue efforts to other small and large breeds due to the overwhelming need in the South Florida area. Shih Tzu Rescue, Inc. has been in existence since 1995 and has a wide assortment of small and larger companion dogs available for adoption. Most of our rescued dogs are either surrendered by their owners or rescued from animal control or a shelter. Some of our dogs have been rescued as strays - wandering the streets, tired, alone and hungry. We also accept dogs that have been deemed unadoptable - due to illness, temperament issues. Some of these dogs only need minor vet care and love while others require more extensive medical assistance. While we are based in Florida, we accept relinquished dogs from just about anywhere. Once rescued, dogs are neutered and given all required shots, tested for heartworm and then placed in foster homes or in our kennel until they are adopted.

All dogs accepted by our organization will stay with us until adopted. We are a 100% no kill shelter with volunteers who work tirelessly to find loving, forever homes for all of our pets.

With every pet that we rescue our goal is the same: to find a loving, forever home for the happiness of both the pet and its owner.

If there is a place in your life and heart for one of our wonderful pets, please complete our online adoption application (as detailed below). If you have any questions about a particular pet, please contact us at (954) 680-6456. Please note that we return many of our calls in the evening or the following day, please be patient as we are an all volunteer organization. You can also e-mail us at the following e-mail addresses:

mailto:contact@shihtzurescue.org

OR
Adopting a friend
Adoption Process
If you see a companion animal that you would like to adopt on our Pet List, please follow the steps listed below:

Step 1
Please complete our adoption application which can be found at:
http://www.shihtzurescue.org/application.htm

Or you can also visit our webpage at:
http://www.shihtzurescue.org/main.htm
and click on "Dogs for Adoption" and then complete our online application.

Please specify the dog that you would like to adopt (if interested in a particular dog). You must also include veterinary references when submitting your adoption application.

Step 2
Once we receive your adoption application, we will call you and arrange an interview to obtain further information and to determine if you are compatible with the pet you are interested in. If we determine that you are not compatible with the chosen pet, due to personality traits, we will advise you at this time. We may then suggest one of our pets who might be better suited for your lifestyle. Our goal is always to ensure a happy home environment for you and your pet.

We will set a meeting with you at which time you will meet the pet that you are interested in. You may come to our kennel in Davie once an appointment time has been set and get to know and interact with your selected pet.

Step 3
Once you have met your desired pet and your application has been submitted, we will arrange a routine home visit.

Step 4
Once all of the above has been completed and your application has been approved, you will be asked to sign an Adoption Agreement and provide the appropriate adoption donation. The donation for each pet is approximately $250-$400. This donation is used to assist other pets in our care to insure that they get the best care possible. All our dogs are up to date on their vaccinations, receive both heartworm preventative and flea treatment, are heartworm tested and spayed/neutered.

Please note that we only adopt locally in the South Florida area as we conduct home visits. Exceptions may be made based on need (this will be done on a case by case basis).

How You Can Help Us!
There are several ways in which you can help save the lives of all the companion dogs in our care. You can offer financial assistance, volunteer to help our organization, foster a dog in your home or adopt a dog.

Financial Contribution
---
Because we are a non-profit organization and the medical and housing needs of our rescued pets is so great, we rely on the generosity of individuals to help cover the costs of caring for these special companions. To help us realize our mission of saving the lives of these precious animals, please make your tax-deductible donation to us.


If you are reading this and think that your donation will not make a difference, please consider this: $1 will feed several of our dogs for one day, $5 will feed them for several days. Your donation, no matter how small, will make a difference. "Nobody made a greater mistake than he who did nothing because he could only do a little". - Edmund Burke

Volunteer
---
For those in the South Florida area who wish to offer their time, we can certainly use your help. Currently our most pending needs include: assistance at adoption events (managing dogs and interacting with public), fundraising, and shelter volunteers (attending to the dogs at the shelter-duties include walking, interacting and showing affection to the dogs). If you have some free time (whatever you can spare) and would like to really make a difference, please become a volunteer. Please send us an e-mail to:


mailto:contact@shihtzurescue.org

OR

mailto:ladrando@aol.com

Fostering a Dog
---
We are in urgent need of quality foster homes. If you live in the Miami-Dade, Broward or Palm Beach Counties and love dogs, please become a foster. We will pay for all medical expenses which may arise during the fostering period. All you have to do is show your foster pet attention, love and companionship. And have fun!!

To become a foster parent, please e-mail us at either of our e-mail address or give us a call. You will be asked to complete a foster application and provide veterinary references.

Adopt a Dog
---
Please give a homeless and unwanted pet a second chance. Please complete our adoption application and a volunteer will contact you as soon as possible. If you do not receive a response right away, please be patient. We are an all-volunteer organization. Also keep in mind that we put the dog's best interest above all other considerations.

Education
---
Every day throughout the United States, wonderful, vibrant, healthy, loving companion animals are euthanized solely because there is not enough room in the shelters, not enough homes, not enough people to care for them. We urge everyone to spay or neuter your dogs and cats, please always adopt a rescued animal, do not purchase from pet stores or puppy mills, and, above all, make a lifetime commitment to your pet.

"The greatness of a nation can be judged by the way its animals are treated". - Gandhi
---
Shih Tzu Rescue


Davie, FL 33325
Phone: 954-680-6456

Email:
"mailto:contact@shihtzurescue.org">
Click here for a list of pets at this shelter
---