Epic Blue Acres

Siberian Husky Rescue
---
---
Visit our offical website
---
---
Our Featured Pet...
This girl is deaf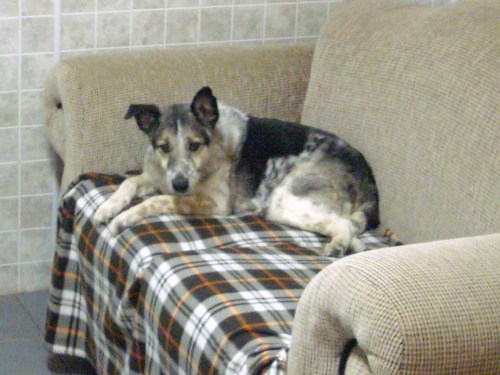 "Sonya"
Sonya just turned 13yrs old in April, she is a Black & White Siberian Husky with blue eyes. The vet says she is in great heath for her age & has a lot of life in her, that she proves when tearing around the yard with the younger pups. She has lost her hearing with old age due to a life full of ear infections not treated right away. She has yet to have an ear infection since at our rescue.She is a very sweet girl who loves people. She also loves the outdoors so a home with a big yard or someone who enjoys walks or hiking would be a good fit. She is great with other dogs but needs a home without cats, she was once attacked by a cat and is now scared of them. She is good in the car on short trips. Sonya may be an outdoors girl by day but loves to share your bedroom in the evening. If you are looking for a calm companion with a bit of spunk Sonyas your girl.
---
---
Who We Are
We are a non-profit rescue that takes in Siberian Huskies (and sometimes other breeds in desparate need) in need of a home and find them a new forever loving home.We are also here to assist anyone who has questions reguarding Siberian Huskies, so hopefully owners/ possible owners are more informed about the breed and less Huskies will end up in rescue. At Epic Blue Acres we feel every dog deserves a chance at happiness.NO DOG IS EVER EUTHANIZED DUE TO SPACE.We take in Huskies of any age.If a dog needs medical care or rehabilitation, that is usualy taken care of before they become adoptable.All of our available dogs-if age allows- have been altered, Heartworm, Lyme and Erlicia tested, vaccinated for DHLPP (Distemper,Hepititis,Leptospirosis, Parvo and Parainfluenza),Bordetella(Kennel Cough); implanted with a Home Again Microchip and on monthly flea and heartworm prevention.

We have no limitations on what area of the country a dog can be placed.Just make sure you are will to drive the distance to pick up your new friend if approved.We DO NOT SHIP dogs and must meet every family in person.
---
---
---
Is a Husky the dog for you?
We encourage anyone thinking of adding a Siberian Husky to their family to please make sure the breed will fit their lifestyle. The breed is quite independent and can be remarkably self-sufficient. Siberian Huskies, like most breeds of dogs, have a prey drive. Siberians will chase birds and small, furry animals, sometimes catching and harming them in the process. The breed is also not reliable off-leash, and no amount of training can make them so. They were bred to run 30 feet in front of a sled, making semi-independent decisions. Remove the sled and they will be gone. This is a very attractive breed, needing lots of exercise, and is a breed that is very unhappy left alone. An unhappy Siberian can be quite a destructive dog, so proper training and housing is necessary. Right from the beginning, obedience lessons are a good idea, so that owner and dog understand the boundaries and each other. This is a breed that thrives on POSITIVE training methods, and often is unfazed by negative methods. Finding a good trainer can be almost as challenging as finding a good dog.
The sad truth is that many Siberians are impulse purchases, and people who think they can live with one find out quickly how challenging it can be. Many very nice Siberians end up in rescue because of this fact. And remember, adding a dog to the family is a 8-13 year commitment. Do the research first in order to ensure success for the dog and your family.
So if you donít mind a lot of dog hair (twice a year) and would rather have a mischievous personality than the well trained Labrador Retriever type dog, a Husky may be for you.
If, after careful consideration, the decision to get a Husky is made, please fill out our adoption application.If you still have any questions feel free to contact us - questions before acquiring a dog make for a happier time after you get the dog.
---
---
Adopting a friend
Adoption Policy criteria:

If you are thinking about adopting a dog from us you can fill out an adoption application, as long as you can abide by the following-
The primary adopter is at least 21 years old.
Applicants that rent their homes must verify that they are permitted to have a dog and provide a landlord contact number on the adoption application.
A non-refundable adoption donation is required and an adoption contract must be signed at the time a dog is placed.
Adoption donations are not negotiable and payment must be made in full prior to or at the time of placement of the dog.
Applicants must provide veterinary reference(s) and contact the facility to authorize the release of their records to an Epic Blue Acres Siberian Husky Rescue representative upon request.
All potential homes must complete our application process including filling out an application and sign an adoption contract.A copy of the adoption contract will be provided upon request.
We are soley committed to the dogs in our rescue. We reserve the right to decline any application in the best interest of the dog being placed.
We do our best to accurately assess each dog; however we make no warranty of any kind, express or implied.
ALL dogs are available for adoption until an adoption application has been filled out, received, reviewed and approved by Epic Blue Acres Siberian Husky Rescue.A veterinarian must be listed on your adoption application unless you have NEVER owned a pet previously.
Adoption Donations / Fees:
Our adoption donation fees are different for every dog.It is determined by how much money has been invested into that particular dog. They normaly range between $100.00 - $400.00.Puppies can sometimes be more due to costly prenatle care of the pups and mother. We have no funding other than our adoption fees, our own pockets, and miscellaneous donations.
Epic Blue Acres Adoption Application :
Please cut and past to email or print, complete then fax back to us @ 716-791-3367
Click here for our adoption application
Applications are not based on 1st come 1st served.Approved applications are based on the best home for that particular pet and/or the best pet for your household/lifestyle.
We do reserve the right to refuse adoption for any reason
---
---
Our adoptable pets:
---
---
Can't adopt a dog? there are other ways to help
We are always looking for volunteers to come and help walk the dogs, exercise and play with them, clean kennels and just get the dogs use to different people.Play time at Epic Blue Acres is always filled with FUN for the dogs and people.Call us today if you are intrested in helping out some of these great dogs on their road to a better life (they deserve!)
Taking care of rescue dogs can be very expensive, as they normaly come to us with medical problems or other issues.Some people think that dogs are disposable, and when there "done" with them they no longer care about their health, condition or mental well being.You can make donations of toys, beds, leashes, collars, money (to help with medical bills) or just your time - the dogs love when visitors come to tell them how cute they are or what a good dog they are( for many they have never heard that till now).
DONATE:
Make all checks or money orders payable to: Epic Blue Acres
Or make a donation online with Paypal :
Besides the day to day costs of the dogs care -Your gracious donations are being used to help complete these projects:
-New Indoor Runs so the dogs can have a larger indoor area (and we can hold more dogs in need) during the cold winter months here

-COMPLETED : THANKYOU TO THOSE WHO DONATED Heated water Buckets : so they can have warm water available when they are able to play outdoors in the cold months

-COMPLETED THE PLAY YARD: A new expanded outdoor play area with a large dog pool- STILL NEEDED
---
---
Want more info on Huskies?
Visit The Siberian Husky Club of the Niagara Frontier
Visit The Siberian Husky Club of America
Powered by WebRing.
---
---
Fun Stuff !
Find out what dog breed YOU are-Take the test here
LIST OF PET NAMES -Just get a new pet and not sure what name fits the new personality
Make your own healthy dog treats-Heres how.....
1 Cup Oatmeal
1/2 cup hot water
1/3 Cup applesauce
1 1/2 Cup cornmeal
3 Cups Whole-wheat flour (if your dog is allergic to wheat use wheat replacer)
Mix Oatmeal, Hot water and applesauce for 5 minutes.Then add the rest to make a stiff dough. Cook in oven at 325 for 50 minutes in a greased pan (you can make small balls or pour into pan and cut into squares after cooked)
---
---
Help us to keep saving dogs-Visit our affiliates!
---
Help us by shopping! Buy Dog Collars, Martingale Dog Collars, Dog Leashes and more! We get a donation for each purchase you make at Pink Puppy Designs when you mention our name!
---
100% of all proceeds from Boarding go to Epic Blue Acres Siberian Husky Rescue!
Looking for that unique something that shows off your love & support of huskies? Check out our Rescue Store-where every purchase goes to save a Husky in need!

Help us by shopping! We get a donation for each purchase you make at Pink Puppy Designs when you mention our name! So don't forget to mention our name in the "Comments" box when you check out at Pink Puppy Designs!

---
---
Come Visit Us!
All dog viewing is by appointment only - an adoption application must be sent to us before an appointment can be made.

Map to our shelter

---

---
Epic Blue Acres Siberian Husky Rescue

2011 Balmer Road
Ransomville, NY 14131
Phone: 716-791-3367

Email: Epic_blue@juno.com
Click here for a list of pets at this shelter