Bagel (above) has been adopted So has Sonny.! You may be wondering why so many of the photos of our animals and adopters are missing in the adopted sections for dogs and cats. Petfinder lost them when they switched their server over to a new one. It would take us hundreds of volunteer hours, better spent rescuing animals, to repost them. We apologize to all of our adopters who sent photos of their animals in their new, happy homes. We still have them and appreciate them, even though they are no longer up on the web site.
News
Donations are needed to help people who cannot afford to spay or neuter their animals. A substantial donation is also needed from someone who understands the importance of spay/neuter as the only way to bring Baxter and Marion Counties animal population into balance, loves animals, and has the resources to fund a project of this nature. This would allow us to have an ongoing spay/neuter program of the type the Humane Society used to have. Donations of any amount are also appreciated to fund spay/neuter of stray, rescued, and the animals of folks unable to afford spay/neuter for their animals. Contact us at the number below, send your donation to the address below, or use the convenient PayPal link below to donate by credit card or checking account. Donations are tax deductible to the extent allowed by law. We can also use expired medical disposables, which can no longer be used on humans. Below are photos of our Spay/Neuter Clinic in operation, and some of the dogs who were helped by volunteers and donors to the Louis Animal Foundation..
Here is our 31 foot Winnebago Spay/Neuter Clinic vehicle in operation. Volunteers are shown preparing animals for surgery. The puppy, Lover Boy, is one from the House of Horrors.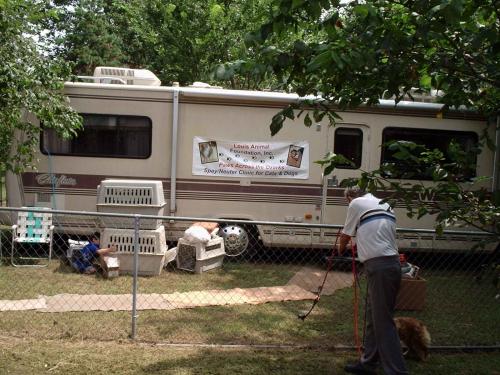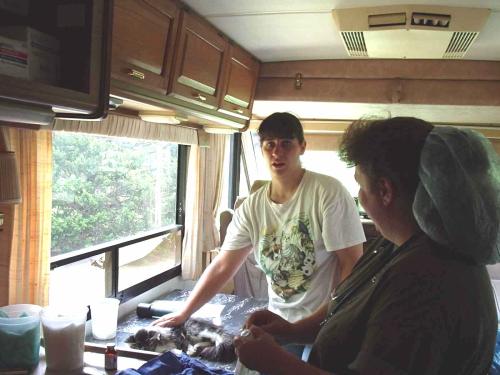 The next three photos feature Sophie, a poodle mix, and Mocha, a Chocolate Labrador mix.
Who We Are
The Louis Animal Foundation was created to provide a compassionate, practical approach to dog and cat overpopulation. We have converted a recreational vehicle for our mobile spay/neuter clinic, which travels through rural Arkansas, providing low cost or no cost spay/neuter services to senior citizens, families receiving public assistance, the disabled, animal rescue groups and shelters. Donate today to help someone who can't afford it to get their dog or cat spayed or neutered! All Contributions are Tax Deductible. The Louis Animal Foundation is a 501 (c) (3) Non-Profit Corporation. You can use the secure link below to donate using your credit card or checking account via PayPal.
We need donations of food and other supplies, crates, towels, etc! Donate to help all our animals or sponsor the individual animal of your choice. Even if you can't adopt today, you can help! If you are interested in adopting one of our animals, please call (870) 425-4825!
| | |
| --- | --- |
| | We have chosen Kuranda dog beds for our rescue homes because they are so good for our dogs. We still don't have enough for all of our dogs. If you would like to donate a bed so another dog can sleep in proper comfort, please click here. |