Doberman Rescue of New Mexico, Inc.
Serving The Southwest
Please Note: If you submit an on-line adoption application through www.dobermanrescuenm.org,
please allow 1 week for a response, we are short-staffed and all volunteer. Thank you.

November 2016
---
Our Featured Dog..Mistletoe!


Read more about Mistletoe on her page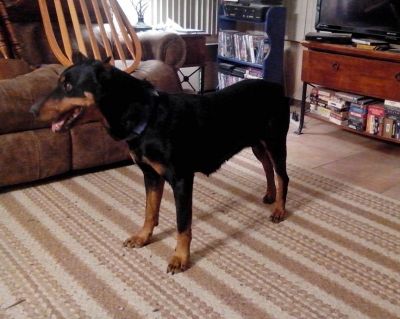 ---
Learn more about the Doberman breed, our adoption procedures, and complete our online application at our new website, www.dobermanrescuenm.org
ADOPTION SUCCESS STORY!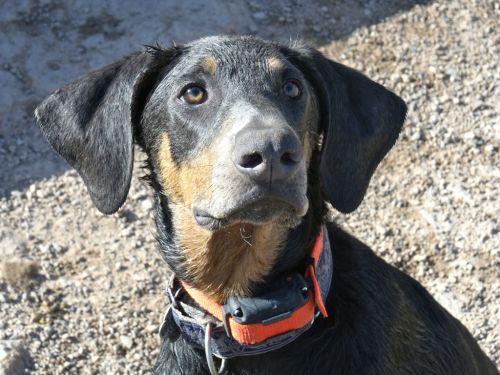 ---
This is Griffin and his Doberman Family:

Griffin was a Blue Doberman puppy that was rescued last year while still not fully grown. He is now a big boy rounding out 3 of the 4 colors along with Lillith (Red) and Von (Black). They live and frolic together in Tucson Arizona.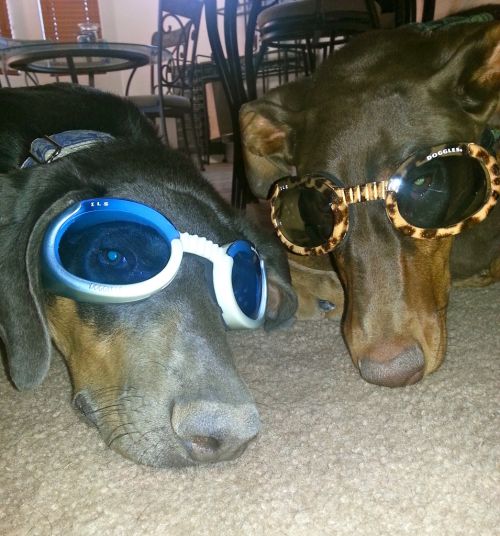 ---


Though Griffin was more tentative at first of getting wet, he has learned that it makes a great break for the heat of the Summer. Most Dobermans are not fond of water, so its always refreshing to see them....refreshing themselves.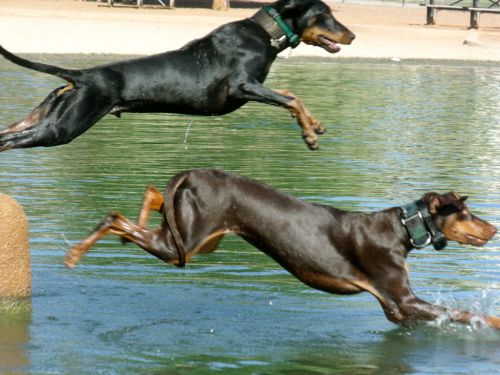 ---
Lillith and Von showing Griffin the way





AND, here is Kaspar, rounding out the 4th color...Fawn...another sweetheart that escaped life on a chain!

---




Doberman Rescue of New Mexico has a great need for additional foster homes that would be willing to foster a Doberman anywhere from several days to several months. Length of foster depends on how quickly we match up the right home for each Doberman. If you might be interested in fostering, please contact one of the reps in your area, listed below. Since we have no building in which to house rescued Dobermans, we depend on our foster caregivers. The number of Doberman we can rescue is dependent on available foster homes. Consider fostering -- it's one way that you offer the hope of a new life to a rescued Doberman!

Please check back periodically to see when we post new Dobermans needing homes.
Who We Are
Doberman Rescue of New Mexico, Inc. is an approved 501(c)3 non-profit organization. We use foster homes to care for displaced Doberman Pinschers in New Mexico. DRNM is incorporated in Albuquerque, NM, where the majority of our Dobermans are being fostered.

Our mission is to ensure the safety & well being of Dobermans who have become lost or abandoned and who find their way to Doberman Rescue of New Mexico, to educate the public about the Doberman breed, and to fnd permanent homes for Dobermans that are within our system.

Learn more about the Doberman breed, our adoption procedures, and complete our online application at our new website, www.dobermanrescuenm.org


Donations
Consider a yearly, semi-annual, or quarterly donation to Doberman Rescue of NM. Funds are used to provide necessary medical care for Dobermans that come into our rescue. All our Dobermans are spayed/neutered, vaccinated and microchipped. Some need dentals or bloodwork, and some require x-rays or other extensive medical care. Our adoption fees rarely cover all the costs we incur, and much of the burden is shared out of pocket by our 5 board members. But with your donations, we are better able to provide for the Dobermans that come into our rescue.

You can also select Doberman Rescue of New Mexico as one of your charitable organizations of choice, and give using payroll deductions through your workplace chartible giving program! We are a 501(c)3 nonprofit organization, so your donations are tax deductible.

You may also choose to donate a bed for our foster cares to provide the ultimate in comfort for Dobermans being fostered.

A great cuddler bed that we have discovered is called the Perla Bed. It can be purchased from JB Wholesalers, website is www.jbpet.com These heavy duty plastic beds can be santized easily with a garden hose and bleach. They hold up exceptionally well and are very economical on the budget. You can purchase a made to fit pillow or simply toss in an old blanket for your dog to snuggle into. Perla Beds come in three sizes. Basco, an 85 lb male Doberman is most comfortable and can happily lounge in the large size. Order one for your own dog(s) and and consider ordering one to donate.


| | |
| --- | --- |
| | We also use Patented Kuranda Dog Beds because they are durable, chew proof and easy to clean. If you would like to donate a luxury Kuranda bed to us, click here. |
Adopting a friend
If you are interested in adopting a dog from Doberman Rescue of New Mexico, Inc. contact us to send you an application and adoption contract. We require home checks and reference checks of our prospective adoptors to ensure that our dogs are heading into a loving and caring home situation. Cost of adoption runs from $150 to $300 for most our Dobermans, which helps to defray our expenses. Cost of transporting to new home is additional.

Prior to placement, each dog is temperament tested (to the best of our ability), receives a medical exam, spay/neuter, current vaccinations, microchip, heartworm test, and other medical care as needed.

Because of liability issues, Doberman Rescue of NM does not normally adopt to families with children ages 6 and under. Dogs that come to our organization for placement have an unknown history. Young children do not have the capability to understand proper behavior around dogs -- as a safety issue, we have made the decision not to adopt to families with young children.

We rescue any age, color, or condition with a tendency to come across the red and black colors most often aged 6 months to Senior. On occasion we rescue a young puppy or litter of puppies, but adult-sized puppies and young adults are most common.


Doberman Rescue of New Mexico supports Spay/Neuter
Animal shelters across America are overcrowded with unwanted dogs and puppies. Because of the large number of unwanted dogs and puppies that must be euthanized (given lethal injection) Doberman Rescue of New Mexico is a strong advocate of spay and neuter.

All Dobermans that are adopted through Doberman Rescue of New Mexico are spayed/neutered prior to adoption, which makes them physically unable to breed.

In addition, all Dobermans receive vaccinations against Parvo/Distemper/Influenza and Rabies. They are microchipped which increases the chances of having your dog returned to you if it should get lost, and they are tested for heartworm and are started on heartworm preventative medication. If needed, Dobermans in our care also receive medical treatment prior to adoption.


Para todos los vecinos de habla Hispana:

Rescate Doberman de Nuevo Mexico apoya el acto de esterilizamiento para perros. Los asilos de perros en los Estados Unidos estan repletos de perros desamparados.
Debido al gran numero de animales que estan al abondono es necesario practicar la eutanasia (muerte sin dolor) para reducir la sobre poblacion de los mismos. Considerando este problema la organizacion Rescate Doberman de Nuevo Mexico considera que la medida es demasiado drastica. Por lo que recomienda que los perros sean estirilizados para asi salvarles la vida y a la misma vez reducir la sobre poblacion de perros.

Todos los perros; Doberman, adoptados por medio de la organizacion Rescate Doberman de Nuevo Mexico son estirilizados como medida preventiva de procreacion.

Ademas, todos los perros Doberman que son adoptados reciben vacunas contra el Parvo/Destemplanza/Influenza/y la Rabia. Tambien son examinados para verificar que no sean portadores de parasitos como la lombriz que ataca el corazon "heartworm". Asi tambien se les inicia un tratamiento de medicina preventiva contra esta enfermedad.

En caso de que alguno de los perros disponible para adopcion requiera alguna otra atencion medica Rescate Doberman de Nuevo Mexico proveera la atencion medica necesaria.

Finalmente, a todos los perros rescatados por Rescate Doberman de Nuevo Mexico se les implanta un microcircuito en caso que sean extraviados se les pueda localizar y serles devuelto a su dueñ¯®


Contact Doberman Rescue of New Mexico

Trish Coffey (trishtapherabq@hotmail.com) - Albuquerque

Please contact us if you are interested in adopting one of our available dogs or would like more information about the Doberman breed!
---
Click here to see our Happy Tails! These are Dobermans who have already been adopted into loving, permanent families!


---
Doberman Rescue of New Mexico, Inc.
PO Box 26582
Albuquerque, NM 87125


Email: trishtapherabq@hotmail.com






Click here for a list of pets at this shelter
---

[Home] [Information] [Shelters] [Search]