Cockers & more, Inc.
A 501(c)(3) Nonprofit Organization

---
Our next adoption will be Saturday, October 10 at our new PetSmart location 6370 North Point Parkway - Alpharetta - Georgia - 30022 from 11:00 am until 4:00 pm. Please come see us and our wonderful, adoptable dogs!

Great News!
Southeast Cocker Spaniel Rescue is now Cockers & more! We realized the need for not only cocker rescue but rescue of other breeds of small dogs both pure and mixed from local shelters and owner turn-ins. We have changed our name to reflect not only who we are, but what we DO! Look for more information as we continue to change and update our organization for the better!
---
Upcoming Events
---
Our Featured Pet: Rufus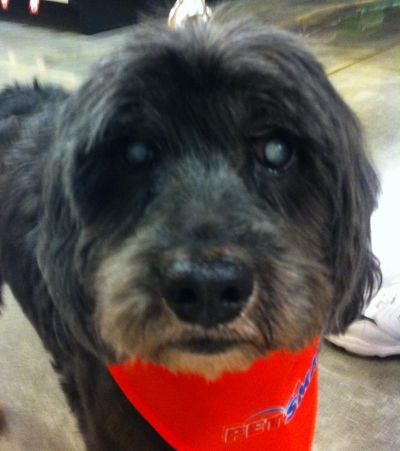 Rufus is a 7-8 year old, 28 pound Schnauzer mix; we're not really sure what he's mixed with....could be cocker spaniel, could be some kind of terrier--whatever it is, it makes for one wonderful, adorable dog! Rufus' foster dad says that he's a very well behaved, friendly, and easygoing guy who wants nothing more than to snuggle up with you and be your couch buddy. He gets along great with people and with other dogs. Rufus has limited vision due to cataracts in both eyes, but cuddling doesn't require great vision! He's house trained, neutered, up to date on all his shots, and ready to go home with his new family! Contact us to meet sweet Rufus!


---
News
Please note we are also in need of serious and committed individuals and families who want to make a difference in the lives of our rescued dogs by volunteering as a foster. Fostering is a commitment to provide a stable, loving home for dogs rescued from neglectful or abusive situations or from euthanasia due to overcrowding at local shelters. Rescue is the only thing that stands between a shelter dog and certain death if they are not adopted from the shelter. Fostering can be a challenging commitment, especially for those animals who have come from abusive or neglectful situations. Dogs bark, whine, have accidents, get sick, stressed, anxious and display other challenging behaviors. We really need people who are genuinely willing to help and are committed to the extent that they can deal with these challenges and roll with the punches, so to speak. If you are not sure that you can commit 100%, then this calling may not be for you. The real reward comes from providing a dog in need with patience and consistent care, good food and a stable and loving environment to enable them to love and trust again and prepare them for their wonderful forever home.

If you are interested in fostering, or would like to find out more, please contact us. Your mileage, food and toys for your pups are tax deductible.

You may also consider sponsoring a rescue even if you cannot adopt. Any help you can give to the rescue is greatly appreciated. Monetary donations, food, blankets, heartworm preventative, etc., and mileage may be tax deductible as a charitable donation. Please give us a call at 678.318.1451 or send an email to: cocker4you@gmail.com.
---
Please Help Our Special Needs Dogs!
WE ARE IN NEED OF DONATIONS FOR OUR SPECIAL NEEDS DOGS. We have had more than 200 heartworm positive dogs in the last five years. Prior to that, our rescue treated six, maybe seven, dogs for heartworm disease in any 12-month period, so the last few years have been extraordinarily stressful in every possible aspect, including, and especially, financially. We would like to say thank you to those kind souls who have given donations to help treat our many heartworm positive dogs. We are extremely grateful for your generosity and support. If you would like to contribute to our heartworm fund or to our Special Needs Funds, as several of our rescues have had major surgery recently, you can make a tax-deductible donation through PayPal by clicking on the tab below.
---
Please consider doing your online shopping by going through the iGIVE.com website. It has 475 stores/shops/merchants (like HSN, Lands End, Drugstore.com, QVC, JC Penney, PetSmart, Petco, WalMart, Spiegel, Barnes and Noble, Ebay, Verizon Wireless and more) at which we all frequently shop online. All you have to do is click on the link above and register with an email address and little else. A percentage (ranging from one-half of one percent to 27%,depending on the merchant) of your purchase will be donated to SCSR.
---
Who We Are
Cockers & more, Inc. began as Southeast Cocker Spaniel Rescue and was started , due to the HIGH number of cockers being found in Georgia shelters and also a large number of cockers in puppy mill and backyard breeder situations. There was a definite need for a cocker rescue in Georgia. As we have grown we have realized that there is also a need for rescue for wonderful, smaller dogs of all breeds pure and mixed. We have expanded our organization to include rescue of these dogs as well. We have changed our name to reflect who we are and what we do. We are a 501(c)(3)nonprofit organization and all persons involved with our organization are volunteers. They are not paid for their time, gas, dog food, or any other expenses.
If you have any questions regarding SCSR please feel free to contact one of the Executive Board Members. President Pat Royer at adamscdca45@aol.com, Vice President Barb Ayers at barb0611@bellsouth.net, or Secretary Barbara Harkins @ babaharkins@msn.com.



---

Adopting a Friend

Our adoption fee is $275.00, and $325.00 for puppies under one year of age, which helps defray the cost of spaying or neutering, vaccinations, grooming, heartworm check, and fecal check. All of the cockers are then started on both heartworm and flea prevention There is an adoption application to fill out, contract and release form. We screen all dogs to determine disposition and test them with men, women, and children before an adoption takes place. We do require that our dogs are kept as inside pets. We do accept owner turn-ins with a $50.00 donation. All owner surrenders must be current on vaccinations, heartworm preventative, and no known temperament issues (no biters please). To fill out an application please log onto our web site, www.southeastcockerspanielrescue.org.
---
Note to Potential Adopters
It is important to understand that dogs coming into rescue have either been separated from their owners and picked up as a stray; are owner turn-ins, rescued out of backyard breeder situations or from abusive or neglectful owners. Most are traumatized, unsure of themselves and/or of new people and have experienced a great deal of instability over a period of several weeks or months. We ask, when adopting a dog out of rescue, that you have realistic expectations and give yourself and your new cocker friend the opportunity to get to know one another and become familiar with each others routines--AT LEAST TWO WEEKS. It is important to understand that these pups are finding themselves in yet another new situation and need to be given the time and the chance to feel safe, comfortable and secure. They will not come to you perfect, but with patience and the time to have the chance to make the transition to your household, they can turn out to be the perfect friend for you!


---
Cockers & more, Inc.
3115 Waterford Court
Woodstock, GA 30188
678.318.1451 Email: cocker4you@gmail.com



Click Here to see our Adoptable Dogs Click Here to see our Happy Tails!

---

[Home] [Information] [Shelters] [Search]