Welcome To The Critter Connection
The Critter Connection, Inc., based in Connecticut, specializes in the rescue, rehabilitation, and placement of guinea pigs. We also help other individuals or groups who need to find homes for their guinea pigs due to unforeseen circumstances by listing their piggies on our Adoptables list on Petfinder. Many of the guinea pigs on our Adoptables list are housed at The Critter Connection's main location or one of its foster homes.
Our rescue depends on donations from caring people like you! For more information about us, please visit our Web site.
---
Guardian Angels Desperately Needed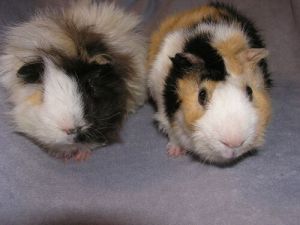 Things have been tough the last few years. The economy slowed down the donations that help us keep our doors open. Some of our regular donors are unable to make any donations at all, while others are making smaller and/or less frequent ones. Since 2013, our founder and primary caregiver has been in and out of commission due to medical leave. Our ability to take in surrenders has been substantially decreased, which affects the number of adoptables we can place (and the adoption fees we can collect). Of the dozens of adoptions we've done directly out of people's homes in the last 2 years, many adopters and the surrendering homes did not make donations even though we spent substantial time reviewing applications, screening adopters by phone, and so forth.
With 15 permanent residents, mostly seniors and special needs pigs, we frequently have drained our financial resources and have to use personal income to keep the pigs fed and healthy. With the bad economy, some of the pigs we adopted out have come back to us as families have had to surrender pets they can no longer afford to care for. Many of these pigs are seniors and are difficult to place with new families, which means they will likely become sanctuary pigs. The fewer adoption fees we bring in, the fewer funds we have available to care for all the pigs in the rescue.
We are fighting to find ways to fund the rescue. We badly need donations to help with the approximately $800 in monthly expenses for food, hay, fresh veggies and fruit, cage bedding, and medical care. We also need loving homes that understand 4- and 5-year-old guinea pigs can still offer loving, charming companionship for potentially several more years -- and that whatever time you do have with these pigs is a precious gift.
To make a donation, use the PayPal button on this page. If you are interested in adopting guinea pigs, please check our Adoptables list, then contact us directly.
---
To find a list of lovable, adoptable critters at Connecticut's original guinea pig rescue, go to:
We invite you to visit Happy Tails to see our many successful placements.