Country K-9 Rescue
---
Our Featured Pet..... THE STORY OF LIL BEAR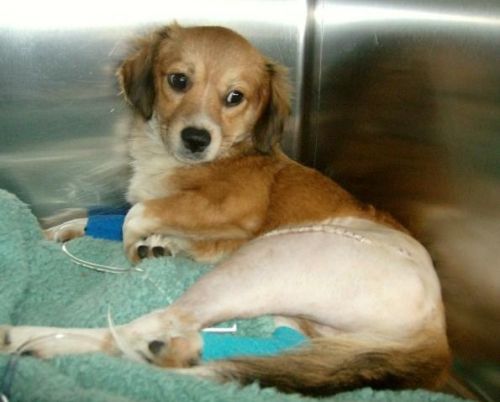 Let's start the story of Lil Bear with a happy ending - he is in our rescue and on his way to healing from a broken leg. Lil Bear is about 7 months old - maybe a Cocker/Cavalier spaniel mix? He was found as a stray on the interstate - and while in the finder's care, he was hit by a car. The finder did not have the money to get him vet-checked for a week. We found out about Bear on Wed. morning, and he was in surgery that same afternoon. This kind of delay with treatment makes the surgery a bit more complicated, but Bear did fine and will go to foster care soon. We expect a full recovery for this sweet pup. If anyone would like to help with Bear's vet bill, please donate at our site www.countryk9.petfinder.com and click the PayPal button - or you can mail a donation to CK9, 116 Rocky Road, Lebanon, TN 37087. Mark your donation "Bear's Care Fund" - and it will help cover these unexpected emergency costs. We'll keep you posted on Lil Bear's recovery - expected to take about 6 weeks.
News
COUNTRY K-9 RESCUE would like to thank the following groups for approving grants in 2015. Most of our donations come from private individuals but the funds received from these organizations have significantly helped our rescue efforts and, at the same time, validated the hard work of all volunteers involved. -- The Kroger Community Rewards Program, Amazon Smile Program, The Community Foundation of Middle Tenn., PetSmart Charities, the TN Dept. of Agriculture Animal Friendly License Plate program, Middle Tenn. Electric Membership Corp., and Two Mauds. We also are very appreciative of Nutro pet foods for shelter pet food program. We received food supplies through the Nutro program, which not only saved shelter costs but provided our rescued pets with quality food to make and keep them healthy. In 2012, we also started our SNAP program - Spay/Neuter Assist Program - to financially help already-owned community pets get spayed/neutered and, thereby, reducing the numbers of unwanted/unplanned litters of cats and dogs. This is partially funded under an agreement with the State of Tennessee and through other grants and donations. We have been able to help over 600 community pets with spay/neuter surgeries - these pets are no longer at risk of breeding unwanted litters and remained with their owners. We are grateful to the following organizations for helping support our SNAP program - TN Animal Friendly license plate grant, Wilson County Community grant, On Shore Foundation, Starlight Foundation, and Two Mauds. If you would like to support our animal rescue, please mail a check to - Country K-9 Rescue, 116 Rocky Rd., Lebanon, TN 37087 - or click on the DONATE button on this page. Your gift is tax-deductible and a receipt will be mailed back to you. Thank you for helping.-->
Who We Are
We at COUNTRY K-9 RESCUE rescue abused, injured or homeless animals. We arrange vet care when needed, and have all animals up-to-date on shots and spayed/neutered before adoption. Since 2005 our spay and neuter program has achieved 100% of adoptions. Our adoption contract also requires pet adopters to provide love, food, shelter and a fenced yard. If for any reason the adoption does not work out in the first 30 days, we require the animal be returned to us. After that time we can accept an animal back based on space availability - but we will always offer help if re-homing is necessary. We are a non-profit charity and ask for a donation with each adoption to our fund for future rescues. Our staff is all volunteer - all funds go directly to the care of our animals. Country K-9 also accepts donations of blankets, dog or cat food, cat litter, dog houses and cleaning supplies. All donations are tax-deductible and receipts are available. Country K-9 Rescue is also listed in www.GivingMatters.com website profiling non-profit groups.
Come Visit Us!
COUNTRY K-9 RESCUE IS LOCATED IN LEBANON,TN from INTERSTATE 40 take EXIT 236 - South Hartmann Dr. - go past 2 lights at Home Depot - go through the lights at Leeville Pike and the Lebanon High School - at next light TURN LEFT ONTO HICKORY RIDGE RD. - make second RIGHT ONTO ROCKY ROAD - we are 116 Rocky Road (on left - look for cyclone fencing. Call 615-444-8011 for directions from places north of Lebanon . Hours - 8am - 4pm Mon.-Fri. -- call for Saturday or afterhours visits. Country K-9 Rescue
116 Rocky Road
Lebanon, TN 37087
Phone: 615-444-8011

Email: adhenning@earthlink.net


Click here for a list of our pets!

SEE US ON FACEBOOK - COUNTRY K-9 RESCUE



---

[Home] [Information] [Shelters] [Search]