View Our
Directions to PetSmart
Your donations keep the doors open to our no-kill shelter. You can donate using your Paypal account or major credit card. Please give.

Clay County Animal Shelter is an independent, 501(c) (3) nonprofit organization in operation since October 2000.
Our tax ID# is 75-2894450.
View our Facebook page. Be sure to "Like" us for updates on adoptable animals, upcoming events and the latest shelter news.
Browse our latest newsletter, Creature Comforts Fall 2013
Set your alarms and tune in Tuesdays at twelve!
KFDX-TV3 News at Noon on Tuesdays features adoptable pets from area rescues and shelters. Catch staff member Bonnie and a CCAS resident, usually on the second Tuesday of each month.


A Kuranda dog bed, donated in honor of a friend or family member, makes a meaningful and lasting gift for a Pet Lover. We will mail a personalized Tribute Card to notify the person you've chosen to honor of your thoughtful and compassionate selection.
Please Donate Now





Sizes Most Needed:
Medium & Large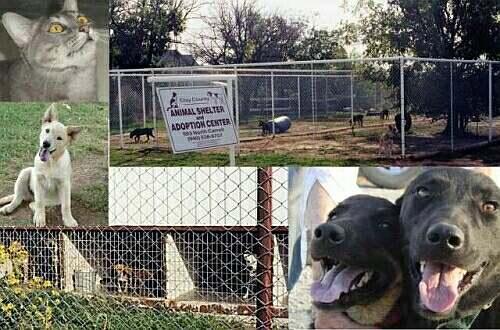 You are encouraged to visit with us and our hopeful residents at
P.O. Box 274
503 N. Carroll Street
Henrietta, TX 76365
Phone: (940) 538-6757
www.claycritters.petfinder.com

Directions to our shelter
Visiting Hours
9:30 AM to 1:00 PM & Afternoons by Appointment, 7 Days a Week
Calling prior to your visit is recommended.


Telephone Calls
(940) 538-6757
When calling, please leave a message with your name, phone number and a brief statement about your business so that your call can be properly routed. All calls are returned as quickly as time allows. If you don't hear from us, please call again. Messages are sometimes garbled, incomplete, or erased altogether during a power-out.


---
Adoptions

Before being placed in adoptive homes, all Clay County Animal Shelter residents are:

spayed or neutered, vaccinated and wormed (dogs and cats).

tested for heartworms and treated, if positive, or started on monthly heartworm preventative (dogs over 6 months).

tested for both feline leukemia and feline immunodeficiency virus (cats).



If you express an interest in adopting one of our residents, you will be asked to complete an application form (or this can be done over the phone).
Your application will be processed as soon as possible - adoptions are vital to our residents and to us!
The adopter's agreement with the Shelter is to keep the pet safe, loved and current on vaccinations and heartworm preventative.


All steps in the adoption process are aimed at making a good match between pet and adopter.


---
Your Chance to See Amazing Clay County Kitties "On Tour"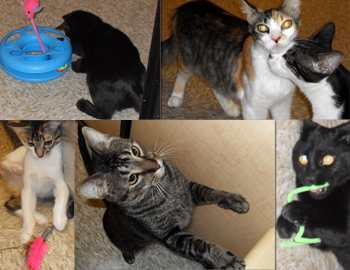 It's no Broadway production of CATS, but you can see - and even meet! - some of our Shelter's "best performers" at PetSmart on Lawrence Road in Wichita Falls. A select group of our adoptable kittens and adult cats live there temporarily and are sure to entertain you with their amazing feats of leaping, lounging, wrestling and grooming. It's the best show in town, and it's free! Should one or more kitties succeed in mesmerizing you, a volunteer is available most Saturdays between 1PM and 4PM to make introductions and discuss the adoption option. Please call the Shelter at (940) 538-6757 for more information or to ensure someone from the Shelter will be at PetSmart to assist you with "backstage" access.
---
Want to read about some terrific adoptions from Clay County Animal Shelter?

















---
Items We Always Need and Appreciate
Bleach
Cat litter
Black plastic trash bags
Laundry soap
Sturdy chew toys for large dogs - Nylabones, Kongs
Washable bat/scratch/climb toys for the cats
RECYCLABLES: Aluminum cans, ink jet & laser printer cartridges
Garage sale items for our annual event in October
Humane traps for retrieving feral cats
Always, always, always: Cash Donations
Get Involved in Saving Lives!
As a Resident Sponsor, your gift of $10 a month helps support an animal who has been with us for more than three months. Your name is included with your sponsored pet's description on our web site. Through a monthly gift of $15, your entire business can become a Business Buddy Sponsor and help support a long-term resident. Your business name is posted with your sponsored pet's description on our web site and at various events.

If you work for the state of Texas, you can designate Clay County Animal Shelter as an agency of choice in the State Employee Charitable Campaign - Red River Area. Many other employers offer charitable donation matching programs - please ask at work.

Honor or memorialize a loved one through a gift to the Shelter. We are always happy to send a letter of acknowledgment to whomever is designated.

Volunteer - Your time spent helping at the Shelter, at adoption events, with the PetSmart kitties in Wichita Falls or as a foster caregiver is priceless. Volunteers are the life blood of our mission.

Shop Office Depot in Wichita Falls and save lives. Keep our phone number - 940-538-6757 - in your wallet, or phone, and provide it at the checkout register. A portion of your purchase will be donated to the Shelter.
Kudos To . . .
PetSmart and PetSmart Charities
They showcase our cats, provide ongoing adoption promotions, and assist with financial support.

Petfinder.com
The exceptional leadership and support staff of Petfinder.com host our web presence for free, thereby amplifying our voice far beyond our service region.

We can't say it enough: Thank you, donors and supporters - you make a life and death difference to the animals by keeping our no-kill alternative up and running!
Click here for pets listed with this shelter.