The CatWorks,Inc.
This Month's Featured Cats & Dogs!
Dillon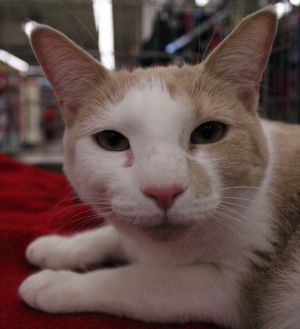 Dillon is a 2.5 year old cat looking for his forever home. All his brothers and sisters, and even his mom found their home but not him! He is a very lovable cat, although a bit on the shy side at first. He gets along great with other cats or is just happy to hang out with his people friends. Please consider giving Dillon the home he has been waiting for!
Need your cat groomed! The Catworks would like to suggest you visit Spoil 'Em Rotten Pet Boutique and Grooming Spa in West Reading. They groom a lot of our cats and do a great job. Visit their Facebook page for more information. https://www.facebook.com/SpoilEmRottenPetBoutique
Should I adopt an adult, a teenager, or a baby?
Everyone wants a puppy or kitten, and yes, puppies and kittens are cute. And we do have a lot of puppies and kittens available for adoption just waiting for homes. But we have a LOT of beautiful and loving adult dogs and cats waiting for homes too. If you truly want to save a life, please don't forget "Yesterday's Puppies and Kittens" when making your selection of a new pet.
Before adoption, please consider the following:
• While puppies and kittens are quite possibly the cutest things in the world, they are also very active. Puppies and Kittens require both physical and mental stimulation to keep them occupied. In the same way puppies and kittens can be destructive: Toppling plants, chewing wires, climbing your curtains, knocking your cell phone off the counter, and climbing your legs. Adult dogs and cats don't require the constant supervision that puppies and kittens do although adults can still be extremely playful like their smaller counterparts. The adults have also learned appropriate play manners and don't run the Indy 500 in the middle of the night!
• Adults will already be neutered, and some cats are declawed, which will save you money if you prefer a declawed cat.
• Do not assume a puppy or kitten will live longer than an adult. There is no way to predict the life span of a dog or cat. The puppy or kitten you choose may only live 8 years. The 5 yr. old adult you choose may live another 12 or more years.
• There is also no way to predict how large a puppy or kitten will grow. The runt of the litter may grow up to be a 20+ pound cat or a 100 pound dog. If you adopt a petite adult dog or cat he or she is already full grown and the only growth will be to his/her girth!
• A puppy or kitten's personality will be much more developed by the time they are teenagers (6 to 12 months of age). If you are sure you would like to adopt a puppy or kitten consider adopting a teenager. They have all of the same personality characteristics as the smaller puppies or kittens but their personalities are more fully developed – and you will therefore have a better idea whether they will be a match with your family.
• If you have an older dog or cat, a puppy or kitten might be too energetic for your senior dog or cat. An adult dog or cat could very well be a much better companion choice.
• Adult dogs and cats are more settled, often more affectionate, and want more time with you.
FINANCIAL CONSIDERATIONS: Adult dogs and cats will be fully vaccinated. A puppy or kitten will only have its 1st shot, and will need 2-3 more boosters 3-4 weeks apart ($25-$50 ea.) A puppy or kitten will only have its first deworming, and will need 1 or more treatments ($10 ea.), plus fecal parasite checks ($20 ea.) If you plan to declaw a cat, we may have an adult that is already declawed, saving you the expense ($200+) and the hassle, plus saving a cat the trauma.
PERSONALITY CONSIDERATIONS: All puppies and kittens are cute and playful! However, they only stay small for a very short time, and as they mature their true personalities emerge. It is impossible to predict what a puppy or kitten's adult personality may ultimately be. There is no such thing as "molding a puppy or kitten's personality." Cuddly puppies and kittens may turn into not so cuddly dogs or cats, no matter how well treated they've been. Very social puppies and kittens may grow into "loner" dogs and cats. The puppy or kitten that used to fall asleep in your lap may prefer not to be picked up as an adult. We strongly suggest that if you are looking for a 'lap dog/cat' that you consider adopting a "teenager" or an adult. This way, "what you see is what you get," and you can then select the cat that is perfect for you and your family. Remember, this is the dog or cat that will be part of your family for the next 10-20 years - not the little puppy or kitten that was so darn cute!
IF YOU WOULD LIKE ANY SUGGESTIONS ON YOUR POTENTIAL NEW ADDITION, PLEASE FEEL FREE TO CONTACT US AND WE'D LOVE TO GIVE YOU RECOMMENDATIONS!
Important! WE NEED YOUR HELP. We want to continue to help the homeless, stray,
and abandoned dogs and kitties of this world. We think every cat deserves a fair chance. But it isn't easy.
Our volunteers work tirelessly giving of their time, energy, and their own personal money to
help save just one more dog or cat. No dog or cat is turned away. Won't you help us too? Your donation of just a few dollars
will feed many dogs or cats for days. It's easy and tax deductible. Please follow this link to donate.
http://www.thecatworksinc.org/donations.htm
ADOPTION DAYS come see us at the Target Shopping Center in Wyomissing. We will have many kitties for you to choose from.
Click to see our events!
Come meet your new best friend! We are at Petco every other Saturday from 11 to 3 PM.
Who We Are
We are a nonprofit cat rescue organization working primarily out of Reading, Pennsylvania with some rescue work being done in Lancaster, PA as well. We are made up of a group of volunteers that foster stray and unwanted dogs and cats until adoption. We do not have a shelter. We care for our fosters in our home. They are not kept in cages but treated like members of our family so they can be loved and socialized properly. We are always in desperate need of good foster homes. If you love dogs and cats and have a safe, caring environment, you may be the perfect foster mom or dad.? All vet expenses are covered by our group, and we do try and provide food donations when we get them. For more information about us please see our main web page at www.thecatworksinc.org.
Adopting a Friend
Please inquire about our cats or dogs by phone or email. You may also fill out our on-line applications to begin the adoption process. Our process includes a veterinary check, and we do like to perform a home visit prior to adoption when possible. We require that our adoptees be kept strictly indoors. The adoption fee varies depending on the age of the cat or dog or puppy or kitten. This fee includes the cost of spaying/neutering in cats 6 months and older and any other vet expenses incurred such as shots, worming, and flea treatment if necessary. If for any reason the adoption doesn't work out for either you or the dog or cat, we ask that the dog or cat be returned to us to be placed elsewhere.
Look for us
Every other Saturday you can come and see us at the Petco in the Target Shopping Center in Wyomissing. We will be showing off some of our fosters eligible for adoption. Your best friend is waiting for you--please stop by and pick him/her out! Please keep in mind that we do require each new mommy to be pre-approved through our adoption process, so if you think you'd be interested, it is best to start the process now.
The CatWorks

Promote Your Page Too


Email: