Cats Angels, Inc. SPCA
---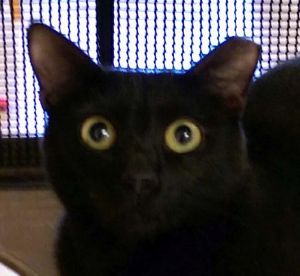 CLICK TO SEE OUR FEATURED PET.......HARLEY
If you are an experienced, patient cat person and up for a challenge, Harley may be the cat looking for you. He is a playful young adult with shiny black fur and a distinctive short tail. Harley is energetic and spends his day chasing toys and playmates in the Adoption Center. He really likes to spend these nice days outside in our screened enclosure taking a sunbath and listening to the world around him. He would be a good companion to another young adult cat or even a kitten. Harley is not a lap cat but he is a curious fellow. You can't hold or pet him (if you can catch him) at least not yet. But we believe he is looking for love and given the chance, he can be a real part of your home. He just hasn't had any experience being a pet. Cats Angels is committed to helping our older felines find "forever" homes this year - will you help us do that? Cats Angels has adult cats of every size and description who have been with us far too long and we are determined to find safe and loving homes for them this year. They all deserve to find a "forever" home. Please consider opening your hearts and homes to one of these special felines.
CATS ANGELS, INC. SPCA -- WHO WE ARE
MISSION STATEMENT
Cats Angels, Inc. SPCA believes that animals, as living creatures, have value beyond economic measurement, and are entitled to legal, moral and ethical consideration and protection.
Cats Angels, Inc. SPCA will act as an advocate on behalf of animals and as an enforcer of their rights.
Cats Angels, Inc. SPCA will provide for the well-being of animals who are abandoned, injured, subjected to unfair or cruel treatment, or otherwise in need.
Cats Angels, Inc. SPCA will continue its work of ending the animal overpopulation crisis by providing a community-wide low-cost sterilization, vaccination, and adoption program.
Cats Angels, Inc. SPCA will cultivate respect and awareness for the rights and needs of animals through an educational program.
ADOPTING A FRIEND
Our adoption fees start at $50. All cats are combo tested for feluk/fiv. All are spayed/neutered, current on rabies and FVRCP vaccinations and are micro chipped.and given a rabies vaccination. Fecal exams and deworming are also done when necessary. Adult cats in our care for more than one year receive annual wellness care vet check-ups.
VOLUNTEER OPPORTUNITIES
Volunteers are always welcomed and needed. If you like to work retail, consider helping out at our Thrift Store. If you want to work with the cats, we have two shifts per day in the Adoption Center for cleaning, feeding and socializing. Please call 321-2267 to let them know how you can help out or stop by the Thrift Store/Adoption Center at 709 S. 8th Street, Fernandina Beach. We are open Monday through Saturday 11 a.m. to 5 p.m.
NEED HELP?
If you have cats, kittens, dogs, and puppies in your care and need help getting them spayed and neutered, please call First Coast No More Homeless Pets at 904-425-0005 to qualify for free or low-cost sterilizations. Please help us all by being responsible and doing the right thing by the animals in your care.
SPAY/NEUTER - THE RESPONSIBLE SOLUTION
---
Cats Angels, Inc. SPCA
P.O. Box 16072
Fernandina Beach , FL 32035
Phone: 904-321-2267

Email: catsangels@catsangels.com
Click here for a list of pets at this shelter

---

[Home] [Information] [Shelters] [Search]