Nuk Nuk - friendly, playful & loving - looking for a good home
Kiki says,
"I love people"

CAT-A-MATCH RESCUE


Our Pet List

---



PROMOTING 'GUARDIANSHIP' AND NOT OWNERSHIP OF THESE LOVING COMPANIONS.



Cat-a-Match Rescue (C.A.M.R.) is a Canadian registered charity Bus./Registration No. 81279 1069 RR0001 designated as a CHARITABLE ORGANIZATION.


PLEASE NOTE OUR NEW ADDRESS:
P.O. BOX 45548
Chapman Mills, Ottawa, ON
K2J 0P9

We invite you to visit our CAT-A-MATCH RESCUE Facebook page CLICK here to view & LIKE us on our Facebook page




As we are not funded by any government agencies, we rely solely on the generous support of animal lovers who understand the great need of neglected and abandoned souls who need someone to speak for them.

We are always grateful for very kind donations from our wonderful past adopters and those who may not know us, but understand our plight.

And we also greatly appreciate those donors who have supported us through THE UNITED WAY and CANADA HELPS! ALL DONATIONS ARE TAX DEDUCTIBLE

We are also grateful to all those who have donated their older vehicles through Donate-A-Car Canada. When you donate a car, RV or motorcycle, it will either be sold at auction or recycled. Donate-A-Car will look after all the details so that our charity will receive the funds and you will be issued a tax-deductible receipt. Click Here to donate a vehicle through Donate A Car Canada.

Please click on the CANADA HELPS button

CANADA HELPS will automatically send a tax receipt for all donations of $25 or more.






WHO WE ARE:
We like to call our place a "LET LIVE SAFE HAVEN" where cats can hopefully stay for their lifetimes if they don't find their forever homes. For more than 20 years, more than 1000 cats have passed through our doors, mostly from the streets; most of them seriously injured or sick and would never have survived without intervention. Others we saved moments from euthanasia. As soon as they are well, they are spayed or neutered, fully vaccinated, and we insure our adopters that they are healthy before they leave. Sometimes a cat will need a little extra care due to some minor health issues, but we have done the hard work and the cat only needs you for the TLC. We also try to insure that each cat's personality matches to the adopter's home and lifestyle.

Having served this community for over 20 years, apart from running the shelter solo and rescuing more abandoned cats, the owner has also run a Low Cost Spay/Neuter Program for the public, STERILIZING OVER 1200 CATS. Based on a female having 2 litters per year and 3 kittens surviving who would again reproduce, 2 MILLION cats were not born who would have never found homes and either starved or frozen to death.

&&&&&&&&&&&&&&&&&&&&&&&&&&&&&&&&&&&&&&&&&&&&&&&&&&&&&&&&&&&&&&&&&&&&&&
It is important that BEFORE contacting us by phone or e-mail, that you agree with the ADOPTION CRITERIA below. PRIOR TO VISITING THE SHELTER we require an APPLICATION, which we will gladly send you on request. See ADOPTION PROCEDURE below. Adopting the right animal companion is a lifetime commitment. You will receive from us valuable information about the health and behavior regarding any pets that you have an interest to adopt, as well as the latest information on pet care. We want to insure that both you and the pet you choose are a purrfect match. &&&&&&&&&&&&&&&&&&&&&&&&&&&&&&&&&&&&&&&&&&&&&&&&&&&&&&&&&&&&&&&&&&&&&&&

URGENT OUTREACH FOR THE FOLLOWING:

* NEW WEBSITE CREATOR/WEBMASTER WANTED A.S.A.P.

** VET BILL BALANCE & VET TREATMENTS NEEDED A,.S.A.P.!
We now have many older kitties who have required medical treatments and there are four kitties (between ages 5 and 9), otherwise in great health, who need dental surgeries and have been waiting for months. Our vet bill is mounting and funds are insufficient. This is due to huge outstanding debts for our heating, and installation of the propane system for the shelter last November.

***FUNDS FOR HEATING - our balance $1420.00:
The propane system installed last November has been wonderful, however to the tune of $2245.00! We are on an installment payment plan of $118/month, therefore we still owe $1420.00. We have managed to pay the propane fuel total of $650. We also have another 6 months @ $90/month "added" to our Hydro bill for LAST YEAR's electric heating of the three shelters.

****ANYONE INTERESTED IN ORGANIZING A SUPER EASY FUNDRAISER? WE HAVE A GREAT VENUE IN OTTAWA that will draw a large crowd, great fun, ONE evening!

*****LAST, BUT OF THE MOST IMPORTANCE: ADOPTERS!!
Our cats are friendly and just wonderful. We know them so well and we get feedback often from our past adopters about how much they love their furry darlings.

&&&&&&&&&&&&&&&&&&&&&&&&&&&&&&&&&&&&&&&&&&&&&&&&&&&&&&&&&&&&&&&&&&&&&&&


THERE IS NO GREATER REWARD THAN TO RECEIVE THE LOVE AND TRUST OF A ONCE TERRORIZED AND HELPLESS ANIMAL RESCUED FROM DEATH'S DOOR
We have adopters from as far as London, Toronto and Kingston, Ontario plus Montreal, Quebec and have A-1 references from our adopters and our veterinarian.

&&&&&&&&&&&&&&&&&&&&&&&&&&&&&&&&&&&&&&&&&&&&&&&&&&&&&&&&&&&&&&&&&&&&&&&

OUR SHELTER RESIDENT CATS, past & present:

There are presently 55 CATS at the shelter, and we may have to move in the near future; so, if you are thinking of adopting, PLEASE just give us a call! Many of our past adopters still keep in touch and it's just a thrill to hear from them years later. Why else would we do this 'crazy work'? Because when we find these innocent souls without food or shelter, and often injured, on the brink of death, we promise them that they will never have to suffer again!

PLEASE see the section below: TO ADOPT and ADOPTION PROCEDURE & CRITERIA, and then view all of our lovely felines for Adoption below!!

KINDLY TAKE A FEW MINUTES TO VIEW ALL OUR LOVELY FELINES.

Please

read below

our

Adoption Procedure and Criteria

; then e-mail us to request an Application/Questionnaire. After our review (1 day) we will contact you to make an appointment for you to come and visit all of our resident kitties to see if you make that 'special connection'.

FEATURED FELINE: MEET TATIANA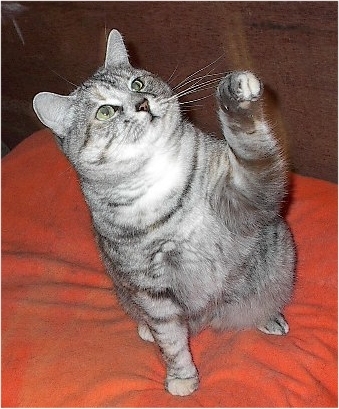 TATIANA has been at our shelter since the age of about 2 years, and is now going on 9...BUT WAIT...DID YOU EVER MEET A PURRFECT CAT WITH SUCH AN UNUSUAL COAT AND COLOUR?! She is a Silver Tabby, with orange nuances and a white undercoat. Not only is she pretty, but she adores humans and wants to be your only girl. She is very undemanding, but so attentive to YOU ONLY, SHE ACTUALLY TALKS BACK GENTLY, and she also plays by herself like a little kitten! WAIT...this is what is so incredible: Tatiana has gone to 3 homes and they all adored her, but she has had some bad luck as each home had situations where shortly after she had just settled in, they were transferred too far away to bring her. WE JUST CANNOT BELIEVE THAT THERE ISN'T THAT SPECIAL SOMEONE OUT THERE WHO WOULD BE THE LUCKY ONE TO BE LOVED BY TATI-GIRL FOREVER!! By the way, she has always been in excellent health.


FEATURED FELINE: MEET PIEDRO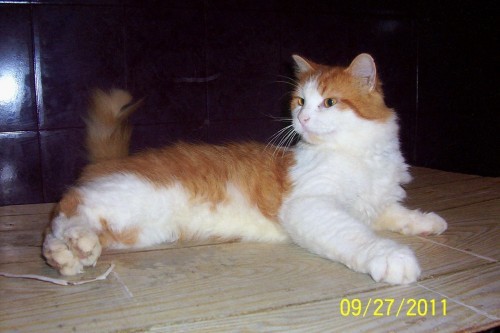 Piedro is a long hair GORGEOUS BOY who is kind to all other cats, unless, of course, they would pick on him, but he will not fight - he prefers love. He is friendly, although would do best with older children who are used to cats. All our cats love dogs.


FEATURED FELINE: MEET PEETIE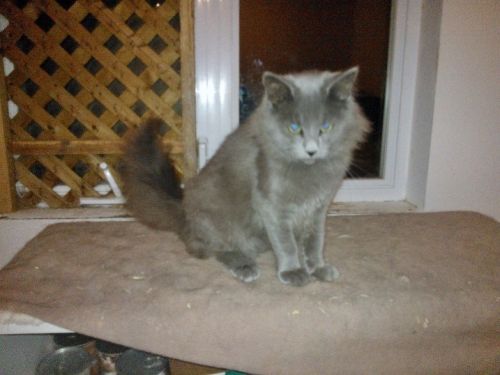 PEETIE is a sweet kitty born in 2013. Even though he is long hair angora he is low maintenance and does not mat. Peetie loves to play with other cats and is friendly and undemanding. He would do best with another kitty to have fun with.
---
MEET ALL OUR ADOPTABLE KITTIES
(Use the scroll bar to see all of them)
---
TO ADOPT
PLEASE TAKE A MINUTE TO READ OUR ADOPTION PROCEDURE BELOW . THANK YOU!
It's worth an hour's drive to receive a lifetime of unconditional love!
We invite you to call 613-209-1105 between noon and 9:00 P.M., 7 days a week, for the best and fastest response to your queries.
BONUS: All of our adopters receive a Health & Behaviour Guide, which we have written from years of research and hands-on care; from "Preparing your New Kitty to Arrive" to "Signs & Symptoms of various Health-Related Illnesses". Of course we also offer our assistance at any time, by phone, to our adopters.


---
PROCEDURE FOR ADOPTION or TO FOSTER:
Kindly take a few minutes to view all of our lovely felines above.

Please read below our Adoption Procedure and Criteria; then e-mail us to request an Application/Questionnaire. After our review (1 day) we will contact you to make an appointment for you to come and visit all of our resident kitties to see if you make that 'special connection'.
PROFESSIONAL BEHAVIOUR COUNSELLING/THERAPY FOR FELINES:
The shelter's owner is an expert in feline behaviour, trained in Behavior Science Technology (human). Has 12 yrs of years of hands-on experience with ongoing research in this field. This is a 6-week treatment program to help the cat companion understand feline behaviour and to retrain/rehabilitate kitty's unwanted behaviour. This professional service is offered for a minimal donation to help support the shelter's expenses.
---
ADOPTION PROCEDURE AND CRITERIA:
1. Criteria for Adoption:
Among our Criteria for accepting you as a potential adopter, are:
You must be 26 years of age or over (if you are between 21 & 26 and meet the other requirements, we may consider your application)
You must be gainfully employed
You must provide a vet reference or, 2 personal references
Cats must be INDOOR ONLY, TETHERED, or in a properly built CAT ENCLOSURE; you can find enclosures for any type of yard or window online! (Did you know that the average lifespan of cats at large is only 2-3 years, so why take this chance?)
Cats MUST NEVER BE DECLAWED
Your present cats must be altered and vaccinated
You must agree to an adoption follow-up visit


2. Adoption Procedure:
We would like to talk with you by phone to discuss our adoption criteria and basically to determine whether we may have a suitable companion for you
We will then send you our Adoption Questionnaire, which will be reviewed, and, if all is in order for a visit, an appointment is made for you and your family.
You will be able to take your time meeting all of our resident kitties and play with them and see if you make that 'special connection'. During your visit we will provide you with information on the cats that might be the best candidates and that interest you; we will also give you our Adoption Contract to review at home.
We then ask that you reflect on your decision carefully and call us if you have any further questions; we may also call you to inform you whether we believe that there is a good potential for an adoption.
Because the transition to a new home/territory for a cat is quite stressful, we will be bringing your new companion to your home. Additionally, to help prepare you for the new arrival, we will forward our ADOPTION GUIDELINES OF HEALTH & BEHAVIOUR which will be helpful in caring for your companion for it's lifetime; advice is provided to our adopters free for the lifetime of the cat.
Our requested donation for adoption is $165.00 ($190 for kittens), and a small donation for our delivery costs. This adoption donation often covers only a minimal amount of the costs we must expend for veterinary services, etc.. We will complete the Adoption Contract on the delivery date.



OUR GUARANTEE
When the cat is brought to your home, we are guaranteeing that it is in good health. We will provide you with its history of health and behaviour, (in writing and verbally), from the time it entered our shelter. Due to budget constraints, we are unable to test each cat for FELV/FIV, however, many cats who stay healthy and have been in our shelter for more than 6 months and are not prone to catching colds, etc., remaining healthy, is a good indicator that they may not have or develop these immune-deficiency diseases. If we suspect otherwise, we will have the cat tested and these results are given to the adopter.
We offer a Lifetime Return Policy, and any cat adopted who cannot be kept MUST be returned to us. Because we go the extra mile to insure you will have a healthy and well-adjusted cat, we ask only that you will keep him safe and well cared for it's lifetime, and respect our adoption terms and policies of adoption.


MANY THANKS FROM ALL OUR RESIDENT KITTIES! meeeoww!
DID YOU KNOW?
1 lone female cat will produce 11,801 cats surviving in only 5 years

How can you help? PASS THE WORD SPAY/NEUTER IS THE ONLY SOLUTION. You can choose to be part of the solution or a part of the problem of overpopulation and senseless suffering.

FACT: It is a proven fact that there is a definite link between ANIMAL CRUELTY and HUMAN VIOLENCE - stray and abandoned animals are the FIRST VICTIMS of human cruelty!
POPULAR MYTHS & MISCONCEPTIONS:
Long hair cats shed: No, short hair cats can shed MORE than long hair - some long hair cats don't shed at all.

Adopting adults cats vs. adopting kittens: It is totally untrue that an adult cat will not learn your habits; because of his maturity (1 year plus), the adult cat understands your rules faster and can adapt within 3 to 6 weeks, as opposed to a kitten that you must train on a daily basis for 5 or 6 months.

Kittens are best with small children: No, on the contrary, small children (under age 6) MUST be supervised with ANY animal. IT IS AN ANIMAL, NOT A TOY! Adult cats can more easily leave the grip of a small child who has not yet developed the motor skills to properly hold it; whereas many kittens who are unable to escape may soon become aggressive, fearful or even biters as they mature. Shelters often get these 5-6 month old kittens that we try to rehabilitate and win back their trust. We adults all too often forget that a young child NATURALLY also follows its survival instincts and learns the cat's habits by body language. Again, with proper supervision and by watching how the parent handles the pet, children will benefit from this special bond that will enrich their entire lives.

Declawing Cats will protect young children and furniture
1. It is a fact that a large majority of declawed cats more often bite as they have no other way of defending themselves. We can only emphasize to parents that young children (especially under age 6) MUST be supervised with any animal.

2. Cats MUST LEAVE THEIR SCENT ON THEIR PARTICULAR TERRITORY. This is their natural instinct. They must open their claws to release their own scent from the pads on their feet. At the same time nature provides the TREE AS A NATURAL FILING TOOL for the cat's claws. If cats were given what they naturally need, i.e. wooden or jute cord, minimum 3-foot high scratching posts, there is no need to declaw. INSTEAD OF HANDICAPPING THE CAT TO ACCOMMODATE YOUR HOME, PLEASE BRING THE OUTDOORS INTO YOUR HOME TO ACCOMMODATE YOUR COMPLETELY PERFECT FELINE. (We have adopted out clawed cats into homes that are pristinely decorated - with great success).

REMEMBER: You must take the time (3 to 6 weeks) to properly introduce and train your new cat to his new environment, and supply the necessary equipment.

NOTE: We can conclude, from personal experience, that from those cats we have rescued "to be euthanized", only 2% of the clawed cats had behaviour problems. However, 85% of the declawed cats had problems such as improper elimination. We believe this is due to how declawed cats perceive stress/change. (We will be glad to explain these issues).

There are many more myths - too many to respond to here (i.e. nutrition & cat diseases).
IN REMEMBRANCE
It is a lighter load that we carry each long day (sometimes without immediate solutions) by remembering the reasons why. We will never forget those grateful hearts who have passed through here, now gone, but we are comforted in the knowledge that they are watching over us. This year has been especially difficult as we have lost 5 to cancer, one to UTI, another suddenly but peacefully in his sleep, and another to a fatal disease. They were given the best veterinary care and treatments and only when quality of life was lost did we make the painful but necessary decision to say goodbye. This is the ONLY REASON FOR EUTHANASIA.
Jazz - The shelter owner's first cat, and what a cat! He departed too soon, at the tender age of 6 tragically, and after this loss the owner vowed that no other animal crossing her path would be left to suffer alone. We believe it was indeed a DIVINE PLAN that he left so soon to make room for the thousands rescued that might not have otherwise been saved!

Located 1 hour east of Ottawa, just off Hwy 417, and 45 minutes from downtown Montreal.
---
Cat-A-Match Rescue
P.O. Box 45548
Chapman Mills, Ottawa, ON K2J 0P9
Phone: 613-209-1105

Email: catamatchrescue@hotmail.com
Click here for a list of pets at this shelter

---

[Home] [Information] [Shelters] [Search]