Community Animal Programs C.A.P.
---
Pet of the Month
EMMA headlines our cats who need to be placed in loving homes before July 28, 2012.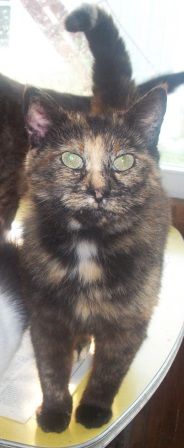 News

C.A.P. Is In Need of Help! We have been asked to vacate our shelter and Thrift Store premises by the end of July. At this time, we are seeking loving homes for our cats - a total of 39 in all. We hope to place as many as we can before we need to relocate them. Our adoption fee will be waived as long as an adoption is approved.

All of our pets up for adoption are taken to a veterinarian where they are given an initial checkup, tested for feline leukemia (adult males are also tested for aids), dewormed, defleaed, appropriate vaccinations and spayed and neutered. Any additional medical attention needed is also given.

Who We Are

C.A.P. was organized in 1993 by a group of animal lovers who wanted to make a difference for companion animals in our community. Starting out as a spay/neuter group, we have expanded to animal rescue and focus most of our efforts on homeless cats and kittens. We also assist caretakers of stray cats by humanely trapping the cats, take them to a veterinarian where they are altered and given a rabies vaccination and then released. Most of our pets up for adoption are housed at Valley Home Furnishings in Little Falls - our President, Larry Ortlieb and Furnishings owner, has generously given us space in the back of his store where the animals are housed and adoptions take place. Other pets live in private foster homes.

Adopting a friend

We have many, many beautiful adult cats and kittens looking for good homes.

Come Visit Us!

We are based in Little Falls, NY in central New York State (nearest big city is Utica). Take the Little Falls exit on the NYS Thruway and go towards Little Falls. After crossing a long bridge, you will take a left on Route 5 to go into Little Falls and at the first stop light, take a right (this is Main Street). Go straight and you will go through one stop light. At the next stop light, take a left. This is Shopper's Square. Take the second turn to the right (the first right is a one way - wrong direction) into Shopper's Square and Valley Home Furnishings is on the right. We are open Monday-Saturday, 10:00 a.m.-6:00 p.m. and anytime by appointment. We also have many catsin foster care. If you want to come and take a look, we'll be there.

Thrift Store

C.A.P. now has a Thrift Store to help raise money to support our animal rescue program. It is located right next to Valley Home Furnishings where we house our cats and is open regularly Tuesday-Friday, 11 a.m.-4 p.m. and on Saturday from 11 a.m.-2 p.m. A percentage of the store's proceeds are designated for a spay/neuter assistance fund for the community. Please stop in and browse! Every purchase helps animals.

---
Community Animal Programs C.A.P.
Mailing Address:
15 Jackson St
Little Falls NY 13365
Phone: (315) 823-2323
Email: cadhopson@hotmail.com
Click here for a list of pets at this shelter

---

[Home] [Information] [Shelters] [Search]