Camp Kitty
We would like to take a moment to send a big THANK YOU to our 2015 Santas: Tom & Hayley (and Penny!); Lindsay C., Ginny M. & Freddie the Freeloader; and the Secret Santa we call Jack. Here's to lots of spaying and neutering of outdoor-living kitties in 2016! Thanks to you all!
Our Featured Pet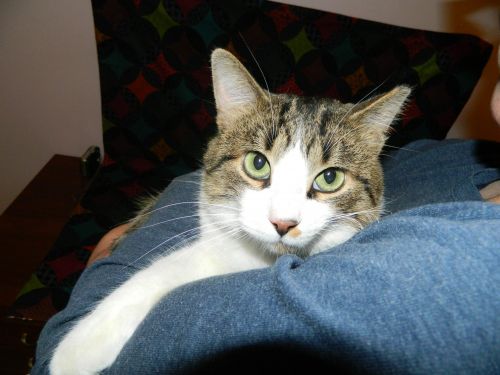 Snickers

Snickers is a goofball! He's timid but full of personality. He loves head scratches and gets more confident each day! Email Becky here to request an adoption survey!

We're on Facebook: Join us!

---
---
---
Low Cost Spay/Neuter
There many organizations that offer low cost spy/neuter services - even if you're not a low income owner! Check out All about Animals in Warren, the Huron Valley Humane Society, Humane Ohio, and the Michigan Humane Society for current pricing.
Two Locations to Serve Your Cat Adoption Needs!
In addition to our fosters in Brighton, we also have fosters in the Ypsilanti area. And if the cat in whom you're interested isn't close to you, we'll make that happen. Our kitties are well traveled and used to sleepovers at other fosters' homes!


---
Barn Cats Available
Do you know someone who has a warm barn and a warm heart? We'd like to hear from you! There are always cats that aren't suited to living in homes that need a roof over their heads and food in their tummies. We're looking for barns or outbuildings that are heated or have large animals for warmth. These cats depend on humans for food and water, so that has to be part of the deal as well.



Who We Are
We are a 501(c)3 no-kill cat and kitten rescue group. Our mission is to place homeless, unwanted or abused cats and kittens into permanent, responsible homes. We also take on the occasional collie and beagle. Being no-kill means we treat illnesses and injuries rather than euthanizing the afflicted animals. Accordingly, we rely on donations to keep our adoption fees low and the quality of care high

Animals are given comprehensive veterinary care including feline leukemia virus and FIV testing (heartworm testing for the dogs), sterilization, immunizations, and parasite control. In addition, animals with special health issues receive the care they need, and every animal is microchipped. Because all animals are fostered in our homes, they are well socialized before adoption.

2015 was a transition year for us at Camp Kitty. Several long term fosters became permanent residents at two of our foster homes. Being no-kill means that once we take a kitty, we either find him/her a loving, permanent home by way of adoption or we provide the loving, permanent home - forever. It also means our ability to take in more animals is restricted. So for 2015, we focused on trap-neuter-return projects where we provided traps, know-how, and funds to sterilize, vaccinate, and ear tip community cats who otherwise would be reproducing outside, sometimes in unsafe places and most often where additional kitties are not wanted. We also brokered quite a few barn cat deals in 2015, meaning that when we didn't have any available when the need arose, we got in touch with our trusted rescue partners, provided introductions, and sometimes helped transport and set-up barn kitties in their new homes.

In 2016, we anticipate continuing/expanding our community cat assistance, as the need continues to be great and we have a lot of experience to share.. There are also always kitties in need of barn homes, so we will continue to help people who have them find screened barn homes in which to place them. [Barn homes must include shelter, food, water, and vet care (as the cat will allow, of course)].


How You Can Help
Our adoption fees often do not cover the cost of vetting the animals in our care - sterilization, testing, vaccinating, microchipping, etc - because sometimes animals are sick or injured. Therefore, we rely on donations to cover the gap. No donation is too small - there is strength in numbers! Donations can be mailed to Camp Kitty, PO Box 176, Brighton, MI 48116 or made securely through PayPal by clicking the DONATE button below. We thank you - and the critters thank you!


Adopting a friend
We seek to place our animals in permanent, loving homes. To enable us to help you select the best cat for you, we ask you to fill out an adoption survey. This tells us about your kitty know-how, wants, and needs. All cats and kittens have been tested for feline leukemia, have age-appropriate shots, have been microchipped, and are spayed or neutered.
ASK ABOUT OUR MULTIPLE ADOPTION DISCOUNT WHEN ADOPTING AN ADULT CAT
Come Visit Us!
We arrange adoptions by appointment, so you can have our undivided attention!


Camp Kitty
PO Box 176
Brighton, MI 48116
Email Becky here or at bttd1986@att.net
Click here for a list of pets at this shelter

---

[Home] [Information] [Shelters] [Search]