Buckeye Border Collie Rescue, Inc.
We are a 501(c)(3) not-for-profit tax-deductible organization.
---
Check out how Pilots N Paws helped us! (See very bottom for an UPDATE!!)

First, the pics....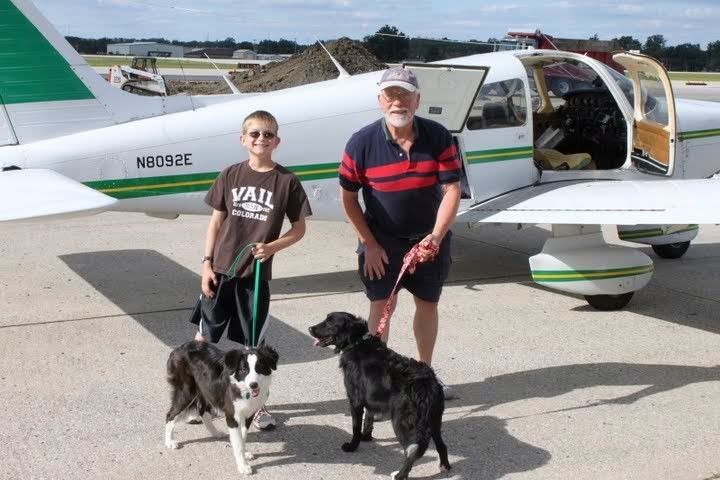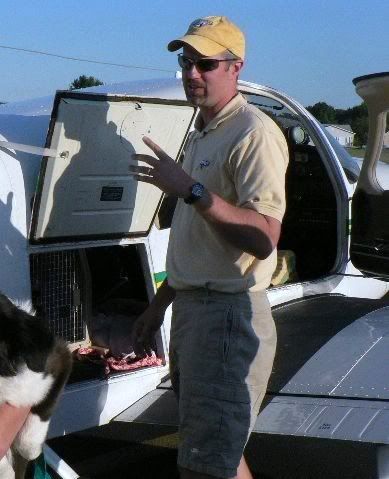 So, here's the story!

It was a beautiful, sunny day on Monday, August 31, 2009. The day started normal for us. Well, as normal as it could be for two homeless Border Collies in Bowling Green, KY. I, Marcie, was waiting in my temporary foster home and Tippy was waiting at the humane society for a ticket out of there. She said the people there were wonderful, but she was ready to move on. I had come from Franklin, KY where Ashli helped me get on my way. I'm just a youngster and life has been so scary for me.

Angie and Brian took us to their small airport for an air departure at 1:30 pm Central time. "Air departure? What's that" I wondered. We spent some time in the building with Frank and Barb. Then, we walked out on this HUGE roadway to the airplane, this funny looking car with wings. Tippy and I got loaded in our crates. Angie and Brian said their good byes. We heard this loud roar and we started moving. Then, we kinda got this feeling that we were floating in air. How do they do that??? I saw Tippy over in her crate playing with the zipper on her door. Before Frank and Barb knew it, Tippy unzipped her door!! She was resting her head on the back seat and looking out the window. Barb said something about "7000 feet." What??? 7000 feet??? Tippy said, "Don't worry. These two pilots know what they are doing. Just relax and enjoy the ride."

After a little while, we landed on another big, big road and we met John, Ethan and Larry. Ethan and Larry took us for a walk in the grass. They said we were in Frankfort, KY. We strolled back to the airplane where Frank fussed over Tippy and Barb said I was totally adorable. Since Miss Tippy was an escape artist, she had to ride in the crate. I got to ride next to Ethan. I heard that familiar roar and up, up, up in the air we went again! I thought "I'm a pro at this now!" This flight was a little longer.

About 7:00 pm Eastern time, we landed in Tiffin, OH! There to greet us were Rachel and Tim and Wanda. Ethan stepped out onto the wing of the airplane. Then, I eased myself for a look around. Whew! Back on solid ground! Almost 400 miles! Wanda called Nancy to let her know the transport was complete. She was the transport co-ordinator who got it all set up from the very beginning. She lives in Alabama! Sorry Nancy. I'm not jumping on another airplane to go that far to visit you! I think I'll just hang out here at the farm and play with the other Border Collies for awhile.

For those of you reading about our adventure today, it was all possible by a wonderful group of people who donate their time and airplanes for homeless animals that need another chance at life. They are called Pilots N Paws. Go to their website at http://www.pilotsnpaws.org/ Maybe you can help as a foster home, ground transporter, transport co-ordinator, pilot or just to donate to their cause. In the very short time that they have been in operation, they have helped lots and lots of animals like me and Tippy get out of shelters to save our lives. Otherwise, we would have been casualties of the pet-overpopulation crisis in the United States. Our precious lives would have ended far too soon! So, PLEASE spay and neuter your pets. BEFORE you think about breeding, think about ALL the homeless animals in shelters that will die there because there are just not enough homes for all of them.

UPDATE! It's me! Marcie! I'm the youngster that looks like I got a tuxedo on. At BBCR, I put on 4 pounds. I had food whenever I wanted it! I got to play with the other dogs every day. I had to take a few days & go see the doctor & get fixed so I don't have babies, get a good check over & get my vaccinations. We ran in the big field that seemed to go for miles. Then, we would settle in the house & chew bones & relax. Well, I didn't know it, but Ethan & John held a family meeting the day after our big air plane ride. They told Michele & Aidan & Maggie all about me. They decided to give me a home! They sent their application & went through the process to be sure we would all be a good family together. On September 13, I knew something was up. Wanda gave me a bath, got me all spiffied up & packed my bags. The next day, we went to the airport & guess who came down out of the sky! Yes! Ethan & John & Michele came back for me! It was kinda scary gettin in that air plane again, but I was braver now. After we got up in the air, I curled up next to Ethan & fell asleep. Before I knew it, we was on the ground again. I got to meet Maggie & Aidan. Maggie & I play & play & play now. We all go for walks & they said I get to go to class soon. Oh, I wish every dog had a happy ending like mine. It was sad leaving Tippy behind, but she looked happy & I know she'll get to go to her new home soon.


---
Who We Are
Buckeye Border Collie Rescue, Inc. is committed to helping Border Collies find appropriate, loving and responsible forever homes. Please do some research on the breed. Border Collies are not for everyone! There is a wealth of information about the breed on rescue sites. They must have a job to do to challenge their minds and release that energy. They need more than "room to run". Border Collies don't take coffee breaks or go on vacation. Due to the overwhelming number of purebred Border Collies that need help, we are sorry to have to limit the type and number of mixes that come in. We do not operate a facility. The BCs are fostered in our homes. When supplying a phone#, please provide a phone# that can be reached in the evening or on weekends. We are not able to return phone calls during the day.
---
Adopting a Border Collie
Most of the Border Collies come from shelters in Ohio and Kentucky. At any time, there may be the Border Collie just for you and it may not be on the site yet. Please read "OUR ADOPTION PROCESS" and submit your application for consideration. We will not ship Border Collies.
Our adoption process helps a homeless dog find a forever home while enriching your life with a special new family member!

Our process includes:



1.

Filling out our application with a ten dollar processing fee. Please go to this link:

Buckeye BC Rescue Home Page


2. Meeting with a BBCR volunteer in your home.

3. Discussing potential dogs and setting up an adoption visit to Bettsville, OH 44815.

4. Adopting a great Border Collie that is suited for your environment and needs!


All of our dogs are spayed/neutered, up-to-date on vaccinations, heartworm negative and on preventative. They are fostered in the homes of the volunteers where they are evaluated for general health and temperament. Our fee is usually $250 (may be higher in certain cases).

We are volunteers with full-time jobs and normal responsibilities just like you have. In addition, we have the rescue fosters to tend to, vet visits to make and transports necessary to get BCs from shelters and into foster homes. Please be patient as this process may take several days or a week.
Come Visit Us!
---
Buckeye Border Collie Rescue, Inc.
Tiffin, OH 44883

Email: lassie9@bright.net
Click here for a list of pets at this shelter

---

[Home] [Information] [Shelters] [Search]