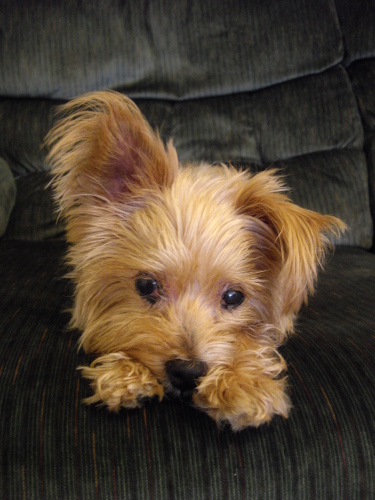 Please donate to help Yogi get his knees fixed!

Yogi needs surgery for his luxated patella. He can barely walk and he is in a lot of pain.
Please help if you can, every dollar counts.




Gypsys Eye Blind Dog Rescue
visit us on facebook! click here
Who We Are
Gypsy's Eye is a rescue for blind dogs. Our goal is to accept blind dogs from shelters who would otherwise be euthanized, just for being blind. Of course we occasionally end up with a few dogs who are not blind, and a few cats, too!
All animals in our program are housed in loving foster homes. The blind ones get special training on how to follow voices and commands to go up and down stairs, watch out for dangerous objects, etc. Sometimes we get blind AND deaf dogs, they are a special challenge when it comes to training. But they still have plenty of love to give!
Blind Dogs on TV
Our founder, Michelle Wunsch, and our little blue heeler mix Beignet, were guests on WBRZ's 2une in program. Both Michelle and Beignet were very scared; neither one had been on TV before! But they both did great, didn't they? Click the link below to watch the video!
Use your eyes to help a dog

Email: gebdr@yahoo.com

If you would like to make a paypal donation to help our blind dogs, please click on the link below. Even $1 helps!! With a donation of $5 or more, you get a cool fridge magnet!
---
Our Featured Pet...
Sunshine

This is Sunshine!!
A fitting name for such a happy little pup. She was found wandering on the side of the road, starving. Some kind strangers took her in and fed her, they say she never seems to get full. Sunshine can't stay with them forever, but they've been so kind as to agree to keep her a while so we can search for a new home for her. Before they found our blind dog rescue organization, they didn't know what to do and were thinking of taking her to "THE VET." We all know what that means. They didn't know that blind dogs are just as awesome, happy, and loving as all other dogs!! Sunshine got a lucky break, and now she's looking for a family to call her own.
We thought Sunshine was an australian shepherd, but as she's growing up she looks more and more like a Border Collie. She has microphthalmia. She can hear just fine, but she is essentially blind. Her left eye is somewhat functional, she can sense a little bit of light. Her right eye, well there's pretty much nothing there. She won't let that stop her! She's learned the layout of the backyard, knows how to go up and down the stairs, and knows where to potty. She's sweet as pie and great with kids. She's very smart, like all Border Collies.
Bring a little Sunshine into your family. Adopt Sunshine the Border Collie pup. Her adoption fee is $100. Email GEBDR@yahoo.com if you are interested.



BIG LOU SAYS "THANKS"
What a lucky boy!
Big Lou wants to thank you! We had a big party for big lou and the blind dogs and we raised $700. That's enough to pay for his heartworm treatment and a little extra monies for the rest of our dogs. Lou is positive for heartworms. Of course we are always in need of donations, so if you can help, please email us at GEBDR@yahoo.com or click on the donation button above.





Check out this VIDEO of Basil doing his touch tricks. Lucky Basil has been adopted!
We have more videos of blind dog on our youtube page, click here: Blind Dog Videos!!




Adopting a friend If you are interested in adopting from us, please send an email to GEBDR@yahoo.com The adoption fee is $100, but in some cases (when there is a sponsor) the fee can be reduced. We will ask you to fill out a standard adoption application, which can be found here: adoption application

---

Gypsys Eye Blind Dog Rescue


Baton Rouge, LA 70802
Email: gebdr@yahoo.com
Click here for a list of pets at this shelter











---





[Home] [Information] [Shelters] [Search]