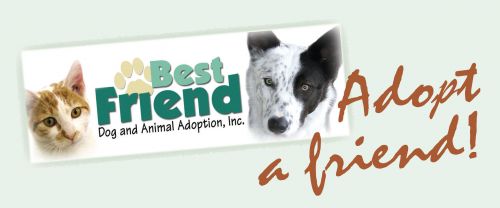 ANNOUNCEMENT!
Best Friend Thrift Shop is in desperate need of volunteers for our store
located at 1750 East Second Street, Scotch Plains, NJ.
The store has been open for over 15 years. The profits aid our rescue efforts by bringing money in weekly
for pet boarding, supplies and veterinary bills.
SHOP VOLUNTEERS - Hours needed Wed 10-4, Thurs 10-4, Sat 10-1 and 1-4
If you can help, please call the shop and ask for Lorraine at 908-322-2502.
FOSTERS ARE NEEDED ASAP!
Foster homes are URGENTLY NEEDED for cats and dogs!
Please help us to continue to save lives and give the gift of life to an unfortunate animal waiting to be rescued.
Just imagine being hungry and having no shelter. This is what many of the animals are faced with.
On top of that add illness and disease. And now all rescue groups are overwhelmed with kittens.
Many will simply die outdoors if help doesn't come in time.
We don't have a facility, so we rely on foster homes. All our four-legged friends are spayed/neutered, (if old enough),
vet checked, and vaccinated prior to adoption.
Fosters are the first real home many of our rescues ever have.
We rely on foster homes to be able to continue in rescue. The more fosters we have, the more animals we can save.
Fostering is not for everyone, but it can be a very rewarding experience for many.
If you are interested in being a Foster home for us, please call us.
All veterinary care is provided by us and not the responsibility of the foster home.
Fostering is a very rewarding experience. To simply know that you are saving a life,
that you can receive unconditional love from this living being that is grateful to you for your care and for making room
in your heart and home for him or her, it is a wonderful thing!
WHO WE ARE
Best Friend Dog and Animal Adoption is a 501(c)3 non-profit, no kill, all-volunteer organization.
We are a small group of people dedicated to giving dogs and cats a second chance at life.
Our mission is to find forever homes for so many of our area's unwanted, abandoned and/or neglected animals.
When they become a part of the Best Friend family we take care of all their basic needs,
try to train and socialize them the best we can, and place them in loving homes.
In the meantime, they receive medical treatment, food, shelter and love, but what they really need is a forever home.
If you are interested in adopting or fostering one of our dogs or cats, please call to arrange an appointment with us.
All adopters are required to complete a pre-adoption form
PLEASE HELP US! Best Friend Dog & Animal Adoption is a Non-Profit Charity which exists only through donations we receive from caring people.
We are in DESPERATE NEED of funds to continue our life-saving program!!
At this time we are in debt and unfortunately, cannot take in any more pets.
The only way we can continue to rescue more pets is with more funds and foster homes.
For many years we have rescued pets from a local kill shelter. We're currently unable to do so. This is devastating.
We have a thrift store in Scotch Plains that is our life-line. Please consider purchasing gifts from our shop.
All proceeds from the shop go directly to help the animals.
The store is also the drop-off location for much needed cat and dog food.
Please send your tax-deductible donations to:

BEST FRIEND
P.O. Box 335
Cranford, N.J. 07016
bfdaaa@gmail.com
Or donate online with Paypal

Thank you for your generous donations and support!!!
TAKE A LOOK AT OUR
CAT ADOPTION - SATURDAY
PETCO
2698 US HWY 22 EAST, UNION, NJ
11:00 to 2:00
bfdaaa@gmail.com
* Please help us by shopping at the thrift store and we in turn can save a life due to your generosity.
For more information call 908-322-2502.
Monetary donations are tax deducible and are urgently needed by the rescue group.
VISIT OUR FACEBOOK PAGE!
For updates on events and to learn more about our pets, join us on FACEBOOK!
...............................
"Thoughts of a Feral"
by Annette Easdon
Dedicated to all the kind and caring people who give the lonely ferals a little care,
a little love, and a little hope.
I sit beneath the bushes as she fills my dish each day,
I only venture out to eat when she has gone away,
I know it will upset her when I turn away and hide,
As every day she tries her best to get me by her side.
I wish that I could let her know that I donít want to run,
And hope that she will understand itís nothing that Sheís done.
Iíd like to have her stroke me and pat my weary head,
But fear will overcome and Iíll run and hide instead.
For all the kindly people who feed the strays each day,
I pray the Lord will care for them as they have cared for me.
Featured PETS
Nelson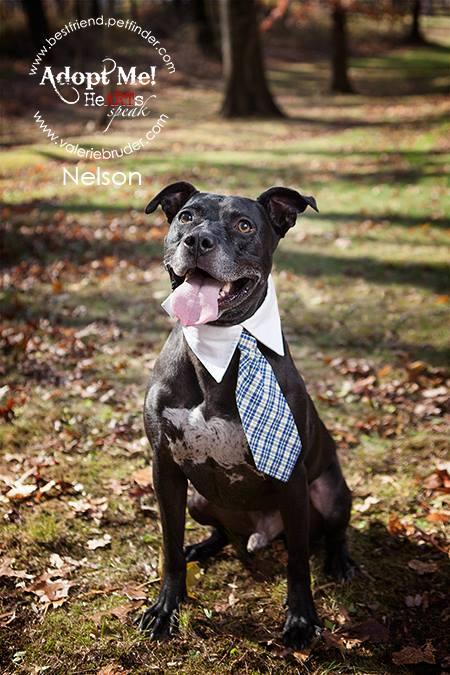 Nelson is a very affectionate boy who loves everyone he meets!
This sweet dog has been with with for a long time and needs a home of his own.


Joffe & Smokey Joe




Many of your dogs are in boarding facilities while good homes are found.
They desperately need beds to make their stay more comfortable. Please consider donating one! Thank you!




Introduce Your Dog To Your Baby


CAT DECLAWING - The Paw Project


Pit Bull Blues by John Shipe (video)


The Senior Dog's Project:
Adopting A Senior Dog



HELP FEED AN ANIMAL IN NEED

Over ten million animals are abused, neglected or abandoned yearly.
Visit The Animal Rescue Site every day to give a bowl of food to an abandoned animal
-- At NO Cost To You--
and participate in the fight to save animals in need.
Funding for nutritious food, paid for by site sponsors, is generated
when you click on the "Feed An Animal In Need" button on the Home page of the Animal Rescue Site.
Please do this simple task to help animals in desperate need!
THE ADOPTION PROCESS

Our goal at Best Friend is to keep our pets as safe, healthy, and happy as possible until we find them forever homes.
This means trying to match them with the best family possible. This is why we ask potential adopter's a lot of questions.
Some people feel that the adoption process is a tedious one but please understand, we want everyone to be happy with the new addition.
Adopting a homeless pet can be extremely rewarding. You save a life and receive a lifetime of love in return.
Adopting any pet is also a lifetime commitment that requires careful consideration.
One must allow the proper time, patience, and funding and should consider family and lifestyle issues when making this choice.
In order to adopt one of our feline and canine friends you must first fill out an application.
Upon approval of your personal and vet references (yes, we WILL call them) a home visit will be scheduled.
This is not to invade your privacy; it is to ensure the safety of our pets and to verify your application.
Please remember that volunteers run this entire organization.
Most of us have full time jobs, families and animals of our own we must take care of.
It may take us a few days (up to a week) to get back to you but your patience will pay off.
We hold the right to deny any application. We try to make the best possible fit and we try to make the best decision possible.
If the pet you wanted is no longer available please don't give up.
We always have new friends coming in and we can help you find that perfect soul mate.
All our pets are vet-checked, vaccinated and neutered prior to adoption if old enough.
If a kitten or puppy is adopted too young to neuter, we follow through with the adopter/s to make sure the pet is spayed or neutered
by the time he or she is 6 months of age.
ANIMAL HOMELESSNESS and EUTHANASIA are tragic problems in the United States.
Every year thousands of pets are given up because they are unwanted, inconvenient, or do not behave.
And now because of home foreclosures, the problem has gotten a lot worse. Animal shelters, communities,
and pets experience the terrible results, whether animals are abandoned on the street, in homes, or surrendered to a shelter.
Many people adopt, but there are just not enough homes for the number of animals that are born.
You can help to reduce pet homelessness and euthanasia.
Prevent a litter by spaying or neutering your own pets before they have a chance to reproduce.
If your pet is already sterilized, consider sponsoring a friendís or neighborís pet.
Educate your family and friends on the importance of spaying/neutering their pets.
SECOND CHANCE THRIFT STORE



Visit and support the resale shop. WE NEED YOU to continue our life saving mission.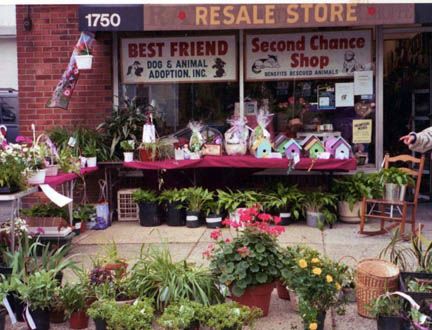 1750 East Second Street, Scotch Plains, NJ
Open Wednesday through Saturday during the winter
10:30 a.m. to 4:30 p.m.

All funds raised at the thrift shop are used directly to help our pets with
spaying and neutering, boarding, food and veterinary bills.
The shop is also used as a drop-off for much-needed cat and dog food.
Donations of good quality jewelry, collectibles, gift items, CDs, DVDs, and small pieces of furniture are greatly appreciated.
No books or vinyl records can be accepted at this time. We have limited space at the shop and we have plenty of both.
It is always best to call the shop ahead of time.
Volunteers are desperately needed! The thrift shop is run by our volunteers. We are currently short-handed.
If you can spare just a few hours a week to volunteer at the shop, please call the shop and ask for Lorraine at 908-322-2502.
(must be 16 years or over). Thank you!