Animals First
www.reunionrescue.com
---
News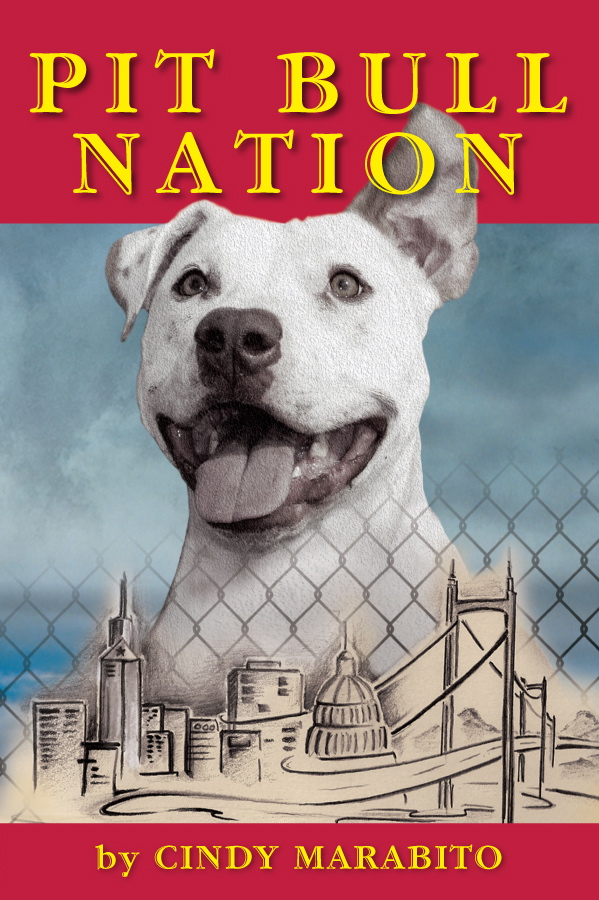 Pit Bull Nation is a fascinating tell all about the people who love pit bulls and those who hate them.
Pit Bull Nation is a tale of triumph and redemtion, but also chock full of the author's own rescue secrets...
how to feed and treat animals on a shoestring and other valuable every animal lover and rescue should know.
All proceeds from Pit Bull Nation go to rescue. Contact doggirl1@earthlink.net for a discount code for other rescue groups.
Please visit http://www.pitbullnationonline.com and order your copy today.
Who We Are
We are a group of volunteers who can't sit by and watch the senseless mass euthanasia of adoptable animals. We are committed to saving these incredible creatures and finding them loving homes.
Adopting a friend

Please contact any of our following group of rescues. Some of our groups are still in the planning stages, but with your help can be up and running and flying, just like the animals we love to save.

To tell you a little about ourselves, Animals First is an umbrella organization which houses over twelve rescue groups, some of which we have planned to launch soon, but have not raised enough money to do so as of yet.

Kitty Kat Kaboose is a volunteer feral cat transport which is geared to enlist the help of trained volunteers to pick up and drop off trapped feral cats throughout the bay area for spay/neuter and release back to their colonies. We have seen the numbers barely diminish by cruelly euthanizing these animals and feel that this organic solution will eventually lower the number of feral cats which are currently multiplying so very quickly that no one has been able to get a handle on the out of control situation. Our feral feeder in the China Basin has already trapped/spayed and neutered 38 cats with our donated trap. We constantly need food donations which help these generous feral feeders, most of whom feed these animals out of their own pockets.

Lucky Black Cat Rescue is dedicated to helping older, mostly unwanted or sick cats by raising money to treat their illnesses and find homes. We also help other cats whose families can no longer care for them to rehome so that they do not have to go to a local shelter.

The Dog Academy is our dream. We are trying to create a local dog training academy which will train anyone to train any dog with any problem. Wouldn't it be a great world if we could help people master their dog's issues, redirecting that bad behavior and not euthanizing or just taking the dog to the shelter? Bob Gutierrez of A Better Way Dog Training and Youngblood Harris of Attention to d'Tail Dog Training Services have been collaborating to teach an aggressive dog training class which lasts six weeks, is unbelievably affordable and has had tremendous results. We have many ideas for the academy and are just starting out. The aggression classes are so very needed, but we have some really fun ideas as well such as a get you dog in show business class and some ideas for search and rescue, detection work, even so far as detecting cancer in human beings. We are at work right now on a simple website with testimonials and pictures of some of our graduates and have plans for streaming videa. Some of the before and after stories are almost unbelievable. We'd really like to base this organization in Pacifica if we could find the right logistics.

Critters Along the Coast is a website idea which would include links to all of the groups which help wildlife. Many many people are licensed to help care for wildlife such as birds, raccoons, skunks, birds of prey, shore birds and animals, reptiles and small rodents as well as many other animals. We would love to offer people the alternative to hiring a trapper who usually just destroys the animal as most of us just don't know who to call when we get a sick raccoon or a baby skunk in our backyard. The Peninsula Humane Society does not offer any retrieval in this regard, so the public is mostly left on its own and rather helpless when such incidents occur. Recently, a squirrel became caught in our rain gutter and we were lucky enough to lure him out and back into the wild before he simply starved to death. These links would in turn link to the wildlife people/rescue/savior's websites or if they don't have one, Critters Along the Coast would be happy to help them build a site.

Strongheart Shepherd Rescue is a rescue run by a longtime devotee of the breed and an expert in the field of GSD's and rehoming them.She is covered under the umbrella of Animals First.

Our good friend, Bill, has not named his rescue just yet, but is in the process oflooking for land to start a retreat for rescued lab monkeys. His rescue is covered under Animals First.

Reunion Rescue is perhaps the most ambitious project of all. Reunion Rescue began rescuing pit bulls and pit bull mixes which had passed all of their temperament tests with people, children, dogs and sometimes cats, food and showed not one iota of any type of fear or aggression. These animals, due to the breed were pushed and pushed hard. The shelter we began rescuing from only allowed six pit bulls or pit bull mixes to be adopted at one time and when another dog passed the tests, the one who'd been unlucky enough to not be adopted was destroyed. Reunion Rescue started a boot camp operation to take these great dogs, get them on a good diet, get them into training with Bob Gutierrez and/or Youngblood Harris who specialize in shelter dogs and pit bull breeds as well as other dogs. Reunion Rescue offers the potential adopter who is screened almost as hard as the dogs are tested, a crate, food, treats, toys, collar and leash and a dog bed. The new potential adopter must attend at least one obediance class with the dog before ever taking the dog home for an overnight visit. Each dog and adopter goes through a lengthy foster to adopt situation and agrees to attend obedience, feed a quality food, only leash walks until graduation from obedience class. Each Reunion dog is a member of the Reunion Play Group e-list which is a sharing board for safe play groups, discussion items, support. Each adopter signs a contract with Reunion that the dog will always be an indoor member of the family, crated when not supervised, keep up with training with yearly drop-ins, and absolutely no negative training is allowed or we will confiscate the dog. We stand behind every dog and included in the contract is an agreement that the adopter if for any reason decides to relinquish the dog, they must return the dog to Reunion Rescue. Every single dog Reunion has adopted is tracked and in contact with the rescue. Every single dog is living an incredible life as a good canine citizen and many of them have gon on to earn their Canine Good Citizen certification.

Dog Meets Man is for other dog breeds who are saved from euthanasia. This can be any breed. We have saved a deaf and blind twelve year old Cocker Spaniel who was abandoned in an apartment with his only friend, a pit bull. He was actually adopted and died of old age in his sleep. He spent every day of his life going to the dog park where his favorite sport was running around entertaining himself and showing the rest of us the true meaning of how great life can be. We saved a Lab/Shar Pei who was going to be killed because he was frightened and had to wear a halter because he was such a runaway. He was adopted by a man that looked exactly like him and was immediately taken off leash. The adoption was so successful that Chino has never once left David's side. We feel there aren't "adoptable" and "unadoptable" animals. At least not in the Bay Area. We feel that we are a collection of people who have traveled to an area which attracts thinkers and people who might not fit in with the average Joe. Many of our animals are just that, a little bit unusual and we've been lucky enough to find their perfect person. We feel that, given the opportunity, we can help so many animals who are being put down just because they don't have the "average adoptable quality" that most corporate shelters seek when deciding which animals should live and which should be euthanized.

One of our most important rescue organizations under the umbrella of Animals First called The Big Fix Up. This rescue is dedicated toward lowering the pet population of all pets in the bay area. This does include small animals as well as cats and dogs. Our idea is to form a coalition of some 20 to 40 bay area vets who will donate 2 hours per month to our organization. During these two hours, they will spay/neuter the animals of the bay area. We do not care if the guardians of these pets live on top of the hill or under the bridge if you understand our meaning. We are concerned with the overpopulation of animals in the world and if our group is a success, we can show other communities how they can solve their own overwhelming problems. We already have the interest of several vets in the bay area who are willing to join our group. In the future to sustain this rather gigantic venture, we plan to organize grant applications to the foundations and government with funding to help subsidize this idea.

A Wing and a Prayer is strictly for pigeons. We presented an idea a few years ago to Marin Wildcare that if we were to give them a monthly stipend, we could bring sick or injured pigeons to their facility in San Rafael where they would be cared for until able to be released to the wild. This idea was met with open arms and we haven't been able due to lack of funding to embark on this dream just yet, but plan to get started very soon. Beautiful pigeons are treated like the pit bulls of the bird community. They are the only wildlife not taken by Peninsula Humane and immediately euthanized when the trusting public brings a foundling or injured bird into a shelter.

We also have plans for a volunteer railroad to help relay animals to various adopters in other parts of the country. This might even be a situation in which a family is moving and cannot take their pet right away. Rather than have the family leave their cherished pet at a shelter, we would help them find foster care and then find a ride for their pet to their new home.

We have a few other rescues, but this is an idea of what is on our plate today. These are the ones closest to our hearts. We are always looking for other people who love animals like we do and enthusiastically invite them to join our group.

Visit with us by email, if you have any questions about any of our groups at doggirl1@earthlink.net
---
Animals First




Email: doggirl1@earthlink.net
www.reunionrescue.com

---

[Home] [Information] [Shelters] [Search]