Angels Paws Kenosha WI mom4ladybug@yahoo.com
Angels Paws
Our Available Pets
We are looking for small animal cages that people would be willing to donate. We are being asked to take more and more Rabbits and Guinea pigs in and could use the help. They are all in kill shelters and need a place to go. Thanks in advance. !!! Every little bit helps.
go to good search and earn money for us!! help save the animals for free!! Powered by Yahoo, use it everytime you search and they donate money to us, tell your friends. Just go to www.goodsearch.com and be sure to enter Angel's Paws, kenosha as the charity you want to support. Just 500 of us searching four times a day will raise about $7300 in a year without anyone spending a dime! And, be sure to spread the word!
---
Our Featured Pet...

This is Blue. She is sweet and loving. She is around 2 years old. She love children and cuddling on the couch, going for walks and rides in the care. Crate trained and pretty much housetrained. She is a little dog, so you have to stay on top of things. She will do well in most any home :) She has been waiting patiently for home of her own.




sweet and cuddly, Right around a year old.


Angel's Paws is located in or near Kenosha Wi The ecomony has taken a toll on the animals, they are bei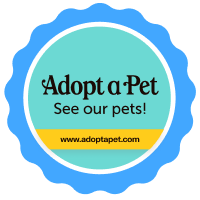 ng abandoned in record numbers. We are always being asked to take more and more, adults and babies alike. If you are looking for something that isn't on the website please call or email and We will do what we can to help you find your new family member. mom4ladybug@yahoo.com
adopters notes/happy endings

This was Dolly, she was left at a high kill shelter. Her name is now Agnes. She very rarely wagged her tail when she was in her foster home, she was sad and quiet.. then along came her adopted Dad and the minute she saw him she jumped in the chair with him and refused to let him leave without her and he wouldn't have it any other way. She is always on the go now and loved very much. She is just one of many we have saved thanks to adopters, foster parents and donations. We all wish Agnes and her dad many happy years together. Thanks for giving her a second chance at a wonderful life.



Who We Are
Angel's Paws is a foster home based rescue dedicated to helping shelter animals who would otherwise be euthenized. We only accept animals from other Humane Society's or Rescues. We rescue dogs, puppies, cats and kittens. If you are looking for something specific call please, it may take a little bit, but we can probably accommodate the request. We are always in need of donations and in URGENT need of foster homes. If you would like to donate, adopt, or can house a puppy or two or an adult dog, cat or kitten please call Betsy at 262-496-2418 Thank you for helping give a home to an animal in need. We are foster home based and are available by appointment only. We try to be as flexible as we can be, but please understand that we all have families of our own and some have jobs as well. Thanks for understanding.
Adopting a friend
please call or email for an appointment and application to meet your new family member
Note to adopters Lassie, Cleo, Rin Tin Tin and Toto don't show up in rescue. We don't get the elegantly coiffed, classically beautiful, completely trained, perfectly behaved dog. We get the leftovers. Dogs that other people have incompetently bred, inadequately socialized, ineffectively "trained," and badly treated. Most Rescue dogs have had it. They've been pushed from one lousy situation to another. They've never had proper veterinary care, kind and consistent training, or sufficient company. They've lived outside, in a crate, or in the basement. They're scared, depressed and anxious. Some are angry. Some are sick. Some have given up. But we are Rescue and we don't give up. We never give up on a dog. We know that a dog is a living being, with a spirit and a heart and feelings. Our dogs are not commodities, things, or garbage. They are part of sacred creation and they deserve as much love and care and respect as the next Westminster champion. So please, please don't come to rescue in the hopes of getting a "bargain," or indeed of "getting" anything. Come to Rescue to give, to love, to save a life -- and to mend your own spirit. For Rescue will reward you in ways you never thought possible. I can promise you this -- a rescue dog will make you a better person.
Happy Ending Stories
Hello Angel Paws!!! I wanted to write you an email and send a picture of a puppy that I adopted from your Kenosha shelter last August. When I adopted him from you his name was Champ. Today he is known as Mr. Bentley Bean. Bentley has grown into a loving, obedient and loyal dog. Ooh, not to mention a 100lb dog! He is the star of the neighborhood with over 10 best doggie friends and brings smiles to the faces of everyone that he encounters. He is my bestfriend and I am so excited to be able to show you how wonderful he has become.

---

Angels Paws



Email: mom4ladybug@yahoo.com
Click here for a list of pets at this shelter


---





[Home] [Information] [Shelters] [Search]