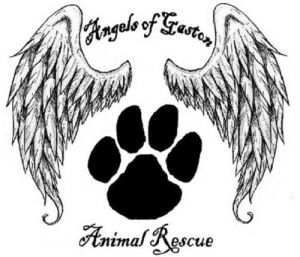 Saving the Blacks, Blues and Mixes/Breeds Considered Undesirable
Thanks to your support we have saved
76
Dogs from the GAS CHAMBER and
70
of those dogs have been adopted out to forever homes!!!! THANK YOU!!!
---
Our Featured Pet...Hannah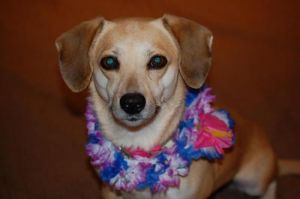 Hannah was turned into animal control by her owners. They were moving and didn't want to take her with them and she was just petrified to be at Animal Control, she didn't understand why she was there or what she had done to deserve her incarceration. She's pretty shy at first with new people or surroundings, but once she has been around you for awhile, she's all love and wants to be in your lap for petting. At home, she's very outgoing and is her foster mom's shadow - everywhere she goes, Hannah follows. She's 4 years old, weighs about 25 pounds and looks like a blonde beagle with very fine features like a chihuahua or rat terrier. She is spayed, up to date on vaccinations, mircrochipped, heartworm negative and on preventative and is potty trained. She gets along with other dogs and cats, but isn't the greatest on leash. She does tend to pull, but that's something that's easily trainable and we'll work with her on that. She's very smart and would do great with agility and or obedience training. She's just a wonderful girl that has recently had her heart broken, but is ready to find her new forever family that will love her forever. If you're interested in adoptiong this dog, email LWGastonRescue@yahoo.com for an adoption applicaton. Once you're approved we'll arrange a time for you to meet this pet at it's foster home. Dog adoption fee is $125, which covers spay/neuter, heartworm test, vaccinations, microchip and first month's heartworm preventative.

Low Cost Spay Neuter Information:


Who We Are
After volunteering with several breed specific rescues, I began to see the need for more all breed and mixed breed rescues devoted to helping all loving pets find homes. I tried to help these pets that didn't have anywhere to go by volunteering with the Gaston County A/C shelter. Even though 501c3 rescues can pull dogs from Gaston County at no charge, there are still an unbelievable number of dogs/cats put into their gas chamber every day to die. Most of the animals coming into the Gaston County shelter only have 3-5 days to find a new rescue or forever home. That is just not enough time in many cases and so many great pets end up dying just because they've run out of time. This rescue was started to help give all of the deserving animals of Gaston County more time to find a home even if they're not a designer or desirable breed. We are not breed specific and will pull any animal that will make someone a great and loving pet. Although we will focus on the blacks, blues and undesirables (dogs/cats that are black or blue in color and breeds that are considered undesirable), we will pull any animal that we think will make a wonderful pet. All of our animals are spayed/neutered and vaccinated before being adopted out.
"You can't change the world by adopting one animal, but you can change the whole world for that one animal" (Adopting a friend)
We do not adopt dogs/cats to homes where they will live on a chain or outdoors 24 hours a day, seven days a week. We wholeheartedly believe that pets should be part of the family and live indoors with the family. If you are interested in one of our pets, please email us and we will send you an application. It is very difficult to keep up with the phone messages and you will get a much faster response if you email. Once you fill out the application, we will check your references and notify you that you've been approved pending a home visit (for dog adoptions). We will then shedule a time for you to meet the dog during a home visit or a time for you to meet the cat at their foster home.
Come Visit Us!
All of our pets are in foster homes and not in a kennel situation. We feel that pets already living in a foster home will already have the social and behavioral skills (sit, down, walking on a leash, potty and/or crate training, etc.) required to be great pets by the time they are adopted. Because our foster homes are all volunteers and have lives of their own above/beyond fostering dogs and meeting potential families, only approved adopters will be allowed to meet the dogs at the foster home or during a home visit. If you would like to become a foster home, please contact us. Foster homes are required to either show that they can teach a dog basic obedience or complete an obedience class at the rescue.
Adoption Process
If you are interested in adopting one of our pets, please email us for an application. Once we get your application, we'll call you to discuss the type of pet you're looking for to see if the pet you're interested in is a good match. We'll check your references and once you're approved, we'll arrange a meeting with the dog during a home visit. Our adoption fees cover some of the costs with vetting the animals. Dogs less than four years old $125; Adult dogs over 4 years of age $90; Cats are $75; Sponsored pets are $25. If you would like to sponsor a pet and help with it's vetting costs, please contact us.
Save a Life, Donate $5.00


Like all rescues, we operate solely on donations and with volunteers giving their time. Just $5 will provide the vaccination for one cat/dog and protect it against disease. $20 will cover the cost of heartworm preventative so that dogs do not get heartworms. $40 will cover the neutering of a male cat. $75 will cover the costs of spaying/neutering and vaccinations of a cat or dog. $125 will cover the costs of spay/neuter, shots, heartworm test, microchip and h/w preventative. If you'd like to donate or sponsor a pet, use the PayPal link above or checks can be made to Angels of Gaston Animal Rescue (AGAR) and sent to 620 Ike Lynch Road, Dallas, NC 28034. Please let us know which pet you'd like to sponsor and we'll update their page letting everyone know how generous you've been.
---
Angels of Gaston Animal Rescue


Dallas, NC 28034
Email: lwGastonRescue@yahoo.com
Click here for a list of pets at this shelter

---

[Home] [Information] [Shelters] [Search]