href="http://www.petfinder.com/shelterSearch/shelterSearch.cgi?shelterid=NC170 &status=X&animal=Cat&preview=1">Click to see our Happy Adopted Tails!
Angels for Felines


THE PURPOSE OF THIS WEBSITE IS FOR YOU TO SEE THE WONDERFUL KITTIES I HAVE FOR ADOPTION> IF YOU WOULD LIKE TO ADOPT< PLEASE EMAIL>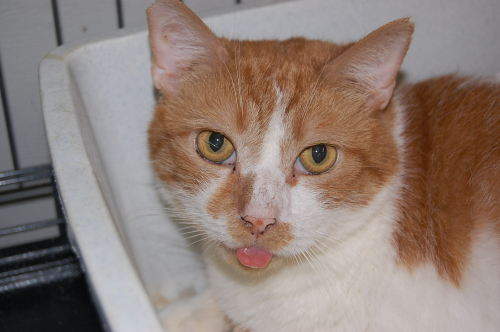 Hi Everyone, My featured kitty this month is another one of my favorite kitties. Yeller is a little on the shy side, but has turned out to be a sweet boy. He is a very HUGE cat!! Possibly weighing around 25 lbs. He sits around with his tongue sticking out, which really makes him soooo cute! He was rescued off the Catawba River with about 30 other cats and is anxiously awaiting his wonderful, loving home.
News
Most Saturdays you will find me at PetsMart in Pineville with my kitties for adoption.
Who We Are
I mostly rescue homeless and feral kitties. I can't take cats from individuals, because I have an endless supply all over these surrounding counties of precious little animals that are homeless. I need volunteers that can help me clean, feed, water, bathe, go to pet adoptions, pet the kitties, deliver kitties to and from the Vet, build houses for the homeless and possibly do some trapping. And of course, I need food, medicines, money and anything you can use with a cat. If you are willing to do some of these things to help me, then we might talk about getting your kitty adopted, if you have a stray that has showed up at your house. The main thing to do the very first day you see a stray is to get it spay/neutered, so there won't be more homeless kitties in a few days after you find them, because I can guarantee you they are about to deliver you some surprises, so you better run to the Vet's office or you will be gassing little innocent, breathing beings with feelings just like you have. I don't like to take part in uprooting an animal from its home environment. You took that responsibility when you adopted that animal and I think you should stick it out to the end, just like you would any other family member. You are welcome to use one of my traps to catch a kitty that you would like to get spay/neutered or help it in some way. If you have a stray, I will try to get you a low cost spay/neuter and vaccinations. I am just a caring individual, with a heart for animals, especially cats. I love all animals, but feel God has placed a special place in my heart for kitties. I have rescued all my life on a low scale and have in the last 9 years gotten into rescue on a larger scale. All my kitties are tested for FeLV and FIV and are flea-treated, dewormed, spay/neutered, microchipped and vaccinated, including Rabies and FeLV and any other medical attention they need before they are adopted. They are also on vitamins and nutrients to make them very healthy.
Adopting a friend
You may contact me via email to adopt a kitty. I have an application and a contract specifying how the kitty will be taken care of by the new owner. My adoption fee is $150 to help defray Vet costs already incurred.
DONATIONS: We are always in need of supplies and/or Vet care for the kitties. This is total volunteer, so all donations will go to help the kitties. Thank you in advance for any help you can give.
---
Angels for Felines


correspondence by email only

Email: Angelsforfelines@aol.com
Click here for a list of pets at this shelter

---

[Home] [Information] [Shelters] [Search]