---
Fundraisers
Louie

Order your Pet Food at MrChewy.com
and
Angel Pets Animal Welfare Society, Inc.
will get a
$20 donation!
Click the FirstGiving icon to donate to our online fundraiser
Use Goodsearch when you search the web! Each time you search the Internet or shop online at one of our participating stores, a donation will be made to Angel PAWS at no cost to you!
Hungry?
Buy a Restaurant Card for $20 that is good for a $50 meal! In this economy, you can't ask for better than that! Call for information.
SHOPPING FOR ANGEL P.A.W.S. through iGive!!
Now your shopping can benefit Angel P.A.W.S. That's right, by going to http:/www.iGive.com/Angelpaws and signing up, you can be a part of the first and largest network of shoppers, on-line stores, web-sites, and non-profit organizations dedicated to turning on-line shopping into philanthropy. Its free to join and by doing so, when you purchase products on-line from any of over 500 stores, including Lands End, Barnes & Noble, Eddie Bauer, JCPenney, and Expedia, up to 27% from every purchase you make will be given to Angel P.A.W.S. And if you thought it couldn't get better than that, get this...you'll also receive great discounts, free shipping offers, and special savings to add to the great prices already available through iGive.com. We bet right about now you're asking yourself, "What's the catch?" Well our friends, there is none!!! It's just about helping worthwhile causes. All this information and more can be found at the aforementioned website. Please check it out...it is an awesome deal. Oh, and just in case you are worried about spam and privacy, iGive guarantees total member privacy, as well as no spam. Pretty cool!!

---
A TRIBUTE TO STUBBS...


Rest in Peace - 11/29/09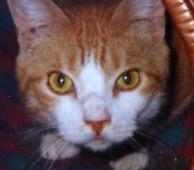 Never has a cat been loved by so many people. Stubbs was one of a kind, he was our Ambassador, he was our friend. Stubbs was a legend, he was known by so many visitors and people he met at cat shows, street fairs, and those that just stopped in at our shelter. He lived a long life, was spoiled by everyone (as he should be) and left this world on his own terms on November 29 – when his thin body finally gave out. He did not suffer, and he died peacefully in his sleep at a volunteer's home that he was very close to, who had taken him home with her for the night. We don't know how old he really was, but he was old when we got him, and he was with us for over 9 years. He was truly loved, and gave so much love in return. Stubbs was an inspiration for so many people – Angel PAWS is not the same without him. He's now at the Rainbow Bridge, young and spry again. So until we meet again dear Stubbs, you'll never be forgotten. You'll forever be in our hearts
---
ADOPTING A FRIEND
Bingo

All adoptions are done through application and an interview process to help match the perfect pet to his perfect home. You may fill out an application in person by visiting us at an adoption event, our pet adoption center (more on this below), or by filling out our new online application. Donations requested are as follows:

Cats: $100

Kittens: $115*

Dogs: $110

Puppies: $140*

* All puppies and kittens under 6 months old, under the State APC Program, require the deposit of $35 towards spaying or neutering..
---
OUR PET ADOPTION CENTER
Our Colonia Pet Adoption Center (formerly Colonia Veterinary Clinic) is open to the public for those who would like to come and visit with our kitties awaiting new homes (our dogs are in foster homes and meetings can easily be arranged). Hours at the center are from 12 - 3 on Saturdays and Sundays and from 7 p.m. - 8:30 p.m. during the week. Call for directions or click on the Mapquest link below.

Map to our shelter

---
Unable to adopt at this time? Here are some other ways to help.
Keyona

Fostering
You provide the love, we provide the rest! We are always in need of loving animal people who are willing to foster a cat/kitten or a dog/puppy (we presently have over 35 kittens - some with moms, some without - in need of foster homes). This is a very rewarding experience and if you think you are able to provide a foster home to one of our cats, dogs, or litter of kittens, please contact us immediately. We will provide the food, litter, crate, etc.... For more information about fostering please visit our website at: http://www.angelpaws/fostering.htm


Would you love to adopt a pet, but are unable to at this time? Are you stuck for a gift idea for the animal lover in your life? If your answer is yes to either of these questions, please consider purchasing a "Homeless Pet Sponsorship" for an animal loving friend, family member, co-worker, neighbor – or – even for yourself. It's simple…to select an animal, all you have to do is visit our Pet Adoption Center (located at 490 Inman Ave in Colonia), come to one of our adoption days (held the 2ND and 4TH Saturday of every month at Petco in Edison from 11:A.M. –2:P.M.), or check out our pet list at http://www.angelpaws.org/homepage.htm. The tax-deductible donation is $5 per month (per pet), with a two-month minimum, or $50 for the year (also per pet). The person for whom you purchase the sponsorship will receive a "Homeless Pet Sponsorship Certificate;" each certificate comes with colored picture(s) of the pet(s) chosen for sponsorship, along with a narrative - or sometimes a poem - which tells everything we know about the selected pet(s). The second paragraph informs the recipient that a sponsorship for a homeless animal has been purchased in their name and that the funds used to pay for the sponsorship are being used for the costs associated with caring and sheltering the homeless animals in the guardianship of Angel P.A.W.S. Once you've selected a pet(s), all you have to do is send us a note letting us know the name of the pet(s) you've chosen and the name and address of the person the certificate is to be issued to, along with a check to:

Angel P.A.W.S. (c/o Fran O. )
P.O. Box 282
Colonia, NJ 07067

If you have any questions about this awesome program, please call Fran at 732-340-1199. She'll be happy to tell you all about it!
GENERAL DONATIONS
We accept any and all donations, whether monetary, in the form of supplies, or time spent volunteering. For your convenience, we now accept donations on line. To do so, please click on the PayPal logo below.
Supplies
We can always use donations of the various supplies that we use at our shelter. Here's a list of the items we frequently use.

Canned cat food such as Friskies, 9Lives, Fancy Feast, MeowMix Cups
Dry food-- We use Purina ONE adult and kitten, Purina ProPlan adult and kitten, Natural Balance
Non-Clumping clay cat litter such as Tidy Cat
Bleach
latex gloves
More volunteers and foster homes!

Pillow cases
Paper towels
Small paper plates
Unscented garbage bags
Toys

Monetary donations are always welcomed and greatly appreciated, as we are not funded and depend on them in order to continue helping the animals. All donations are tax-deductible and can be mailed to the address shown below. Also - check with your employer to see if they have a Matching-Gift program. If so, mail the appropriate papers in with your donation and we'll take care of it from there. All checks can be made out to Angel PAWS.

Angel Pets Animal Welfare Society Inc.
P.O. Box 282
Colonia, NJ 07067
Phone: 732-340-1199
Email: info@angelpaws.org
---
A LITTLE BIT ABOUT US...
We are a 501(c)(3), non-profit, all volunteer organization dedicated to relieving the suffering of - and finding permanent homes for - stray, abandoned and homeless animals. We were founded in July, 1999 by 2 experienced rescuers who felt there was a need to bring a new, progressive style of animal care to the community. In addition, we are NJ State Certified Animal Control.
---
A FEW IMPORTANT "WE'S"...
We are all volunteers - all donations go directly to supporting the animals.

We run strictly by private donation, we receive no municipal funding and, therefore, must solicit donations and hold fundraising events.

We are a "limited access" haven. No animals are euthanized to make room for more. All healthy, adoptable animals remain with us until they find permanent homes.

We provide complete medical care. All cats are tested for feline leukemia (FeLV) and FIV, all dogs for heartworm. All animals are up to date on vaccinations and those over 6 months are altered. All animals are microchipped.

We participate in the NJ Animal Population Control Program to make low cost spay/neuter services available to our adopters. Please click on the following link for more information on this
program: http://www.state.nj.us/health/cd/spayneut.htm
---
Click here to see some Happy Ending Tails!


---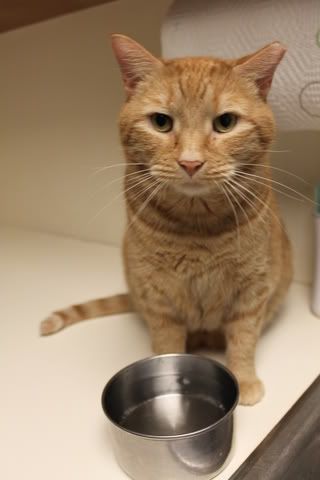 Ty

[Home] [Information] [Shelters] [Search]