Welcome to the All Star Pet Rescue Website. If you are looking for the online application please click on the red button below.
Thank you for all the donations for our yard sale

See you next Spring!
Thanks as always for your support!

Need a recommended training service for your dog. Click the button below!


Who We Are
All Star Pet Rescue is an all volunteer organization formed in April, 2006. We do not have a facility and are comprised solely of foster homes for homeless pets. Our mission is to network with other shelters and rescue groups to take in animals needing a new start. We do not discriminate based on breed, age or health status and only place the animals in loving and responsible homes. We also work to educate the public about the benefit of spaying or neutering their animals and the usefulness of microchipping. We receive no public funding and count on animal lovers to help provide the medical care and supplies necessary for the health, safety and comfort of our rescues.
Adopting A Friend
All our pets are fully vetted prior to adoption which includes: up to date vaccines, a spay/neuter and a microchip. It is easy to apply for one of our homeless animals - just click on the link for an online application (see above). If you are approved we will arrange a home visit if feasible, and bring the pet to you to see if it would be a good match for both the adoptive home as well as the animal. We want our adoptions to be a lifelong bond and the home visit helps us determine that. Contact us if you want to meet one of our "All Star Pets" available for adoption. We prefer homes within a 50 mile radius of Linden, NJ so that we can do a home visit with the pup.
Donations
Monetary donations are always needed and greatly appreciated. It is because of funds donated that we are able to continue our work for the animals. Check donations can be sent to:
All Star Pet Rescue
PO Box 301
Linden, NJ 07036

or donations can be made through this link:

IN THE MARKET FOR A NEW CAR???
Time is right to look for deals and good prices on dealer inventory. With prices so low, don't trade in your older model...donate it to a worthy cause and help save the lives of needy animals. Click below and select All Star Pet Rescue as your charity of choice. Drive away in a new buggy and help us help animals in need at the same time!
Recommended Dog Trainer
Do you need a dog trainer for your new puppy? Throw Me a Bone Dog Training is All Star Pet Rescue's recommended dog training service. They use positive reinforcement techniques to help dog owners build a solid line of communication with their dogs, in order to help build a stronger and more understanding relationship. Whether working on behavioral problems or basic obedience, they will encourage good decision making, and do their best to make the training process fun! Click on the button below for their website.
Meet All Star's most famous alumni.
Jake the Chug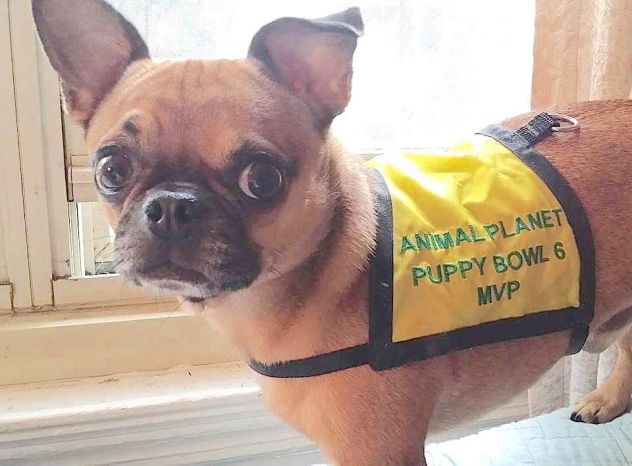 This is Jake the Chug. Not only did he participate in Animal Planet's Puppy Bowl VI; he was voted the MVP that year. Watching him zig & zag around the field gave the cameraman whiplash. While he didn't run for any touchdowns, he kept the defense occupied to allow his team-mates to score at will. Jake is living quite the spoiled-rotten life in Fair Lawn, NJ. He was recently inducted into the Puppy Bowl Hall of Fame!