All About Animals Rescue, Inc.
---
Our Featured Pet...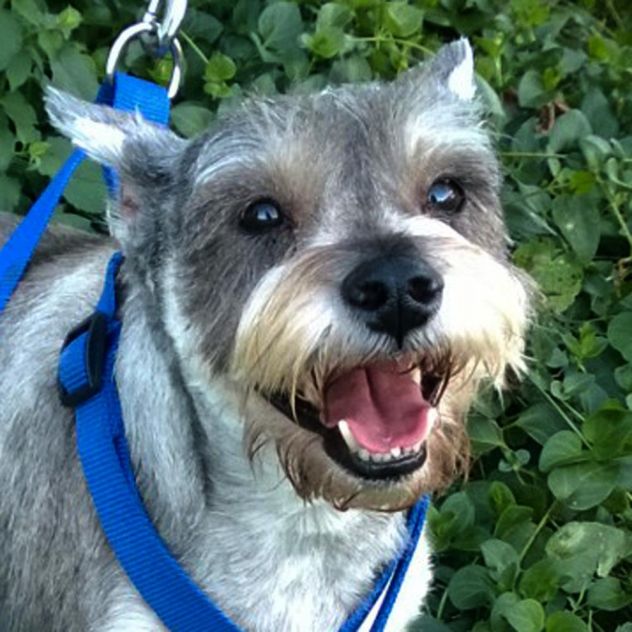 CHARLIE
Charlie is a 6-7 year old salt & pepper male Miniature Schnauzer with cropped ears and a docked tail. Charlie has apparently been abused by a man, and has a significant fear of men. He loves women and would do best in a female only home with no children. It is possible for him to live with a man, but that man would have to be kind and gentle, and would have to work with Charlie to rebuild his trust in men. We do not think Charlie would do well with children.

Charlie is a wonderful dog, in the right home. He is apprehensive at first, but warms up quickly to women. Then you get to see what a happy, wonderful pet he can be. He is housetrained and good with other dogs. Charlie can bark alot, especially when scared, so may not do well in an apartment setting. We recently groomed him and he was very well behaved for both the bath and grooming. Charlie rides very well in the car, and is a perfect gentleman... with women. He deserves to find a home that will show him love and kindness, and demonstrate to Charlie that people can be very good! Won't you consider giving Charlie a loving forever home?


News
HELP! We can always use help. Monetary donations and donations of food and supplies are an ongoing necessity. Our program is funded entirely through adoption fees, contributions from our foster homes and donations. We realize that most people can't bring stray dogs into their homes (usually their other pets don't want any part of that). But you can still help by making contributions.... food, money or supplies!



General donations may be made electronically through PayPal by clicking the button below:

While food and supplies must be delivered, please e-mail us to make arrangements. Monetary donations can also be mailed to us:



All About Animals Rescue, Inc.
P. O. Box 33323
Tulsa, OK 74153-1323



All About Animals is a non-profit rescue group, and we will be happy to provide a tax deductible receipt if requested.



Who We Are
All About Animals Rescue, Inc. was created in the fall of 2004 by Caroline Nolan, who had been rescuing Miniature Schnauzers for seven years. Though she still maintains and operates Schnauzer Rescue of Tulsa, Ms. Nolan wanted to be able to help more that just one breed when she could. It's not surprising that most of the animals rescued by All About Animals Rescue tend to be Miniature Schnauzers, but you will occasionally see some other breeds, mixed breeds, cats, birds, guinea pigs, rabbits, etc. available for adoption.

Schnauzer Rescue of Tulsa started operation in October 1996 in order to stop the needless euthanasia of Schnauzers. Starting primarily in the Tulsa, Oklahoma, area, we quickly discovered that there was a broad regional need for rescuers for Schnauzers. Unfortunately, we are still the only breed specific rescue for Schnauzers within a three hour drive of Tulsa. Our task is overwhelming, as puppy mills have grossly over-bred Miniature Schnauzers and the ignorance of backyard breeders routinely adds to the problem.

All About Animals Rescue fosters primarily Miniature Schnauzers, and helps network to find homes for any animals they can. Some of our animals come from area shelters (the pound) while others are found stray and some are turned over to us from owners.

We have rescued hundreds of animals. These have ranged in age from newborns to 16 years. We do not discriminate against animals because of age or medical conditions. But we are limited in the numbers we can help at any one time. Our foster homes stay full almost all the time, but there always seem to be more that need our help.



Adopting a friend
If interested in adopting one of our loving pets, please contact us by e-mail. It is far more efficient than phone calls. When contacting us, please indicate where you are located. We receive lots of e-mail, and are less likely to return yours if we do not know where you are.

We DO NOT SHIP animals, as this is cruel. Adopting families are required to pick-up animals in person.

Our adoption fees vary per dog, but are usually between $100 to $300 per animal for our dogs. Any other animals we may be trying to place will have an adoption fee comparable to what the national rescues charge for that breed. We usually charge lower adoption fees for dogs 10 years and older. Each dog will have specific requirements for adoption, which we will try to note in the description. If no requirements are present, it is usually because the dog is so new to the program that we have not yet assessed them.

We prefer to place animals in the Tulsa metro area, but will adopt out-of-state. Those applying long distance must be willing to act quickly and must demonstrate a true desire to adopt to help the animal, not just because it will be the perfect pet for what they have in mind.

An adoption application is required and must be approved before an animal is released into the care of an adopter. All adoption fees are paid at the time of adoption.

We do not adopt animals "on approval" or allow adopters to "try out" an animal. We expect those wanting to adopt to enter an adoption with the mindset that they want to help this animal and that they will work with the animal to help it assimilate into its new environment.

We are aware, however, that occasionally the fit is not right. Should this occur, we will refund your adoption fee or find a more appropriate animal for you provided this is deteremined within the first 30 days of adoption. It is important, should you be experiencing problems with your new adopted animal, that you keep in contact with All About Animals Rescue. We can often provide helpful tips and support for you and your new pet.



Come Visit Us!
All About Animals Rescue, Inc. exists entirely out of foster homes, so we do not have a physical location for you to view all of our animals. If you are interested in meeting one of our deserving pets, please e-mail us.


---
All About Animals Rescue, Inc.
P. O. Box 33323
Tulsa, OK 74153-1323
(E-mail is our preferred method of correspondence.)


Email: cococn@cox.net
Click here for a list of pets at this shelter

---

[Home] [Information] [Shelters] [Search]