Furever Love Rescue
---
Our Featured Pet...Zoe!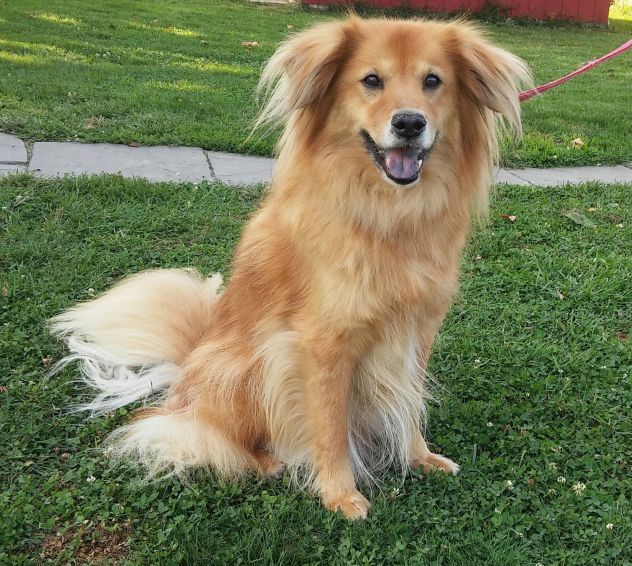 Zoe is a very sweet 10 year old Golden Retriever/Chow mix in search of her forever home! She was abandoned at a vets office when her owners were moving. But she hasn't let that get her down...she has the golden socialability and loves to meet new people! She is housebroken and crate trained and is very treat motivated and eager to learn. Even though she is a senior dog she does not act like one. She is very spunky and in good shape and loves to go for walks and hikes. Zoe would do best in a home with older children and no other pets but could get along with the right calm, male dog. Please email us if you'd like to meet sweet Zoe! !




Does your dog have behavior issues? Have you recently acquired a dog that needs to brush up on his/her manners? Please consider Campbells Canine Camp in Falling Waters, WV! Adam & Susanna can help your dog be the best he/she can be! Here is a link to their website:http://www.campbellsk9s.com/ Tell them you saw them on our page!

Need to spay or neuter your dog or cat but dont have the money? You can get a voucher at the Berkeley County Humane Society (554 Charles Town Rd, Martinsburg, WV 25405) and have it done for less than $100! Please do the right thing and help prevent the animal overpopulation! Spaying and neutering also improves the health and behavior of your pet!
THINKING OF MOVING AND NOT SURE WHAT TO DO WITH YOUR PET?Please check out this link to find pet friendly housing near you! http://www.myapartmentmap.com/pet_friendly/
2016 Events!

We will have booths at all of these locations showcasing some of our adoptable dogs!

Frederick, MD BARK IN THE PARK! Sat May 14th 10-2pm at Utica District Park in Frederick, MD. Address: 10200-B Old Frederick Rd, Frederick, MD 21701. Vendors, demos, samples, doggie fashion show and much more! For more info use this link: http://www.recreater.com/554/Bark-in-the-Park

Charles town, WV BARK IN THE PARK! Sat June 4th 10-2 pm at Jefferson Memorial Park in Charles Town, WV! Bark in the Park is a ďpledge walk.Ē Participants are asked to obtain pledges from friends and family members to raise funds for the homeless pets in our shelter. Pledges are made for each lap of the park completed. This is a fun family event for you and your best friend. Come join us for a fun filled day of events and visit with vendors who will be displaying a wide range of goodies available to you for purchase! For more info use this link: http://www.awsjc.org/bitp.html

Shippensburg, PA FURRY FUN DAYS! June 4th & 5th 9-4 pm. A 2 day fair for dogs & dog lovers-vendors, games, food (human & canine), demos, agility, and fun! Shippensburg Township Park:304 Britton Road, Shippensburg, PA. Website:http://www.furryfunday.org/joomla/
Who We Are
************PLEASE NOTE**********We do not accept cats from the public. We can accept dogs on a limited basis depending on how much room we have and the specific dog but we are unable to take in any cats.***********

Furever Love Rescue in an all breed, no-kill dog rescue founded in August of 2009. We pull dogs from high kill shelters (and occassionaly accept owner surrenders) and place them with a foster family until they find their forever home. We do not have a shelter; all of our dogs reside in foster homes. We have them fully vetted and their foster family provides the socialization and training needed to help them become happy and well adjusted companions.

OUR WISHLIST!

If you are unable to adopt or foster a pet at this time please consider donating something to help us with the animals in our care while they wait for the furever homes! We are always in need of:

*Dry or canned dog food-We use: Earthborn Holistic Turkey or Bison, any 4health, any Diamond Naturals but any high quality, grain free brand would be appreciated!
*Any stuffed dog toys
*Any kong brand dog toys
*Any nylabone brand dog toys
*Healthy dog or cat treats (corn, wheat, soy, by-product free)
*Bully sticks
*Moose, elk, or deer antlers
*cat toys
*wellness core (grain free) dry and canned cat food
*pine pellet horse stall bedding from Tractor Supply-we use this for cat litter
*paper towels
*dishwashing liquid
*HE laundry detergent
*bleach
*elevated dog beds/cots like Kuranda beds but doesnt have to be that brand
*And most of all any monetary donations to use towards vet bills!




". . . Saving just one pet won't change the world . . . but, surely, the world will change for that one pet . . . "




I am an Animal Rescuer... My job is to assist Godís creatures~~ I was born with the drive to fulfill their needs~~ I take in helpless, unwanted, homeless creatures without planning for selection~~ I have bought dog food with my last dime~~ I have hugged someone vicious and afraid~~ I have fallen in love a thousand times~~ And I have cried into the fur of a lifeless body too many times to count~~ I have animal friends and friends who have animals~~ I donít often use the word ďpetĒ~~ I notice those lost at the road side, and my heart aches~~ I will hand raise a feral kitten, and make friends with the fearful and abused~~ I know of no creature unworthy of my time~~ I want to live forever if there arenít animals in Heaven, But I believe there are~~ Why would God make something so perfect and leave it behind? Some may think we are master of the animals, but the animals have mastered themselves... Something people still havenít learned~~ War and Abuse make me hurt for the world, but a rescue that makes the news gives me hope for mankind~~ We are a quiet but determined army, and we are making a difference every day~~ Nothing is more rewarding than saving a life~~ No higher recognition than watching them thrive~~ There is no greater joy than seeing a puppy play, who only days ago, was too weak to eat~~ By the love of those who Iíve been privileged to rescue... I have been rescued~~ I know what unconditional love really is... For Iíve seen it shining in the eyes of so many grateful little souls~~ I am an animal rescuer~~ My work is never done~~ My home is never quiet~~ My wallet is always empty~~ But my heart is always full~~ For the love of the animals for whom Iíve dedicated my life... ~Annette King-Tucker




Rescue Angels... Tail tucked between your legs, Confusion in your eyes- I know it's hard to understand That Someone heard your cries. When loneliness is all you know and pain is all you feel- And no one can be trusted, And hunger's all too real. That's the time the Lord sees you And lets you know He's there. That's when He sends His messengers- The hearts that love and care. Yes, rescuers are angels- You cannot see their wings, They keep them neatly folded As they do their caring things. The medicine to make you well Good food to make you strong, And finally to help you learn, That hugs are never wrong. The perfect place then must be found- The home where you can live Secure and safe and happy- With joy to get and give. When you reach your Forever Home, Your place to feel whole, The Angels smile, and off they go- To save another soul.




'Lassie and Cleo and Rin Tin Tin and Toto don't show up in rescue. We don't get the elegantly coiffed, classically beautiful, completely trained, perfectly behaved dog. We get the leftovers. Dogs that other people have incompetently bred, inadequately socialized, ineffectively 'trained,' and badly treated. Most Rescue dogs have had it. They've been pushed from one lousy situation to another. They've never had proper veterinary care, kind and consistent training, or sufficient company. They've lived outside, in a crate, or in the basement. They're scared, depressed and anxious. Some are angry. Some are sick. Some have given up. But we are Rescue and we don't give up. We never give up on a dog. We know that a dog is a living being, with a spirit and a heart and feelings. Our dogs are not commodities, things, or garbage. They are part of sacred creation and they deserve as much love and care and respect as the next Westminster champion. So please, please don't come to rescue in the hopes of getting a 'bargain,' or indeed of 'getting' anything. Come to Rescue to give, to love, to save a life -- and to mend your own spirit. For Rescue will reward you in ways you never thought possible. I can promise you this -- a rescue dog will make you a better person.' ~Diane Morgan, animal lover and rescuer~


Adopting a Friend
If you are interested in adopting a dog from our site, please be seriously interested and committed to adopting a dog at the time. Be sure to talk it over with all family members PRIOR to emailing us. If you are currently looking at/considering other dogs please meet with them first and only email us if you are no longer considering the others. Then email us with the dogs name in the subject line. We will then send you an adoption application which must be filled out entirely. We do not have an online application. If the application checks out, then a home visit may be performed to evaluate the kind of environment you will offer to your new family member. Once approved, we will set up a time for you to meet the animal(s) you are interested in. If we think you would be a good match for each other, then you are able to take your new member of the family home that day! Please realize that just because you fill out an application you will not automatically be able to adopt that animal. You will need to be approved first and there also may be several other applications on that animal as well. It can takes us as little as 2 days or up to 2 weeks to review an application depending on how many we have for that animal, how busy we are, etc. Please be patient with us and do not keep checking in to see if we are done yet. We do not have the time to respond to every email. And thank you for choosing to rescue a dog!!!


Adoption Fees
Cats and kittens (of any age) - $50
Puppies (8 weeks to 6 months) - $250
Puppies (7 months to 11 months) & Small breed dogs (25 lbs. & under) - $200
Adult dogs (1 year to 6 years) - $175
Senior dogs (7 years and older) - $150


PLEASE NOTE: ADOPTION FEES MAY VARY DEPENDING ON INDIVIDUAL ANIMAL!
---
Furever Love Rescue


Hedgesville, WV 25427
Phone: Please email!
Email: fureverloverescue@yahoo.com
Click here for a list of pets at this shelter

---

[Home] [Information] [Shelters] [Search]