Silent Meow
---
Our Featured Pet...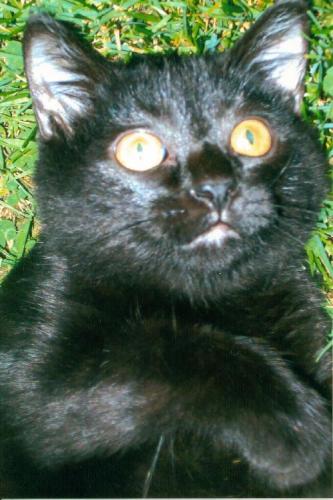 Hi my name is Sissy, you can read all about me below in the "news".
---
News
Sissy is an 8-month-old special-needs female kitty who weighs 3 pounds 4 ounces. She is 1 of a litter of 3 kittens, the other 2 are perfectly healthy. Sissy appeared healthy and without any problems until she was about 4 months old when she just seemed to stop growing. She has been diagnosed with a condition called "osteogenesis imperfecta" which is basically "brittle bone disease." Her bones could break with the smallest injury or could just simply break while she was walking around. Sissy is on pain meds and steroid therapy to hopefully slow this process down and keep her pain-free but there is no cure for this disease. She is a very sweet and loving kitty despite having this physical problem. She is very determined to keep moving around and simply not lie around and nap all the time. She likes to go out on the deck and lie in the sun too. One of her favorite foods is Oscar Meyer balogna, liking that even better than tuna or other types of fish. She loves having her fur brushed every night. I realize that Sissy most probably will not live a very long life, but she is making the most of this situation now, and I want to do all that I can to help her out. As long as she is willing to give it a try, I am willing to try to help her do that. If you would like to help Sissy with the cost of her meds or simply make a donation toward her care, just email us for contact information or mail it to our address and write on it for "Sissy" Thanks in advance for your support!
We are always in need of supplies. Please consider donating some of the following items:
Food,dog and cat, dry and canned (especially kitten),
Litter,
Kitten Milk replacer,
Treats for Dogs and Cats,
Blankets,
Pet Toys,
Pet Beds,
Crates

all Donations can be sent to :

The Silent Meow

P.O. Box 1725

Fairmont, WV. 26555

Thank you in advance for your support! We appreciate it!
Who We Are
PLEASE: WE ARE CURRENTLY NOT TAKING ANY PETS. Until further notice. We are currently a very small rescue. We can not accept pets, UNLESS it is an emergency on the pets behalf. Thanks for your understanding. Our Mission: The Silent Meow is a small rescue group that has one objective in mind - To save the lives of as many pets as we can. We are a non-profit, completely volunteer-run, all breed dog & cat rescue and adoption organization. All our adoptable pets are wormed and vaccinated before adoption. Before The Silent Meow Rescue will place a dog/cat in his/her forever home, we will do our best to make sure their needs, as well as their new owners, meet each other's needs both physically and emotionally. The Silent Meow Rescue looks for people with patient and loving hearts and an understanding of their new pet in mind. Some of our animals have been in some distressful situations of abuse and neglect. They need total understanding, and unconditional love, which they will be glad to give back to you in excess. We do Coordinating transports from high kill shelters to safety. We Advocate the practice of spaying and neutering. We Advocate rescue and adoption as opposed to the purchasing and breeding of companion animals. We use any means within our power and ethical guidelines to stop the abuse, misuse, neglect and senseless killing of companion animals.

Dogs $50.00, Donation, Puppies $50.00, Donation,

Cats $40.00, Donation, Kittens $40.00, Donation.

Please bear with us, our page is under construction.
Adopting a friend
Here is one more chance to help us save the lives of so many abandoned pets. Please sign up for petfinder insurance. Alleviate the financial stress associated with your pet's unexpected medical expenses and generate funds for our shelter at the same time! Simply apply for a ShelterCare Pet Insurance Program by using the ShelterCare banner-link.

We do what ever it takes to save a life. From tube feeding baby kittens and puppies who's mothers have passed on or just too malnourished to care for the babies, or just abandoned. We hope that the community will back us in support. Please email us, we would love to hear from you. Siamesekatcrazy@comcast.net
Come Visit Us!
We are located in Fairmont, West Virginia. Please email us for directions. Siamesekatcrazy@comcast.net
---
Silent Meow
P.O. Box 1725

Fairmont, WV 26555

Email: Siamesekatcrazy@comcast.net
Click here for a list of pets at this shelter

---

[Home] [Information] [Shelters] [Search]