Australian Shepherd Rescue Midwest
---
Our Featured Pet...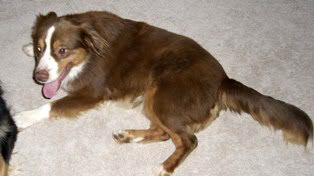 Meet Gunnar Becker! Gunner is 5yo Red Tri male Mini Aussie! Gunnar Becker is a wiggly mini red tri Australian Shepherd who weighs around 30-35 pounds. His foster mom has nicknamed him Mr. Wiggles as he would lose a pair of pants, if he wore pants, since he wiggles his butt so much. Gunnar came to New Spirit with the need for a bath and a deep cleaning. He had lots of mats and fleas from being a stray before finally being caught by the dog police. Now that Gunnar has had a bath he is really soft and mat free and flea free too! Gunnar is very affectionate and loves to snuggle in bed and on the couch. He is learning how to walk on a leash and go into his crate. Once in his crate he is quiet and will lie down. Gunnar likes to be outside and will chase his foster brothers around the yard. He also likes bones and toys. Gunnar loves people and other dogs! He is good with kids and doesn't mind cats either. Gunnar likes car rides, although he isn't fond of getting into the car, but once he is in and moving he really enjoys it. Gunnar is almost 100% housebroken. He is still learning to trust people and will need someone with patience and the desire to show this little red tri that people are good. Gunnar is fostering in Madison, WI. Please fill out the application and schedule an appt to meet Gunnar Becker!
News
We are looking for foster homes! If you live in a house or have a place that allows for pets and you can open your home and heart to an Aussie temporarily, please contact us! We provide everything you need, all you do is love them and train them to the best of your abilities.
Who We Are
We evaluate Australian Shepherds and Australian Shepherd mixes from selected shelters and private owners no longer able to keep their Aussies. If we judge a dog suitable for placement with an average adopter, we foster it in private homes and get to know the dog. We then post the dog to our website, Petfinder and place it in an adoptive home where the energy levels, expectations and personalities are a good fit.

Think of us as a "doggie dating service"!
Adopting a friend

1. Submit an application and provide references, including your vet. The best indicator of how your next dog will be treated is how your last dog was treated, so that's why we ask for this.

2. Allow a rescue volunteer to visit to your home. This way we get a good sense what type of dog will fit you and any current pets best (again, think "doggie dating service!").

3. Once your application is approved, begin the search for your new friend. You may see an interesting possibility on our site or we may suggest a dog not yet posted that is in foster. Either way, you'll be put in contact with the foster home where the dog is located to learn more from the person who knows the dog best.

4. Meet the dog and decide if it feels right. There's no obligation to take the dog home the same day: in fact, we encourage you to talk it over and come back. If the driving distance is too great, go have lunch and think it over. Your New Spirit contact and the foster home will be invaluable in helping you make this important decision.

5. Adopt! When you feel you've met the right dog, you sign an adoption contract which says you'll provide appropriate care, and that if you can't keep the dog at some time in the future, you'll contact ASRM and let us help.re-home the dog.

6. Pay an adoption fee, generally $250 but sometimes less depending on the age of the dog. In general, dogs will be spayed/neutered and up to date on standard shots at the time you adopt. The fee helps us cover the cost of vetting and other expenses, and will usually be far less than the same services would cost through your vet.
Come Visit Us!
We are not a shelter, nor do we have a shelter facility. All of our dogs reside in family foster homes until they are adopted. If you would like to meet a particular dog, please contact us via phone or email to set up an appointment!
---
Australian Shepherd Rescue Midwest


Oconomowoc, WI 53066
Phone: 507-213-9924

Email: mustluvaussies@gmail.com
Click here for a list of pets at this shelter

---

[Home] [Information] [Shelters] [Search]