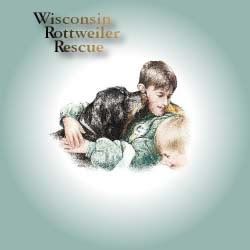 WI Rottweiler Rescue
---
News
Come join us for an afternoon of food, fun, and Rotties! We will be having Rott-Fest 2009. This is a great chance to see lots of Rottweilers and their owners in a friendly and welcoming environment. For more information on the potluck and events, please see our flier (coming soon).
Who We Are
Wisconsin Rottweiler Rescue is a breed rescue initiative founded by Joan Sweeney in 1994. We are located in Madison, Wisconsin and work closely with the Dane County Humane Society and the local AKC all-breed club. All dogs placed by WRR are health/temperament checked, including heartworm testing and preventative, and spayed or neutered prior to placement. Please feel free to contact us for veterinary or Animal Control references.

WRR is a non-profit organization. All adoption fees or donations, monetary or otherwise, are tax-deductible. WRR welcomes your donations of funds or goods, and if you have time to donate, we welcome that as well!! Please contact Joan Sweeney regarding donations to WRR.
Adopting a friend
We prefer that all applicants have previous Rottweiler or similar breed experience and home ownership. ALL homes are screened thoroughly, including a criminal background check and proof of home ownership and insurance.

Please fill out a potential home questionnaire form at the Wisconsin Rottweiler Rescue web site if you are interested in adopting any of our dogs now or in the future.

If you'd like more information than is present here, please go to the Wisconsin Rottweiler Rescue web site.


---
WI Rottweiler Rescue
3617 South Dutch Mill Rd
Madison, WI 53718
Phone: (608) 224-0272

Email: wirottrescue@gmail.com

Click here for a list of pets at this shelter
Click to see our Happy Tails!

---

[Home] [Information] [Shelters] [Search]