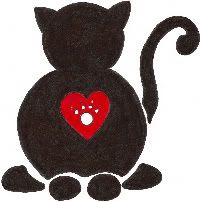 Catkins Animal Rescue, Inc.
A not for profit 501 (c)(3) organization
Catkins is State Licensed and State Inspected
License #268236-DS
We have adoption hours every Thursday from 3-7pm. All other adoption visits are currently scheduled by appointment only. We apologize for any inconvenience our limited adoption hours cause, however this is all our volunteers can schedule at this time.


(Your donation is tax deductible!!)

We know that not everyone finds the pet they are looking for through us and that not everyone is able to donate. Good Search is a free way to help Catkins and donates a penny to Catkins everytime you use them to search the web and a percentage every time you shop online!
You can now find our adoption applications and contracts online at www.catkinsrescue.org
Owner Surrenders
ATTENTION: Owner Surrenders!! Before surrendering your pet please think long and hard about what you are doing and why you are doing it. We are one of the VERY few organizations in the area that will take in owner surrender pets and we have very limited space. If you are moving: do not call us the day before your move and expect that we will be able to help. We will be happy to try and help your pet, but we need time to do it in. We have an owner surrender form and fee. We will not take same day owners surrenders because we need time to verify with your veterinarian and local law enforcement that your pet has not attacked a person or another animal. Please understand our owner surrender fee is $50 for each pet. Why? We are committing to caring for your pet for the rest of its life- all the food it can eat and all the veterinary care it deserves. Our owner surrender fee only covers the cost of a basic veterinary exam and a bag of food. We are ALWAYS willing to post courtesy listings for pets that need to be rehomed, but we need pictures of your pet and information about your pet to help us find the best home possible.
Why we take in owner surrenders: "How Could You?"
Please Note: When you adopted or purchased your pet, you made a commitment to that animal to make it a member of your family. Your pet is your responsibility, not ours, so do not be angry if we do not immediately have room to help with your situation. We understand that there are some hardships families go through that make it nearly impossible to keep a pet and we are here to help. If you adopted an animal from us and it is not working out, we do not charge an owner surrender fee and we require that the animal comes back to us (that's part of the contract you signed), and you likely have already contacted us and aren't reading this. If you adopted an animal from another organization, you likely signed an adoption contract with them and need to return the animal to them, the same thing applies to animals purchased from "responsible" breeders. If you bring that animal to another organization or try and give it away, you are in breach of contract.
We are not trying to discourage you from contacting us about your pet, but please think about your decision first and know that lots of other people within a four hour drive are doing the same thing. Also, we ask all owners contacting us to be open to behavior modification suggestions. If your cat is urinating inappropriately, you need to take it to the vet and have a urinalysis done. If your dog is chewing up your house, it needs obedience training. It is amazing what an impact a few small changes can have on the relationship you have with your pet. We are always happy to be a resource before we have to be a solution.
Thank you for your understanding and cooperation.
News

IF YOU HAVE FOUND A STRAY:
1) Please call your local police department and county sheriff's department to see if anyone has reported it missing.
2) Call your local radio station.
3) Put up "Found" signs or a "Found" listing in the paper.
4) List the pet as "Found" online.
5) Call your local veterinary office and give a description of the found pet.
6) Bring the stray to a vet's office and have it scanned for a microchip.
IF YOU CAN'T FIND THE OWNERS:
1) Consider whether or not you want to add this animal to your family.
2) Consider whether or not you know anyone that wants to add this animal to their family.
3) If you have to call your local shelter or rescue organization please remember we're only human and we're doing the best we can to help as many animals as we can. Depending on your local organization's space and funding status, they may not be able to take the animal in right away, please understand this and be polite.

Why we charge the adoption fees we do and why we strongly discourage "free to good home" ads (always ask for a rehoming fee): FREE TO GOOD HOME

****We do take in owner surrender pets when we have the space. There is a surrender fee per animal and we ask that all vet records accompany the animal. We will also ALWAYS gladly post a courtesy listing if you email us a picture and some information regarding your pet.
We are looking for farm homes for some of our cats. Maybe you don't want a friendly cat and just need a mouser to hang out in the barn. We get lots of calls about feral cats that people want humanely trapped. We sterilized the cats and then try to find outdoor homes for them- where they can be happy and still make people happy. There is no adoption fee for these cats, so if you think that you might like to make a feral cat your farm cat please contact us!!

We are looking for foster families!! The more of our animals that go into foster homes, the more animals we can take in. We feel that being in a foster home provides critical experience to the animal and crucial information to us. The more we can learn about an individual animal, the more we can tell potential adopters. The pets themselves learn how to interact in a home environment and seem to have a less stressful introduction to a new home than a pet that has been caged. If you are interested in providing a foster home for any of our animals please email us you contact information, and we will be sure to send you the necessary paperwork. From there we would like to meet you, and then our animals would like to meet you! We cover all the medical costs and food costs (but any food you can provide for your foster pet is an additional gift to the animals). Thanks to everyone who has helped and currently is helping us!!!
Who We Are
We are completely volunteer run! All the money from adoption fees goes right back to the animals! When an animal needs more help than the rescue has money- the volunteers step in with their own funds! We are a 501c3 organization, so all donations are tax deductible!!

We are licensed with the federal, state and local government.
If you have any questions or comments about our organization or adopting a new family member, please feel free to contact us anytime!!

Adopting a friend

***ALL OF OUR ADOPTED PETS ARE STERILIZED! WE EXIST BECAUSE THERE ARE ALREADY TOO MANY HOMELESS PETS AND OUR ADOPTEES WANT TO HELP THEIR RESCUED FRIENDS BY NOT CONTRIBUTING TO PET OVERPOPULATION. WE EAGERLY AWAIT THE DAY WHEN OUR ORGANIZATION WILL NOT BE NECESSARY.****
We ask that everyone looking to adopt one of our pets please call or email us anytime to make an appointment- if you don't get us leave a message! We have an adoption application and contract that we ask all adoptive families to please fill out and sign. We are committed to providing the best medical care possible for our animals.

Our adoption fees are as follows:

All our cats and kittens are dewormed, given their distemper vaccines and rabies vaccine (if older than 16 weeks), have been tested for FeLV/FIV/FHW and have been sterilized: CATS/KITTENS: $75, SENIOR CATS: $35 ,
All our dogs and puppies are dewormed, given their distemper vaccines and rabies vaccine (if older than 16 weeks), HW tested (and treated for any discovered issues), microchipped and sterilized. DOGS under 5 months old: $250, DOGS 5 months-7years old: $200, DOGS over 7yrs old: $50,

We love to see our pets go home in pairs! If you are interested in adopting two of our cats or dogs together (or a cat and a dog), ask about a multi-pet adoption discount to help you with the responsibilities of expanding your family.
Come Visit Us!
We have adoption hours every Thursday from 3-7pm at our Park Fall sFacility. We can also schedule adoption visits almost anytime and anyday. Please contact us if you would like to schedule a time to meet one of our pets! Email us at: Catkins_wi@yahoo.com
---
Catkins Animal Rescue
PO Box 28
Fifield, WI 54524

Phone: 715-681-0022

Email: Catkins_wi@yahoo.com
Click here for a list of pets at this shelter

---

[Home] [Information] [Shelters] [Search]