Big Dogs Animal Rescue
Click to see our pets who have been adopted!
---
Our Featured Pet...
GINO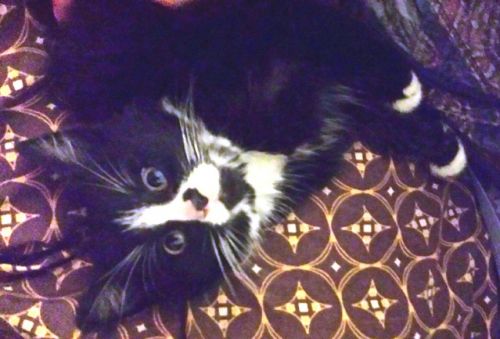 GINO is a tiny little ball of fur looking for his forever home. He is around 9 weeks old, and currently being fostered in Plainfield IL. Gino is a super affectionate kitten who was found trying to keep warm in the engine compartment of a car - he had to be pulled out by animal control. Prior to adoption he will be neutered, current on all vaccinations (including 1yr rabies), microchipped, dewormed, and felv/fiv tested. His adoption fee is $125...

Big Dogs Animal Rescue has a lot going on right now and we are in need of fundraising. We currently have over 2 dozen animals in foster care which is the most we've had at 1 time in the 11 years we've been around. We've filed our 501c3 status with the federal govt which is NOT a cheap endeavor!! We pride ourselves on taking in the most needy from animal shelters and animal control facilities. Like Chevy – a 12.5 year old pit bull who was seized by the police and taken to the local Humane Society. Gigi – a 4lb Chihuahua who was so flea ridden from unsanitary living conditions she came to us 90% bald from Animal Control. Mariah – who was posted all over Facebook as Milwaukee's Neediest Animal. She sat at Animal Control for over a month, no one had room to take her in – she's a beautiful 1yr old female pit bull with 1 crazy ear that sticks straight up. Most recent we have Miss Bella - who was at Animal Control over 3.5 MONTHS waiting for someone to save her... We did... Make sure to like us on Facebook for upcoming fundraisers
Who We Are
Big Dogs Animal Rescue was officially founded in 2001 as an all-breed animal rescue. Our volunteers have been involved in rescuing unwanted and neglected animals for over 15 years. They have worked with other rescue organizations, and local animal shelters. Big Dogs ALWAYS spays/neuters any animal available for adoption if that animal can be altered. If the animal cannot be altered due to a health condition or such, we will require an additional deposit in the amount of the adoption fee which will be refunded when proof of altering is shown to us. All animals are Up-to-Date on vaccines and fully vetted before placement. We will NOT declaw cats. The only time a declawed cat will be available for adoption through Big Dogs is if the cat is surrendered to us already declawed. There are many alternatives to declawing, please e-mail us if you would like some help with scratching. Most of the time a well-made scratching post is all you need. Posts with carpet on the bottom, and sisal rope in the middle are normally kitty's favorite, and cost under $20. We can also give you advice on making your own post, if you e-mail us.


Adopting a friend
Home visits are required for all larger animals available for adoption (cats & dogs). All applicants must fill out an adoption application, and references will be checked. Animals are housed in approved foster homes, and the smaller animals will be hand-delivered to their new homes.


Come Visit Us!
We do not have a "shelter" where animals are housed. All Big Dogs adoptable animals are housed in private foster homes, and are available for meeting once an application and home visit is approved.
---
Big Dogs Animal Rescue

Oak Creek, WI 53154
Phone: please email

Email: bigdogsanimalrescue@yahoo.com

Click here for a list of pets at this shelter

---

[Home] [Information] [Shelters] [Search]