Animals In Need
HAPPY TRAILS
Pet of the Month
"CALA LILLY"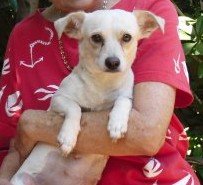 Cala Lilly was found at the side of a busy highway in Puerto Rico where she was abandoned and faced certain death. She was very scared, hungry and also pregnant. Cala Lilly is now a happy, healthy, outgoing and sweet little girl. She gets along with all the other dogs but loves kind people. She is now in search of a home of her own where she will be loved and cared for the rest of her life. Cala Lilly is about one year old and weighs 16 lbs. If you are interested in adopting her, please go to www.animalsinneed.net and complete the adoption form
News
Honey Lou (on the right) - Our 1000th adoption from Puerto Rico
From the streets of Puerto Rico into the loving arms of her family in Port Hadlock, WA, Honey Lou is finally home and lives the life she so deserves.


Who We Are
We are a small, non-profit, volunteer based dog rescue group dedicated to saving abandoned, abused, neglected puppies and dogs in Puerto Rico and locally. We rescue the dogs, often nurse them back to health and find suitable and loving homes to give these dogs a chance for a life we believe they deserve. Prior to the dogs being flown to the northwest from Puerto Rico, they are kept in private foster homes we have set up there for a minimum of three weeks to give us the chance to see the dogs dispositions, observe personalities and evaluate their individual needs to find the best suited home. Adoption Fees: $150 to $450
Please support those that support us
www.touchstonelending.com
If you are looking for a new home just like one of the many dogs and cats at Animals In Need, please give me a call. Touchstone represents over 60 companies to get you the best deal. So if you are thinking about purchasing a home, refinancing or maybe you found the perfect land for your dream home, I can help you. And for every client I receive from this website I will make a donation to Animals In Need.
Debra Hutchins Loan Officer Cell: 253 250 8576
Come Visit Us!
Come See Our Dogs. Where & When: PETCO, 201 E College Way Ste B, Mount Vernon, WA 98273 Sundays 11:00 am to 3:00 pm
---
Animals In Need
P.O. Box 1556

Oak Harbor, WA 98277
Email: Hershey@tscnet.com
Click here for a list of pets at this shelter

---

[Home] [Information] [Shelters] [Search]