North Mountain Small Dog Rescue - South
---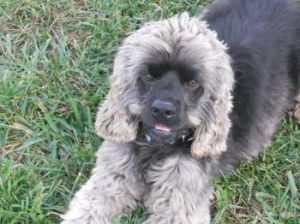 Click to see our featured pet... Gus!
News
Wonderful pups available, Blue is a wonderful little guy that would make a great addition to anyones home, Gus, our special needs Cocker spaniel, is as gorgeous as he is sweet. his condition is being managed fine ..... he would love a home of his own !
Who We Are
NORTH MOUNTAIN SMALL DOG RESCUE is all breed rescue geared toward small dogs(typically 20# and under). Our objective is to rescue and place small breed dogs in need. Located in the New River Valley of VA(near Blacksburg VA), we are very accessible to the Rte 81 corridor as well as Rte 64 and NE Tennessee and NW North Carolina.. Working independently, there is no building, fostering in private homes. We rescue from many different shelters--and frequently bring animals into our group who might otherwise lose their lives. So we might have anything--from a puppy to a senior who is considered "unadoptable" by a shelter. We will also often have purebreds or close mixes.
Adopting a friend
Adopting a friend NORTH MOUNTAIN SMALL DOG RESCUE If interested in adopting one of fur babies, contact us via phone or email. It is necessary to complete an adoption application. Please note: We typically adopt to families who are within reasonable driving distance from of our primary foster home in Pearisburg, Va. Our dogs must be indoor dogs and must never be tied out lead or run. We do not recommend invisible fence for our small dogs as it does not protect them from intruders.(both human and four legged) Fees normally cover all vaccines, rabies shot and tag, worming, HW check, and spay/neuter if the dog is an adult. Puppies: $200.00- $450.00(on rare occasions higher). This includes spay/neuter, worming, shots, rabies certificate , health records and in some cases microchip. On rare occasions we may adopt a puppy on a spay/neuter contract, requiring a refundable deposit to be returned upon receipt of vet. document confirming spay/neuter has be completed.. Adult dogs: $200--$450.00 depending on mix or purebred. This estimated veterinary fee includes spay or neuter of the dog, vaccines current, rabies certificate, health exam, bath, flea preventative, worming if needed, and may include grooming. Dogs that come to us from southern shelters will have a heartworm test. On occasion, we will have a very special furbaby whose adoption fee may be higher do to the demand for that breed. Those funds are used to fund vetting for our unadoptable seniors and special needs babies.. Dogs 10 yrs and older: $100--225. We offer a discount for an older dog, since They may need a bit of extra care from you. An old dog is a special kind of joy. Like well broken in shoes they are a good fit because they are usually well behaved, already trained, and will often give years of love and devotion if you give them a yearly dental cleaning, a joint healthy diet, and a warm sweater for winter outings.
If you are ready to start the adoption application, please fill out our online form below!
Home Visit: Once the adoption application is processed, we will arrange to visit you and all family members at a time when everyone is available to talk with our home visit representative.
---
North Mountain Small Dog Rescue - South


Pearisburg, VA 24134
Phone: 540-599-5510