Friends of the Fairfax County Animal Shelter
---
Our featured pet...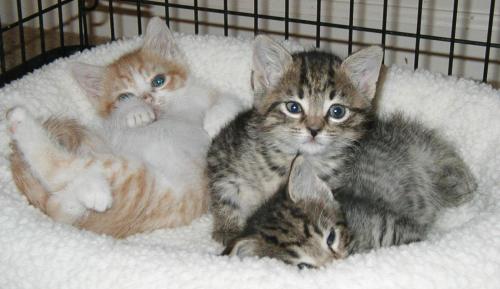 The shelter has many kittens available for adoption. Come on up and meet your new best friend!
About FFCAS
More than 5,000 animals, including cats, dogs, small mammals, reptiles and livestock, come to the Fairfax County Animal Shelter each year. The shelter opens its doors -- and its heart -- to care for each and every animal. But, the shelter can't do it alone. Thankfully, the Friends of the Fairfax County Animal Shelter is here to help. Through donor and volunteer support, we provide medical care, food, supplies and so much more to help the shelter care for these loving animals. In doing so, we help save lives -- together. READ MORE...
Please support our efforts!
To donate by mail, send a check payable to:
Friends of the Fairfax County Animal Shelter
P.O. Box 2321
Centreville, Virginia 20122
Click here to donate online or to learn about other ways you can help.
A copy of our financial statement is available upon a written request submitted to the Commonwealth of Virginia, Office of Consumer Affairs.
Adopting a friend
If you're interested in adopting a homeless animal from the Fairfax County Animal Shelter (FCAS), please follow one or more of these links:
---
Friends of the Fairfax County Animal Shelter
P. O. Box 2321
Centreville, VA 20122

Visit us at www.ffcas.org
Email: GeneralInfo@FFCAS.ORG

---

[Home] [Information] [Shelters] [Search]