Please see the "Hound Rescue Document" to find another organization that might be able to help with placing hounds.
---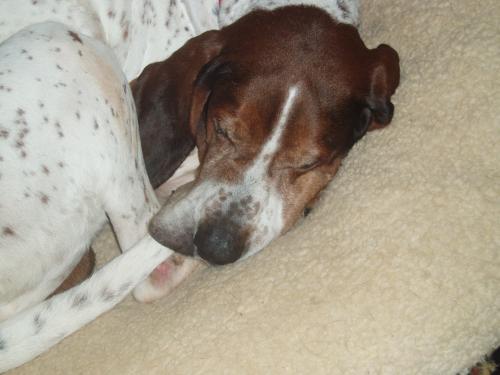 CLICK ON JEB :)
CREWW COONS IS SADDENED TO ANNOUNCE
THAT THEY WILL NO LONGER BE TAKING IN ANYMORE COONS.
Please see the "Hound Rescue Document" to find another organization that might be able to help with placing hounds.
Our Mission
CREWW is dedicated to finding lost dogs, making them whole, and finding loving homes for them. Educating families about Walker Hounds and their special qualities.
Who We Are
CREWW provides rescue for Treeing Walker Coonhounds, in the Northern Virginia and surrounding areas. We will also handle some out-of-state adoptions on a case by case basis.

CREWW gives priority to dogs that are in high kill shelters. Owner surrenders are not accepted at this time. We will post owner surrenders to our site as a Courtesy Posting, in exchange for a donation to our organization.
What are Treeing Walker Coonhounds, you ask?
HOUNDS ARE WONDERFUL CLOWNS !! They love everyone, especially children, are great dogs, minimal grooming and hours of entertainment. With few exceptions, hounds make great family pets for those willing to care for them properly. Hounds typically adore children and view them as some of the best entertainment a dog could ever be blessed with. The Hound loves to have fun...kids love to have fun...the two usually do very well. The Hound is as well a very friendly breed. While they may never do well as a guard dog, they will warn you of someone's approach ...barking usually just long enough to be petted. The hound is adaptable and intelligent and will likely be the source of hours of good hearty play time. Hounds have a sense of humor like few other breeds of dog. They enjoy play and fun as much as they enjoy the hunt and will likely be more like having another child than having a dog. Interactive and involved in family life the hound requires a dedicated owner, but has no problem returning the dedication shown it on an every day basis. The hound is an affectionate breed that will openly and honestly enjoy you as much as you do it. An honest, straight forward dog this breed inspires dedication and near fanatical loyalty from those lucky enough to appreciate them.

Coonhounds are active dogs who will require active families. Their intelligence makes them bore easily and they may find creative ways to entertain themselves if left alone for extended periods or forced to live in households that do not provide enough stimulation (ie. digging, chewing). People who are willing to exercise their dog regularly and are creative in ways to allow the Coonhound to play and occasionally use its hunting instinct will have no problems with this breed. They are easy dogs to live with and easy dogs to maintain, so long as these few requirements are tended to. I would not however suggest a Coonhound as a first dog. These dogs are better suited to persons whom have some experience with dogs or that are at least willing to educate themselves. They have a cooperative nature and are somewhat easier to train than other hound breeds, like the Beagle. Typically good with other DOGS (they may see your cat as prey if not raised with it) and children, Coonhounds are a mostly overlooked pet breed just now gaining recognition.

For information about these wonderful dogs, their temperament, life expectancy, health issues, etc., please visit: "http://www.dogbreedinfo.com/treeingwalkercoonhound.htm"

Adopting a Friend
Our Walkers are in foster homes where we can better evaluate their temperaments and personalities and pass this information onto you. During the time they are in our care, our fosters are treated like members of our families. They are crate-trained, house-trained and taught beginner obedience commands. They will receive routine physical exams from the same veterinarians who care for our personal dogs. In addition, they are up-to-date with their vaccines (DHLPP, bordetella, and rabies), tested for parasites and heart worms (and treated if necessary) and current on preventative, and spayed or neutered. We also microchip every Walker for extra security.

CREWW strives to adopt each and every Walker into the best possible home. All potential adopters must complete an Adoption Application, Phone Interview, Home Visit, and an Adoption Contract must be signed. Walkers are adopted to pet homes only and must eat, sleep and live inside. Electric Fences are not permitted. A securely fenced yard is highly recommended. The adoption fee for any Walker is $300.00.

Please take a moment to read our "Standards For Adoption" prior to completing and submitting an "Adoption Application."
Volunteering
If you can't adopt a Walker hound but would like to help out...

1. Be a foster home! CREWW covers basic medical expenses and the foster home treats the dog as though he/she were there own.
2. Help with transportation of dogs to/from foster homes.
3. Help do homechecks for potential adoptive families.

---
Coonhound Rescue, Education and Welfare for Walkers Inc.
CREWW
Springfield, VA 22152
Email: CREWWCoons@yahoo.com
Click here for a list of pets at this shelter