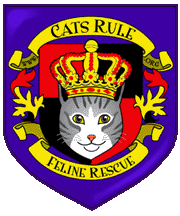 CATS RULE! Feline Rescue
CATS RULE! Feline Rescue is a small but growing collective of animal lovers, rescuers & friends based in Fairfax, VA. We help animals in need of all kinds, with a focus on feral & homeless cats. We can not take in owner surrenders
Please help us help cats!
Our rescued cats come from hard circumstances: the streets, the highways, patches of scrubland behind businesses; most are born homeless. Many have medical problems that continue to require treatment. Happily, they are now safe, well-fed, well-cared for & loved. And it shows
Even though we help a lot of animals, there are still thousands that need the intervention of a kind samaritan for their very survival. Not everyone can take in 10 or 20 animals & give them a loving home. But they can help animals by supporting local rescue groups.

You can be a part of happy endings!
With the support of caring people who share concern & compassion for animals, we can continue to take in animals with no home to go to & no one to care for them.

The work of rescuing & providing for homeless animals is a labor of the heart. Please consider a donation to help us help cats. It means so much to have the support of other caring people in our efforts on the front lines of the companion animal over-population crisis.

An other way to support our cat rescue work is by visiting our SHOP page & purchasing some neat items for your favorite cat lover or for yourself! We have many terrific items, including a wide selection of Animal Rescue Awareness Ribbon magnets. All proceeds go to our rescue efforts for homeless cats.
We're hoping our site will inspire you to take action & become involved, more so if you already are!

Please visit our website at http://www.catsrule.org & meet our rescued cats, learn about feral cat issues, find out how we are helping needy & homeless cats & how we can help you to do the same.



---
News
Click here to find out the latest news at CR!FR: http://www.catsrule.org/news.html


Adopting a friend
We only adopt to local (Northern VA, WDC & Southern MD; around the beltway, basically) due to the logistics of doing pre-adoptive home visits.

Please fill out our adoption application at
http://catsrule.org/adoptapp.html (for cats)
http://catsrule.org/adoptappDogs.html (for dogs)
We will review your application & contact you to discuss any questions &/or to set up a "meet & greet" with your future best friend!


Meet Our Sweeties!
We do not have a central shelter, all of our rescued companion animals are in foster homes. Please e'mail us at info@catsrule.org to arrange an appointment to meet our wonderful animals needing homes.



---
CATS RULE! Feline Rescue
PO Box 2096
Fairfax, VA 22031
http://www.catsrule.org
Email: info@catsrule.org
Click here for a list of pets at this shelter

---

[Home] [Information] [Shelters] [Search]