Our Featured Pet...
Meet Beau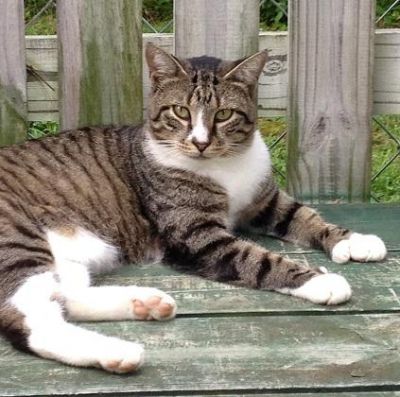 <!! PLACE "FEATURED PET" TEXT STARTING BELOW THIS LINE. !!> Mr. Beau Hemingway, giving new meaning to the words Pitter Patter of little feet! There are some big feet on this small boy. Beau will keep you in stitches walking around your feet with his big feet. He is full of love and loves to play. He plays well with others. You will never have to call him twice for a meal. He simply has an adorable personality. Beau may take some time to warm up to you as so many kitties do, but it is a short process. He will be a wonderful addition to you family or as a single companion for you to love.

On line applications accepted any time www.somebuddiesinc.com or call 804-559-6170. <!! END "FEATURED PET" TEXT ABOVE THIS LINE !!>
---
Make that lifelong commitment to a furry friend. There is no other way.
We are not a shelter open to the public. All of our kitties are in a foster/safehouse environment.
Please call (804) 559-6170 or Email: catfix@aol.com for an appointment
---
---
Who We Are
Somebuddies, Inc. is a Non-Profit, All-Volunteer Humane Organization. We provide temporary housing in a warm, clean and safe environment, while also providing professional medical care, sterilization and last but not least LOVE until that permanent, lifetime commitment buddy arrives. We pride ourselves on the QUALITY OF CARE and INDIVIDUAL ATTENTION provided to each animal we foster. Somebuddies, Inc. was founded in 1998. Coupled with our adoption focus, we are dedicated to reducing the surplus of unwanted animals through promotion of SPAY/NEUTER. We strive to educate the public on the importance of spay/neuter and professional veterinary care for one's pets and animals that cross one's path.

---
Adopting a Buddy
Each kitten will come with a goody bag just for them. All pets are spayed/neutered (prior to adoption), tested for FIV/FELV, have received age appropriate vaccinations, deworming, flea treatment and vet checked. All pets must be in carriers upon adoption and all times while traveling.
Please review our adoption contract for more detailed information.
If you have any questions, please feel free to contact us at (804) 559-6170 or by E-mail at catfix@aol.com
---
SomeBuddies Inc.
P.O. Box 1532
Mechanicsville, VA 23116
Phone: (804)559-6170

Email: catfix@aol.com
Click here for a list of pets at SomeBuddies!

---

[Home] [Information] [Shelters] [Search]