Blue Ridge Border Collie Rescue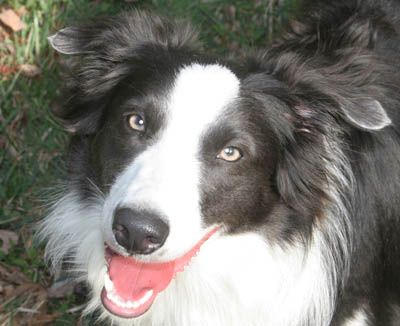 Layla Adopted 2007
---
---
BRBCR is currently seeking individuals interested in volunteering their time in the Virginia, Maryland, West Virginia and North Carolina areas. Foster homes are always welcome, but you don't have to take in dogs or even have much experience with dogs to help. Our group draws its strength from the diversity of our members and is unified by our love of the Border Collie breed!
---
"Be An Angel"
---
---
GREAT GIFT IDEA!!!

100% of the net proceeds of this book "The Canine Commandments" about life lessons from dogs and other dog quotes and dog stories go to animal rescue! Buy several for your dog friends. ( Click on the book to learn more.)
---
About Blue Ridge Border Collie Rescue
Our Mission
Education: Promote public awareness of the Border Collie as a working breed, and provide a counseling/referral service to Border Collie owners.
Enrichment: Encourage Border Collie owner involvement in dog sports through public demonstrations and events.
Assistance: Provide foster care and rehabilitation to endangered Border Collies.
Preservation: Promote spay/neuter of companion Border Collies.
---
Adopting a Border Collie friend:
To apply to adopt one of our dogs please go to our website http://www.brbcr.org/ and click on "Adoption Process" and complete an online application. For information about a specific dog, contact the foster parent listed in the ad.
---
Visit Our Store for Border Collie T-Shirts and More!
---
We've Been ADOPTED!!
---
Dog Training Video Clips