Hopewell Humane Society Inc.
3412 Oaklawn Boulevard
Hopewell, VA 23860
804-458-7303
.
Pet of the Month
Our pet of the month introduces himself. ..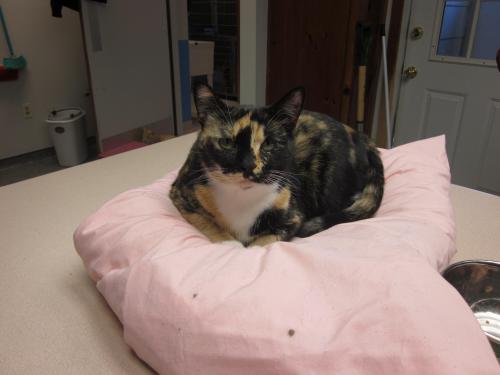 My name is Pumpkin and I am a little overweight. ( I LOVE canned food) If I could be adopted and into a home, I could go on a diet to lose some of this weight. I am a loveing cat and very friendly. .
I get along with other cats and kittens. Although I have not been around dogs, maybe . . . .
As are all the kitties at HHS, I have been "fixed" and am up to date with all my shots. I am negatiave for aides and leukemia. Of course, I have been flea treated and my ears cleaned.
.
Please contact Hopewell Humane Society at 804-458-7303 to see about adopting me. I hope you are interested.
If you can't adopt me, please make a donation to help support me until I get adopted.
JUNE, 2017 Yard Sale
This spring in early June we will have our annual yard sale. We are currently accepting clean, usable items for our sale. If you have anything you want to donate, please bring it by the shelter at 3412 Oaklawn Blvd in Hopewell, VA.
FACEBOOK
> >
WHO WE ARE
Hopewell Humane Society is a non-profit organization made up of volunteers. We help abandoned and unwanted animals. HHS receives no tax funds; however, the local United Way does support our efforts.
NEW BUILDING. After many, many years, we have been able to purchase a new building. In December of 2006 we purchased the old Tri-City Animal Clinic on Oaklawn Boulevard and physically moved in March/April of 2007.3h>
Hopewell Humane is now in the process of trying to renovate the building to better meet the needs of our furry friends. We are writing grants and trying to raise funds. We are a work in progress.3h>
3h>
.
UPGRADING SECURITY
We now have new updated seurity system in place. Hopefully this will help make us more secure.
ALSO
HOPEWELL adopts from Petsmart on Midlothian Turnpike every Saturday from 12 to 3. Our cats are at this store 24/7 in the adopt-a -center. You may get one from us there.
You may call the shelter at 804-458-7303 for more information.
News
NEWS! NEWS! NEWS!
Dog Obedience Classes are now being offered through Clever Canines Therapy & Obedience Club at the Hopewell Humane Society. Visit their website for more information.
Wish List/Needs
We are always in need of many things (including volunteers and cash donations) to help us help unwanted and abandoned animals. Following are a few of the things we can use:
Unscented liquid laundry detergent - he for high efficiency washer
usable pillow cases
usable towels and wash cloths
kitchen towels and dish cloths
flat sheets and blankets (no electric, please)
Dry Cat and Kitten Food
liquid or powder KMR mother replacement milk for kittens--urgent
Canned cat and kitten food
bleach unscented
Antibacterical dish soap
33 gal trash bags
Tall Kitchen bags
paper towels
white vinegar
quart and gallon zip lock bags
Adopt a Cat
We are no longer at PETSMART on Carmia Way (off Midlothian Tnpk in Chesterfield). In January 2017 HHS was asked to leave because we were not adopting enough animals out of the adopt-a-center. We are sorry that we are no longer there. HHS and PetSmart had been partnering and had been at the adopt-a-center for over 20 years. We will miss seeing all of friends and adopters from this area. Every Saturday we are at PETCO on rt 10 and rt 1 for viewing / adoptions. Come See us.
NEW SHOWCASE FOR OUR CATS<3>
Effective February, 2017
PETCO Store 1380 located at Bermuda Sq on Jeff Davis Highway at Rt 10 is now our new showcase for all our kitties. We have cats and kittens available 24/7. The staff and management of this store are very supportive and have been a great help to us. Please stop in to see us. We do have volunteers there every Saturday to show cats. Adoption applications can be filled out and turned in at the store -- even if we are not there at the moment.
Come see us and all our babies. Think about giving a rescued animal a home; Love a Senior-- there are plenty of senior cats that need loving homes as well as the younger ones.. Hope to see you soon.
Weight Circles
Hopewell Humane Society collects weight circles from the following products. When we accumulate enough, we can sent them into the Purina and will receive coupons/checks to help us purchase cat and dog food.
Purina Adult Cat and Kitten Chow
Proplan Adult Cat and Kitten Chow
Purina Veterinary Diets Feline Formulas
Purina ONE Adult and Kitten Chow
Purina One Naturals cat food
Purina Naturals plus vitamins & minerals cat food
Kit n' Kaboodles
Tender Vittles
Happy Cat
excludes Dealer's Price, Cat Menu, Purina or Friskies treats
Please help us out. Accumulate your weight circles and mail them to us at: Hopewell Humane Society, P O Box 562, Hopewell, VA 23860.
Your help is much appreciated!
PAW POINTS
Also, help us save Paw Points on Fresh Step Products. We can get free merchandise for these.
Volunteering and Donations
VOLUNTEERS ARE ALWAYS NEEDED TO HELP US CARE FOR OUR SHELTER AND THE ANIMALS. Do you have time? and want to spend time with some loving animals? We can ALWAYS use volunteers at the shelter to play with and socialize the animals. We can also use help with transportation of the cats to and from local vets as well as have a desperate need for people to help us clean and maintain the cats at PETCO in Bermuda Sq on Jeff Davis and Rt. 10l;

We are at PETCO every Saturday. . Please contact the shelter (804) 458-7303 for more information and come visit us on Saturdays. We also need volunteers at PETCO to help clean and care for the animals during the week.

We have volunteer forms at PETCO. Please come in and talk to us. We need your support.

Come see us on Saturdays at Adoption Days at PETCO and talk to some of our volunteers. See all the animals we have for adoption. We have cats and kittens. Cats and Kittens stay all week and are available for adoption.
Come Visit Us!
We are located in Hopewell at our new facility!!! 3412 Oaklawn Boulevard
Hours of Operation
Mon - Friday 11:30 to 2:30 p.m.

Sat - Sun 12 to 3:30 p.m..

AND by appointment

Open 7 Days a Week

Available for viewing and adoption at PETCO at Jeff Davis/Rt 10 in Bermuda Sqduring regular store hours
Directions from east or west:
From Richmond: Take 95 south to Hopewell Exit, Take Rt 10 East. Stay on Rt 10 East until exit for 295 South. This is approximately 4 miles. You stay on 295 (approx. 6/8 miles) to the exit for Hopewell (exit no. 9A) Take Hopewell Exit. You are now on Rt. 36 (Oaklawn Blvd.) Stay in right lane. Approximtely 1.1 miles on right is new building (3412 Oaklawn Blvd). Hopewell Humane Society Inc.
P O Box 562
Hopewell, VA 23860
Phone: (804) 458-7303
Email: hopewellhumanesociety@yahoo.com


---

[Home] [Information] [Shelters] [Search]