Wasatch Animal Rescue
---
Our Featured Pet...
~ MEET HOPE ~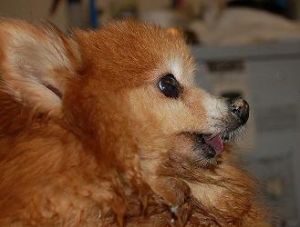 Hope is a beautiful red Pomeranian who suffered unimaginable neglect, before being abandoned..

Her lower jaw has almost completely rotted off, you can see her nasal cavity from the roof of her mouth, as that too has been almost rotted away completely. She had a large infection in both her nasal cavity and her mouth, and she has no teeth. She has cataracts in both eyes, and an ailing heart. It is doubtful that this beautiful girl has ever seen the inside of a veterinarians office.

Amazingly through all of this she wags her tail and offers kisses when someone comes to say hello. She is a wonderful dog, who has suffered unimaginable neglect. She is now safe.

Want to help with Hope's medical care? And the medical care of other rescued dogs? Make a secure online donation!





News
We are continuing our rescue missions, to save as many dogs as possible. We need your help we are in desperate need of financial donations to make these rescue happen. There are always hundreds of dogs waiting for their chance at a life. We have placement available for all of them with various rescue groups, if we are able to raise the money to transport them. We can save all these dogs with your help. PLEASE PLEASE help us save them.


Who We Are
Wasatch Animal Rescue is a non-profit organization, based in Salt Lake City, Utah, dedicated to rescuing and placing homeless and abandoned animals in safe and responsible homes. We are committed to educating the public on the virtues and necessity of spaying and neutering their animal companions. And the responsibility of pet ownership being a life long commitment. By maintaining our vision we can decrease the number of euthanized animals yearly. We are committed to saving lives and remaining loyal to our cause of rescuing animals. We rescue from local animl shelters as well as travel to the mid -west to rescue as many as we get the opertunity to.


Adopting a friend
If you are interested in any of our lovable animals. Please Check our web page WWW. Wasatchanimalrescue.org or email us at warescue@live.com . We hope one of our animals will make a wonderful addition to your family. Our rescue is run thru volunteers and foster homes. We are a volunteer based organization, we will try our hardest to accommodate your schedule. But do have to work around jobs and personal schedules.


---
Wasatch Animal Rescue
Email: warescue@live.com
Click here for a list of pets at this shelter

---

[Home] [Information] [Shelters] [Search]