---
ADOPTION FEES:
Cat adoption fees are $85.00 or TWO for $85.00!!
Adoption fees for dogs are determined by the breed, age and size of the animal.
All adoption fees include spay/neuter, age-appropriate vaccinations and microchip.
---
OUR ADOPTION PROGRAM
Best Friends Animal Society-Utah rescues dogs and cats from the euthanasia list at various shelters and finds them new homes through an outreach adoption program. "We choose an average of 10 wonderful animals each week. These are animals who've been up for adoption but are now scheduled for euthanasia. We put them here on Petfinder and also take them to various adoption venues around town", says Erin Olsen, the program's supervisor. "Once in our program, they're never going to return to the shelter's general population, so they are safe from euthanasia. Best Friends Animal Society-Utah staff members and our wonderful volunteers do the adoptions and all fees collected go to operate the program.
If you are interested in adopting a special friend, please look at our Our Adoptable Pet List here on Petfinder to meet the many adorable animals who are looking for their Forever Homes. If you find one who tugs at your heartstrings, you can contact us at utahadoptions@bestfriends.org. We also take a group of these animals to weekly adoption events weekly. You can check out where we will be each week by going to our Events Calendar also here on Petfinder.
---
PETS OF THE MONTH
SPECIAL PETS FOR SPECIAL PEOPLE
SENIOR PETS WITH YEARS OF LOVE LEFT TO GIVE YOU!
Best Friends Animal Society-Utah and Petfinder.com celebrated November as Adopt-a-Senior-Pet Month. But then again, December is a great month to adopt an older pet, too. Just in time for Christmas!
"Think of a pet that is already trained and doesn't chew or scratch everything in sight--a pet who will love you unconditionally," said Kim Saunders, Petfinder.com's Director of Public Relations. "That's what you get when you adopt a senior pet."
Some people worry that a senior pet comes with problems, but according to Hazel Blumberg-McKee of Tallahassee, FL, there are no disadvantages. "In most cases they've had a home and they want one again." She adopted eight-and-a-half-year old Sadie, and has never regretted it. "An older animal is easier to deal with. And Sadie is still playful. She plays fetch and gallops all over the place."
We have a number of loving, healthy older pets, both cats and dogs, looking for that one special home to cherish them for the rest of their life. They don't ask for much, just a warm place to sleep, good meals and plenty of love, and they will have a long, healthy life ahead of them.
We have four of our lovable seniors featured here but to see them all, check out Our Adoptable Pet List .
All our animals have been neutered or spayed, they are up to date on all their routine vaccinations and they have been microchipped. They're ready to go and just waiting for YOU!
Call us at (801)577-5616, email us at utahadoptions@bestfriends.org, fill out an online adoption application or come to one of our weekly adoption events listed below under UPCOMING EVENTS.
| | | | |
| --- | --- | --- | --- |
| HOPE | CAGNEY | MADEA | BAGEL |
| | | | |
| Hope is a 5 year old female who came into the shelter hit by a car. She was unable to walk but still this girl dragged herself to the litter box. She rolled over for belly rubs and won the all the hearts. She is fully recovered now. Hope is a sweet, gentle lap cat who loves other cats and even dogs! She is a quiet, mellow, mature female who just wants someone to love! | Cagney is an awesome 6-year-old. She was part of a group of over 800 cats seized from an overcrowded sanctuary in Nevada. This cat is loving and affectionate, showing the resiliency of these special cats. Now she is just waiting for her forever home to come along so at last she can "live happily ever after"! | Madea was also part of the "great cat rescue" in Nevada. But this little lady is a real survivor! She is very sweet and gentle, loves other cats and just wants a warm lap to sleep on! She will make a wonderful companion on these cold winter nights! | Bagle. is a very large beagle, He is 10 yeas old and can live up to 16 years, especially since he's working on losing some weight. He is good with other dogs, cats and kids and would love to have his own home. |
| | Meet Cagney | | |
Each year approximately 8-12 million adoptable animals enter animal shelters nationwide and 5-9 million are euthanized. That's 575 every hour. If you're thinking about adding a pet to your family, please consider adopting an animal from a shelter.
Best Friends Animal Society-Utah is a no-kill organization, and because of that, we can run out of space for new dogs and cats. Help us to find homes for these deserving animals by spreading the word that shelter animals make great family pets.
And consider joining our Foster Program. By providing short-term, in-home care for friendly animals until they can be placed, you will help us save the lives of more homeless pets. See our web site for more information on how you can become involved: www.utahpets.org
---
HAPPY ENDINGS!

THE TALE OF THOMAS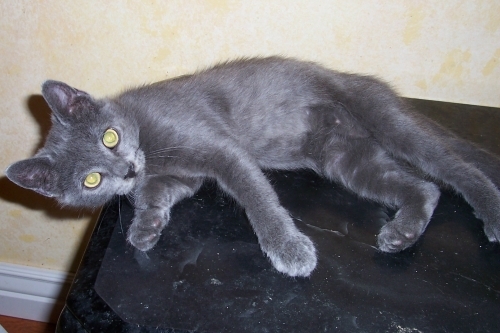 Thomas first came into the West Valley City Animal Shelter as a feral kitten. He spent over a month at the shelter before he was taken into foster care by Jamie Carter. From the moment he arrived at Jamie's house he began to turn from 'wild child' to 'adoptable kitten'.

However, when he was finally adopted by Kristen Pitt and her family, the first week in his new home was absolute chaos! Thomas threw himself at doors and windows, howled constantly and wouldn't let Kristen near him. After a week, the Pitts sadly decided it just wasn't working and decided to return Thomas.

But when Kristen got home the afternoon they made the decision, Thomas seemed to have settled down a bit. Kristen decided to give him some more time. Every day after that Thomas warmed up more and more!

Nowdays, Thomas is a very happy cat. He plays with the Pitt's other cat, Rio, and from all reports, is doing great! It's amazing what just a little more time can do and how a happy ending can come from giving a new animal a chance.


---
Good News for Cat Owners!
A stroke and heart attack study at the University of Minnesota suggests the cat may be man's best friend!
A new study, which was presented recently at the International Stroke Conference in New Orleans, suggests that cat owners are less likely to die of a heart attack or stroke than people who don't have cats. The study, by researchers at the University of Minnesota, found that feline-less people were 30-40% more likely to die of cardio-vascular disease than those with cats.
Dr. Adnan Qureshi, a stroke expert at the university, said he decided to raise the question because other studies had suggested pets can help reduce stress. He and his team analyzed a group of 4,435 people who answered questionnaires about pet ownership and other risk factors. The same results were not found among dog owners.
Asked if he owns a cat, Qureshi replied, "No, but maybe I should get one. With this new research, I think the time has come to change!"
---
WHAT'S GOING ON AT Best Friends-Utah?
Best Friends-Utah Programs and 2012 Goals
The Big Fix and BFAS Spay & Neuter Clinic - 17,000 surgeries


Community Cat Trap/Neuter/Return - 5,500 surgeries


Free spay/neuter for low-income residents statewide - 6,000 surgeries


NMHPU Adoption Program, Super Adoptions, Mini Super Adoptions, shelter adoptions through mobiles/events - 4,249 adoptions


Free spay/neuter for at risk dogs in targeted locations - 1,000 surgeries
---
WHAT YOU CAN DO TO HELP
Pets in Utah Spay/Neuter Specialty License Plate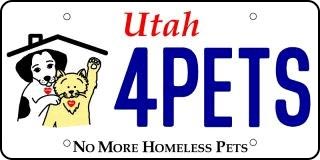 Support spay/neuter efforts in your community by getting the "Pet in Utah" license plate for your car. All proceeds go to No More Homeless Pets in Utah's spay/neuter programs. The plate costs $25 per year, and a full $20.00 of that goes to No More Homeless Pets in Utah. You can get the plate at your local DMV or through the mail using our printable application form. To download this application form, see our web site : www.utahpets.org. Thanks for your help!

Give A Dog a New Bed!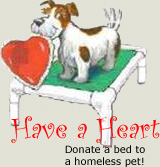 Our dogs love to sleep on Kuranda Dog beds, but we don't have enough for everyone. If you would like to donate a bed at a special wholesale price for a another dog to sleep in comfort, please click here
---
WHO WE ARE
Best Friends Animal Society-Utah based in Salt Lake City, began in 2000 as No More Homeless Pets in Utah. Today, it's a proud part of Best Friends Animal Society, still focused entirely on the great state of Utah, and serving as an exemplary model for the rest of the country.
Our nationally-recognized work focuses on increasing adoptions of shelter cats and dogs, creating access to free and low-cost spay/neuter services, and collaborating with Utah shelters, rescue groups, veterinarians and local governments to save the lives of homeless pets.
So far, these innovative efforts have helped reduce the number of animals killed in Utah's shelters by 35 percent. Together with you, we will turn Utah into a state with No More Homeless Pets.
---
CONTACT US
Best Friends-Utah
8029 South 700 East
Sandy, Utah 84070
801-577-5616


Email: utahadoptions@bestfriends.org
Click here for a list of pets available for adoption

---

[Home] [Information] [Shelters] [Search]