Westie Rescue of North Texas
Click to see our events!
---
BIG NEWS ! !! ! It's Munecca and Jack and GUESS WHAT ???..........We were ADOPTED ! ! !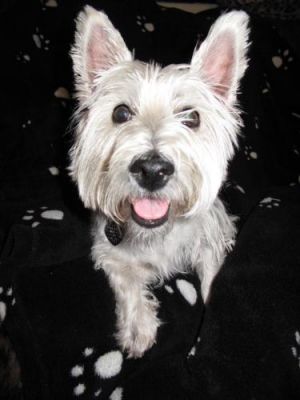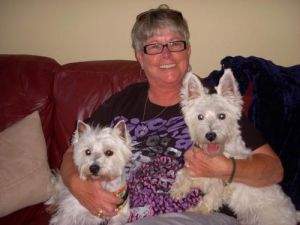 News
Westie Rescue of North Texas is a group of volunteers who have been rescuing Westies for many years as part of the Trinity Valley West Highland White Terrier Club. We recently incorporated and received our 501(c)(3) certification. We have joined Petfinder to give prospective adopters another means to learn about the dogs we have available for placement
Who We Are
Westie Rescue of North Texas (WRNT) exists solely to rescue and rehabilitate abused, abandoned, neglected, homeless and surrendered West Highland White Terriers. The dogs we assist are provided with the attention, care and medical treatment necessary, including spaying/neutering, until a permanent home can be found for them. Our officers and volunteers are located primarily in the Dallas/Fort Worth, Texas, area. Most of the dogs we take in are from North Texas, and most placements are also in that area -- we do not ship unaccompanied dogs. We are part of a network of independent Westie Rescue groups throughout the country who work together to see that any Westie that needs help can receive such assistance. The network is coordinated by the West Highland White Terrier Club of America. Each independent group has agreed to be guided by the WHWTCA Westie Rescue Code of Conduct, which can be inspected at their website www.westieclubamerica.com As their North Texas representatives, we work especially closely with Westie Rescue organizations in Austin and Houston, and with Oklahoma and Louisiana Westie Rescue. We also work with WestieRescueUSA, another nationwide organization. Our integrity is important to us. All donations made to WRNT will be used exclusively in the furtherance of our Mission. No Director or Volunteer is ever compensated for their efforts. A full accounting of all financial activities is available for public viewing. You can learn more about us at our website, www.wrnt.org.
Adopting a friend
We find new homes for stray, abandoned, neglected, abused, and surrendered Westies. To the degree possible, we try to match the needs of each dog with the best home available for that dog. We gather information on prospective adopters using an Adoption Application form which is available here on Petfinder or through our website. We learn more about the dog through our foster home volunteers, many of whom have Westies of their own. If it appears that your home is the best match for a dog, we will talk with you by phone, do a home visit, check references and veterinarian information, and then arrange for you to meet the dog. If you agree it is a good match, we will ask that you sign an Adoption Agreement, and we will request an adoption contribution to help pay our vet bills. All our rescued animals are in private foster homes, at vets, or occasionally at trusted boarding kennels. There is no central location to which prospective adopters may visit to view all available dogs. For more information or questions, please contact us at:
Email: info@wrnt.org

Come Visit Us!
Westie Rescue Website - www.wrnt.org
---
Westie Rescue of North Texas

Email: info@wrnt.org
Click here for a list of pets at this shelter

---
VIEW ANIMAL PLANET PET VIDEO
---

[Home] [Information] [Shelters] [Search]