About Us
News
Our Featured Pet….Meet Ruby!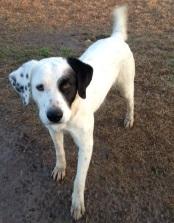 Ruby is about a two year old mix of Pyrenees and Dalmatian. Ruby was pregnant when we rescued her and her sister. She has been spayed now and is ready to have a safe home and loving family. Her mom moved and left her behind with her sister Libra....we were called and it was an emergency but she and Libra were left to run free and roam in a questionable area regarding their safety. Libra was adopted and Ruby is still waiting for the right home. A secure fenced area is required as it is for every dog we adopt. Ruby is very affectionate and likes attention. She gets along with other dogs-especially boys and loves Marmaduke- her playmate at the rescue. We always have lots of puppies and some are getting to the fourteen weeks age. Please call us for details on each of these special furry friends. Make an appointment today! Email : allanc214@aol.com for more details.
Adopting A Friend
We have a simple adoption contract that ensures our dear little rescue will be treated with care and concern for their well-being and with the respect they deserve as one of God's furry creatures. We do want them to become a part of your family whether they are an indoor dog, or indoor and outdoor. Fences make good neighbors, and are even more important for responsible pet owners. All of our animals must be spayed or neutered, and if this has not been accomplished before they leave us, it will be a requirement for adoption. Our adoption fee is so low you will want to take home 2! We are all about finding great homes for these precious 4-legged creatures. ! Contact us by email for Pre-qualification/ Adoption Application.
Who We Are
Texas Best Choices Animal Rescue is our name. We are a HAPPY place for animals and people. We strive to make this a place for our rescued dogs to thrive while they are waiting for their "FOREVER FAMILY". You will see lots of waggin' tails and hear friendly barking when you arrive for a visit at our 22 acre outdoor, dog lovin' shelter. There are no small cages, nasty smells or pitiful faces to to send you running away. YES, we have a lot of beautiful puppies and dogs in need of homes , and we hope your home is just right for one, or maybe even two!
Come Visit Us
We are located in Quinlan, Texas; about one hour east of Dallas. Please call or email us for an appointment and exact directions. We have flexible hours and are available weekdays and weekends, as daylight allows. Thank you for visiting us on petfinder.com and we look forward to meeting you and matching you with your new furry, best friend.
You can find us directly at http://www.tbcanimalrescue.com. Like us on Facebook and follow up to date information about adoptable pets, happy tails and other current news.
Contact Texas Best Choices Animal Rescue