Seagoville Animal Shelter
---
Who We Are
We are a municipal animal control shelter dedicated to the health, safety, and welfare of our city's furry citizens. We strive to find loving homes and welcome those looking for their next best friend!
Find Us On Facebook!
Keep up with the Seagoville animal shelter on Facebook. Our shelter has an active and updated Facebook page. Many of our adoptable animals will be listed there first and many of our special events also are listed there first, so please come over and join us... Just click HERE to find us.

OTHER PLACES TO FIND US
If you're not on Facebook, you can find current listings of our dogs and cats on many adoption portals that don't require membership to search. Our most updated adoption portal can be found :
HERE
. We encourage you to browse through our pet listings and visit us at the shelter and off-site adoption events so you can meet your new best friend!

Featured Dog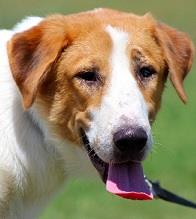 Penny
---
Adoption Specials and Special Events
Please check our Facebook page for the current special event.
---
Adopting A Friend
Our adoption fee is $15 for an unaltered animal with a $50 deposit for the spay/neuter and rabies shot. We will schedule the surgery for the next available business day and the adopter will pick up from the spay/neuter clinic the day of surgery and pay for any residual costs at that time. Call for pricing on previously spayed/neutered animals.

Amazon Wish List
Unable to adopt right now, but you'd still like to help? The shelter is always in need of items that can be found on our Amazon Wish List. Everything from collars to crates; food dishes to paper towels; canopies to cat trees. There's something in just about every price range, and as you can imagine, it will be gratefully put to good use.
To see a list of items on Amazon, please click HERE.

Come Visit Us!
Just minutes from Dallas. East on Highway 175 (CF Hawn), exit Malloy Bridge Road and go north about 1/2 mile. Shelter is on the right-hand side.
Seagoville Animal Shelter
1330 East Malloy Bridge Road
Seagoville, TX 75159
Phone: 972-287-6838 (leave message) Please leave a message for Officer Stevens and she will return your call as soon as possible.

Open to Public:
We are open Monday - Friday 8:00 a.m. to 5:00 p.m. and Saturday 10:00 a.m. to 2:00 p.m.



Email: pets@seagoville.us
Click here for a list of pets at this shelter

---

[Home] [Information] [Shelters] [Search]