B
Amazing Grace Pet Rescue
We have some FABULOUS mature dogs that have a lot of love to give. All that is missing is an equally FABULOUS owner to love them! Remember, a mature dog can be easier to handle, more relaxed, have out grown puppy phase (i.e. chewing), eager to please, and grateful for your love and attention. Contact us and we can help you to find the perfect new family member!
Amazing Grace Pet Rescue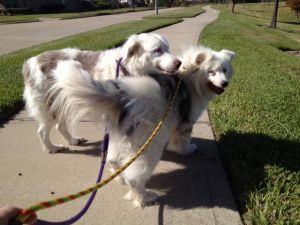 Our beautiful angels!

In Memory
To our wonderful Chula and Mary Kay who helped us for so many years.
Click to learn more.
---
NEWS!!!
Every third Saturday of the month (including July 21st), we will have several of our GREAT dogs at the North Eldridge Petco Store (located at 12310 FM 1960 West in Houston). We will be there from 1 pm until 4 pm.
Who We Are
We are a non-profit rescue that relies on volunteers to foster, condition, train and socialize our rescue dogs to prepare them for their forever homes. We work hard to make sure our dog is the right pet for your family. We are not "cash and carry". We will take time for you to get to know our dog and make sure he/she is a good fit for your home and family including animals you may already have.
Adopting a Friend
Our adoption process starts with filling out an application. Once your application is reviewed we'll contact you to setup a time/place to conduct a meet and greet to introduce you to the dog and spend time getting to know them. If you already have a dog we may do this at a neutral location, or we may do this in your home. We take one step at a time depending on the needs of you and the dog. We may also allow a short trial period so that by final adoption you are certain our dog will fit into your life permanently. To start the application process, please send an email to: Amazinggracepetrescue@yahoo.com to request an application and a volunteer will get back with you.



Because of our dedication to the animals in our care, we appreciate your understanding that we see visitors by appointment only. We will try very hard to make ourselves available at a time that is convenient to you.


Thank you for helping us to save great pets!
---
Amazing Grace Pet Rescue


With fosters conveniently located in the Spring and Pearland vicinities!



Email: amazinggracepetrescue@yahoo.com

Click here for a list of pets with this rescue.
---

[Home] [Information] [Shelters] [Search]