Vision Hills Sanctuary
---
Our Featured Pets...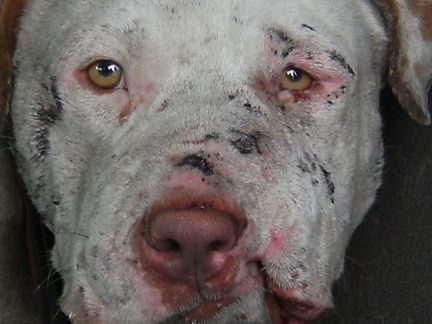 The Face of Dog Fighting



Mugsy was found on the side of the road, in with the trash, in a very ugly part of Houston. The inside of his mouth was mangled, and he has teeth broken. It was determined that he was used as a bait dog.

Please help us continue his medical care and bring him back to life. We started Mugsy's Fund at the Alvin Animal Clinic for him, and will continue that fund for any animals subjected to the hideous crime of dog fighting that we can help. Abuse at any level against the voiceless is beyond criminal, and should be reported. Please know that another dog can be saved from the life that Mugsy lived if we are vigilant and not afraid to speak out and if we always remember, "We Are Their Voice."

Please send Donations to:

Alvin Animal Clinic
Mugsy's Fund
Dr. Amanda Hoffpauir DVM
2202 North Gordon St.
Alvin, TX 77511
Phone: 281-585-5183 Vision Hills is posting Mugsy as a courtesy for a rescuer in Houston. You can donate directly to the veterinary clinic listed above, or you can donate through Vision Hills using the Paypal link on this page. One hundred percent of all donations will go directly to Mugsy's veterinary costs, and Mugsy's Fund.

News


If you are looking for information on adopting guinea pigs, please go to Austin Guinea Pig Rescue's Petfinder page.

Donations

We could not do what we do without you. That's the ongoing reality of running an animal sanctuary and rescue organization - we need your help to survive. Vision Hills' average cost to feed and provide care to our rescued animals is approximately $40,000 - $50,000 annually. Every month we use over 500 pounds of dry dog food and 5 cases of canned dog food. Plus, we go through a lot of Heartgard and Frontline for the dogs every month.

Other expenses include:

Medical care
Vaccinations
Spay/neuter expenses

Vision Hills is recognized by the IRS as a 501(c)(3) tax-exempt organization. Your donation to Vision Hills is tax deductible.

To make a donation via credit card or electronic payment please click on the link below.

Who We Are

Vision Hills Sanctuary is a 501(c)(3) non-profit corporation located in Austin, Texas. Vision Hills Sanctuary's goal is to ensure all animals a life that is free from suffering and pain through education and awareness, and working toward the continuing prevention of unwanted animals through spay/neutering, and to provide as many as possible with a permanent, quality home.

Fostering

If you are interested in fostering one of our animals until they go to an adoptive home, please check out our foster information.

Adopting a friend

Please give us a call, email us, or fill out our dog application form.

About our Adoption Process:
You must be an adult to apply for adoption.
All animals must be housed indoors. Outdoor situations will be evaluated on a case by case basis.
We will check veterinary references on any current pets you may have.
We visit your home by appointment to meet family members, other pets, and to evaluate home safety conditions.
If your application is approved, you may adopt an animal suitable to your home and family.
An adoption fee is due at the time of final adoption. Adoption fees are non-refundable.
Some adoptions have additional requirements.

About our Adoptive Dogs:
All our dogs are spayed or neutered.
Our dogs will be current on vaccinations and heartworm preventative.
Dogs are treated for any known health problems prior to adoption.
Dogs are temperament evaluated for their home type suitability.
Most dogs are microchipped.
The dog adoption fee is $200.

We do not have a rescue facility, all of our animals are in foster homes. Please call or email to make an appointment.

Rehoming Your Pet

If you have found a stray or want to find a new home for your pets, please click here.
---
Vision Hills Sanctuary
Austin, TX 78704
Call: (512) 308-9247.
Email: info@visionhills.org

Click here for a list of pets at this shelter

---

[Home] [Information] [Shelters] [Search]