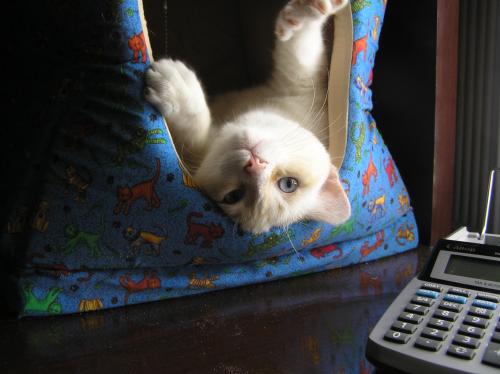 ---
News
Come see all the available colors and sizes of kitties, not to mention a myriad of purrsonalities that are sure to brighten your day. Let us help you adopt the cat or kitten that purrfectly matches your family and lifestyle. You can reach us at (936) 556-2754 or visit our website at http://www.omalleyalleycat.com
---
Want to help but unable to foster? Contact O'Malley Alley Cat Organization, P. O. Box 633452, Nacogdoches, TX 75963-3452 to volunteer or make a contribution. Use our convenient Pay Pal button on our webpage at http://www.omalleyalleycat.com
Check out this web site for another way to support rescue efforts. You can buy T-shirts and other items with the "Bad Kitty" logo on the front and "Promote Safe Sex. Spay or Neuter Your Pets" printed on the back. http://www.cafepress.com/omalleyalley
---
Foster homes are desperately needed. We receive calls regularly about cats who need our help. We are searching for loving families who are willing to open their hearts and homes to grateful cats. Can you help?
Our O'Malley Alley Cats meetings are held in the Old Mize Building/Social Security offices in Nacogdoches, 412 North Street, at 5:30 pm on the third Monday of each month.
Come see what we are all about!
---
Adopting a friend
You can read more about us and our available cats by visiting:
http://www.omalleyalleycat.com
Our website allows you to review our adoption policies and to complete an adoption application. Our adoption fee is $75 for one cat, $125 for two. This includes all vaccinations, spay or neuter, testing for contagious diseases, and any other medical expenses our foster cats may require. If you were to take your cat to your own vet, the cost for this basic medical workup would far exceed the $75 donation we are asking. In fact, our average cost per cat is about $125.
In order to keep our adoption fees as low as possible we depend on donations to keep up with costs of medical care for our rescued cats.
As we are a 501(c)3 organization, your donation is tax deductible. Please email us for more information. All donations are happily accepted.
Sorry, we do not ship our cats.
---
Come Visit Us!
Come meet some of our volunteers and read about The O'Malley Alley Cat Organization in action. You can also learn about the TNR (Trap/Neuter/Return) program and how it works in other communities.
The O'Malley Alley Cat Organization

P. O. Box 633452
Nacogdoches, TX 75963-3452
Email: feralaristocat@yahoo.com

---
Click here for a list of pets at this shelter
---

[Home] [Information] [Shelters] [Search]