K-9 Corral
---
Our Featured Pet...
Our featured pet is Blondie. She is a very cute terrier mix and is about 18 months of age. Blondie was in the pound with a litter of puppies. She did a great job raising the pups and they have all been adopted. Now Blondie has been spayed and is looking for a home of her own. Blondie is house trained, crate trained and doggy door trained. She is well mannered around children. She knows not to jump up on them and is really sweet. Blondie is current on all shots and is spayed. Please email or call us at 281-354-9546 for additional information.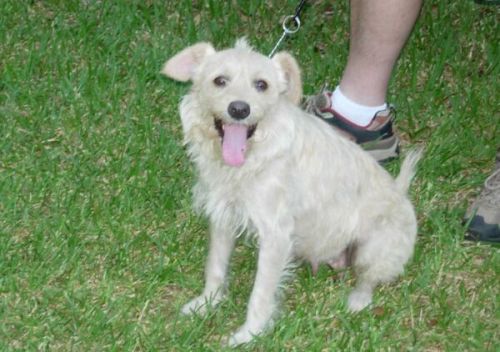 Pregnant Dogs and Pups
When a pregnant dog comes into a shelter, the story is almost always the same. The shelter can not keep the dog long enough for the pups to be born, weaned and old enough for adoption; therefore she is euthanized. When a mother dog comes in with pups that are too young to be weaned the mom and puppies are often destroyed because the shelter does not have room to keep them. Few dedicated volunteers or rescues have the time and funding to be able to take them home, raise the pups, let the milk dry up, and spay the mom - and give her the chance to feel and look like a brand new dog and then be adopted. It is an outrage that a mother dog could go through giving birth, caring for her pups and then be destroyed. "Mama Domino was going to be destroyed on December 29th. I had sworn off dogs for the holidays but when I went to the shelter on Saturday to do volunteer transport for an adoption event I saw Domino calmly sitting in the "Monday room", hugely pregnant and looking like she was about to give birth. I couldn't stand it knowing that she would be destroyed along with her unborn pups on Monday. I was at the shelter bright and early Monday morning (after a sleepless night) and I took her home with me. As soon as we arrived home I bathed her and she promptly started having the pups (that's why she's named Domino!). Eight beautiful healthy pups were born and she was so happy to be safe at my home. After raising the pups (she even taught them to use the doggy door) they were all adopted. Domino regained her pretty figure, was spayed and she was adopted by a wonderful family who renamed her Vegas because they thought she was so lucky to be rescued. What nearly happened to Domino is an example of what happens to the mom dogs in our city/county shelters. They are destroyed because no one wants to adopt a pregnant dog. Please consider fostering a pregnant dog from the shelter to give her and the pups a chance." --Susan, K-9 Corral volunteer.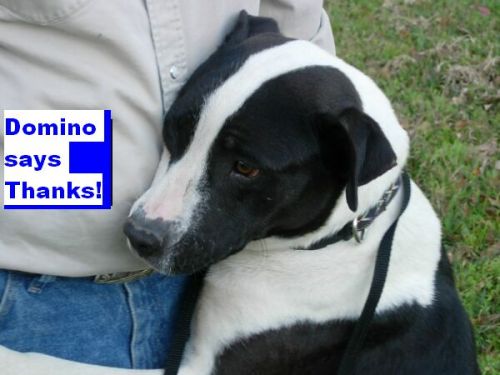 How You Can Help!
Even though thousands of dogs have been saved, there are too many being destroyed daily in our shelters. Please spay/neuter your pets and encourage everyone you know to do the same. If you would like to help us, please make a donation or adopt or foster a shelter dog. We are a 501c3 nonprofit organization.
K-9 Corral Helps People Too!
Volunteer medical flight pilots are some of the most special people on earth and in the sky! They fly patients who need cancer treatment or burn treatment from their home towns to Houston's MD Anderson or Shriner's Burn Center. These flights are completely free of charge to the patient! The volunteer pilot flying the mission pays for all flight expenses, including the plane, fuel, and airport fees. Many pilots tell us their greatest benefit is the joy of meeting their passengers and knowing they can help give comfort to patients on their path to recovery by providing free air transportation in private aircraft so children and adults may receive life-saving medical care. Many patients do not have access to conventional transportation or are too ill to drive or fly commercially. If you would like to help K-9 Corral's volunteer pilot help these patients donations for fuel would be appreciated. Please contact K-9 Corral for more information at 713-805-2154.
News
GOOD NEWS!!! LOW COST SPAY/NEUTER SERVICES ARE NOW AVAILABLE AT TEXAS LITTER CONTROL LOCATED AT I-45 AND SAWDUST ROAD. CHECK OUT WWW.TEXASLITTERCONTROL.ORG FOR FEES & APPOINTMENT INFO. LOW COST SURGERIES ARE ALSO AVAILABLE AT MONTGOMERY COUNTY ANIMAL CONTROL LOCATED AT I-45 AND SH242 NEAR THE WOODLANDS. THE COST IS ONLY $60 FOR FEMALES, $40 FOR MALES. PLEASE CALL 936-442-7738 FOR AN APPOINTMENT. SINCE SPAY/NEUTER IS THE ONLY ANSWER TO ANIMAL OVER-POPULATION, THIS IS WONDERFUL NEWS FOR OUR AREA! PLEASE TELL ALL YOUR FRIENDS AND NEIGHBORS! Please consider fostering pets from the Montgomery County shelter. Temporary foster homes are needed for pets that are not old enough to be adopted or are recovering from an injury or just need a place to live until they are adopted permanently. If you are interested in bottle feeding orphaned puppies or kittens, please give the shelter your phone number. Call 936-442-7738 for more information. You can literally save a life by fostering! ADORABLE AVAILABLE PETS CAN BE VIEWED AT www.k9corral.petfinder.org
Who We Are
K-9 Corral was founded in 1999. We recently placed our 3,503rd dog into a loving home. Help us reach 3,600 adoptions before our next anniversary! Please consider adopting one of our available dogs or puppies. For each one adopted we are able to rescue another from the pound that would otherwise be euthanized. Refer your friends and ask them to attend an adoption event or check out our website . K-9 Corral is a non-profit organization which is dedicated to rescuing dogs and placing them in loving homes. The main focus of our program is spay or neuter of every animal prior to placement. We are dedicated in our efforts to save dogs and puppies from pounds when their time is up and they would otherwise be euthanized, usually at 72 hours. For that reason, we do not accept unwanted dogs from the public unless we already have a home waiting for a particular breed. K-9 Corral is a foster program which allows us to learn about a dog's characteristics and temperament. This helps us to make a good match with an adoptive family. If you are looking for a dog, please contact us. If your perfect dog is not here today, you can leave your information and we will call you when your favorite breed becomes available. We always have more wonderful dogs than our home page shows because new dogs come in daily.
Adopting a friend
All puppy and dog adoptions include spay or neuter, vaccines, dewormer and heartworm test for adult dogs. Adoption events are held regularly and appointments can be made for other times as well. Delivery by private plane within a 500 mile radius of Houston is available for an additional cost.
Come Visit Us!
Pups that are ready for adoption are shown at events which are held in The Woodlands at 24627 I-45 North. The adoption tent is located on the southbound service road of I-45 just south of Sawdust Road in the Texaco shopping center on Saturdays from 10-3. Several groups hold an adoption event at this location every Saturday so there is a very large selection of dogs. If you are interested in a specific dog contact us to confirm that it will be attending the event.
---
K-9 Corral
3007 WOODLAND HILLS DR PMB 73
Kingwood, TX 77339
Phone: 281-354-9546

Email: skipandsusan@msn.com
Click here for a list of pets at this shelter

---

[Home] [Information] [Shelters] [Search]