Tri-City Animal Shelter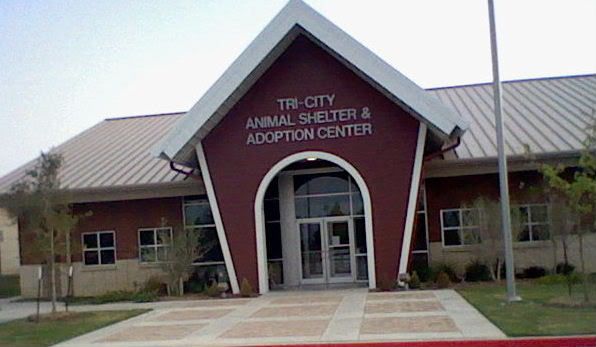 Who We Are

Tri-City Animal Shelter is a municipal animal shelter that serves the cities of Cedar Hill, DeSoto, and Duncanville. Not only do we take care of the animals that Animal Control picks up in those cities, if you find a stray animal in one of those cities, you can bring it to us. If you have a pet that you can no longer care for, and you can provide proof of residency, such as a Driver's license or current utility bill for Cedar Hill, DeSoto, or Duncanville, the animal can be surrendered to the shelter.
The mission of the Tri-City Animal Shelter & Adoption Center is to provide exemplary care for impounded and unwanted animals through redemption, adoption, and public education.
The vision of the Tri-City Animal Shelter & Adoption Center is to work as a team to make a positive difference in the lives of people and animals. Our facility, built in 2009, boasts glass-front cages for all adoptable animals, separate kennels for stray and adoptable dogs, cage-free hallways, an open reception area and get-acquainted rooms for dogs and cats.
Adopting a friend
All potential adopters must be at least 18 years of age, have a valid Texas Driver's License, and fill out a pre-adoption application. The adoption fee for our pets is $75.00. For the dogs it includes a DA2PPV vaccination, rabies vaccination, deworming, sterilization, microchip with registration, and a heartworm test (if old enough) and collar. For the cats, it includes an FVRCCP vaccination, rabies vaccination, deworming, sterilization, microchip with registration, cardboard carrier, and a collar.
When you adopt an animal from the Tri City Animal Shelter, the animal may not go home that day. If it is old enough to be sterilized, we will transport the animal to one of our participating veterinarians the next business day. The veterinarian will spay/neuter the animal and give it a rabies vaccination (if age appropriate). You will then pick your new pet up from the veterinarian's office that afternoon. For more information, please give us a call at 972-291-5335.
Upcoming Events
Volunteer Orientation
If you are interesting in becoming a volunteer, please attend our semi-monthly volunteer orientation, which is held on the first and third Sundays of every month. You must call 972-237-5335 to register because space is limited. You must be at least 16 years of age to volunteer. Please bring an ID and a completed volunteer application, which you can pick up at the shelter or print out online at http://www.cedarhilltx.com/index.aspx?NID=1246. Hope to see you there!
Petsmart Charities' National Adoption Weekend
When: Friday, November 15, 2013, Time: TBA AND Saturday, November 16, 2013, Time: TBA Where: 2525 W. Wheatland, Duncanville This is a three-day event that takes place nation wide in PetSmarts all over the Unites States and Canada! Come out and meet some of the pets that are available for adoption! For every pet that is adopted, PetSmart Charities will make a $35 donation to the shelter!
Come Visit Us!
Our hours of operation are Monday-Friday 10:00 AM - 6:00 PM, Saturday 10:00 AM - 2:00 PM and we are closed Sunday. You might also see us out and about periodically at off-site adoption events, or other city-wide events.

Directions
We are located at 1150 E. Pleasant Run Rd. in Cedar Hill.
From Duncanville, take Hwy.67 south to Pleasant Run Rd. Take a left on Pleasant Run. The shelter is on the right, about ˝ mile past Joe Wilson Rd.
From Cedar Hill, take Highway 67 north to Pleasant Run Rd. Take a right, shelter is on the right between Joe Wilson Rd. and Bessie Coleman Middle School.
From DeSoto, take Pleasant Run Rd. west. The shelter is on the left after you pass Duncanville Road.
Helpful Links
---
Tri-City Animal Shelter
1150 E. Pleasant Run Rd.
Cedar Hill, TX 75104
Phone: 972-291-5335

Email: tricities@cedarhilltx.com


---

[Home] [Information] [Shelters] [Search]