Cats' Angels, Inc.
Why Can't Beau Open his Eyes?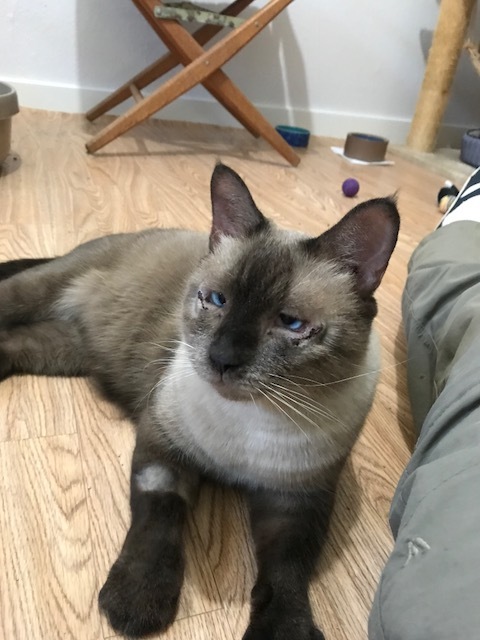 Beau is a beautiful 3-year old Siamese Seal Point boy we rescued when he was abandoned by his owner in a trailer park. He is gentle and loving, and quite adoptable, but Beau has a painful condition called "entropion", whereby his lower eyelashes brush against the cornea causing inflammation and infection. If you've ever had an eyelash stuck in your eye, you may begin to sense how maddening that can be 24 hours a day. Beau's condition can be fixed through surgery, at a cost of $900. Unfortunately, Beau didn't come to us with a credit card. Contributions in any amount are welcome, and we will send you a receipt for a tax deduction. Can you help Beau so he can once again open his beautiful blue eyes? To donate, scroll down the page and click on the donate button on the left. Beau says "thank you," and please share this information with your friends. Or, you may call the Parmer Lane Pet Hospital at 512-260-5443 and make a donation to the Cats' Angels account for Beau's surgery.
Please note: Cats Angels is currently unable to help if you have found a cat or need to surrender a cat. However, our adoption program continues as we have many cats and kittens available and waiting for permanent home. Please contact us if you would like to meet our available cats, or visit us at Petco Great Hills on Sundays between 12:00 and 4:00 pm
Who We Are
Cats' Angels, Inc. is a group of several Austin area foster homes. We do not have a facility to house the cats. We foster out of our homes, and care for and find homes for abandoned or neglected cats. Cats' Angels volunteers also trap/neuter/release feral or stray cats in order to reduce overpopulation and decrease euthanasia at municipal shelters. It is also the purpose of our organization to increase public awareness of the pet overpopulation crisis and encourage early spaying and neutering. Please, remember that if you are feeding one un-spayed cat today and don't take action, you may have to feed over twenty cats in a year.
If you have found an abandoned or sick cat
If you have found a cat that needs help, or you can no longer take care of your own cat, please contact other rescue groups or the Humane Society, or the Austin animal Shelter, as we are at full capacity and unable to help at this time.
From our President
Dear readers: My name is Danielle and I am the founder and president of Cats' Angels, Inc. In the last fifteen years, our volunteers have worked very hard to get hundreds of abandoned cats and kittens off the street and place them in permanent homes. We have continued to spay and neuter numerous stray cats, but there aren't enough homes for all the newborn kittens. We will continue to help stray cats but our ability is limited as we do not have a shelter. I rely on donations from the public to fund veterinary care for the many injured and sick cats and kittens that are brought to us, and on foster homes to keep cats and kittens until they get adopted. But we currently don't have enough foster homes to accept new cats and kittens. Our limited resources do not allow us to address the need that exists out there, and we are often forced to turn away cats in need of help. Please consider volunteering and/or making a small donation to Cats' Angels, so that we can continue our work. I wish all of you a wonderful time with your furry friends.
The Memoir of Homer the Blind Kitty
From Gwen Cooper, the author of the memoir Homer's Odyssey: A Fearless Feline Tale, or How I Learned About Love and Life with a Blind Wonder Cat. Homer's true story has been published in more than 15 languages and 22 countries around the world. Homer's story is about Homer, but also about all the other special-needs animals out there, none of whom are too "imperfect"--too blind, too deaf, too "wobbly" to be capable of loving or worthy of a chance to thrive in a loving home. With Homer's passing--and in light of the hundreds of people I've heard from since Homer died, who've told me that they themselves were inspired to adopt a blind or otherwise special-needs animal because of Homer's story--we've been able to extend the conversation about "special-needs" pets. These animals have a capacity for being grateful and shower their compassionate owner with amazing love. Please consider adopting a special-needs pet . http://www.huffingtonpost.com/gwen-cooper/homers-odyssey-blind-wonder-cat-dies_b_3831049.html?utm_hp_ref=cats. gwen@gwencooper.com www.facebook.com/homerblindcatfans
A Ball of Fur in Search of a Lap
Meet Toby, a six-year-old gentle ball of fur. You have never met such a sweet and loving cat. Being shy is his weakness--he doesn't jump on the lap of a stranger, but so affectionate when he gets comfortable with his humans. Toby likes attention, he will be sitting next to you when you are on the computer and will follow you around the house. And he will be on your lap when you watch televion. He waited to be adopted for 2 years, but good news! Toby now has a forever home, and his new parents love him to death. Please consider adopting a shy cat instead of a social and confident one, as there are many of them who are desesrving and have been waiting for a home for a long time.
A Tail Tale: Conroe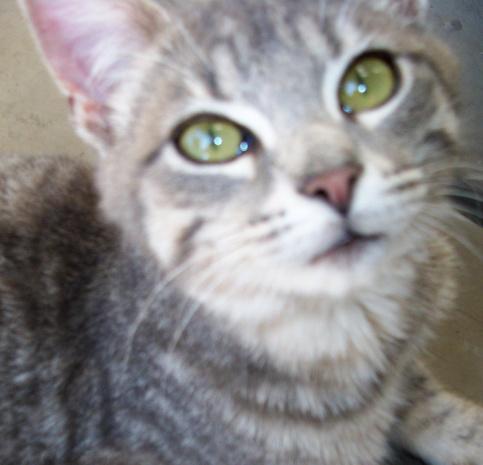 Conroe was a normal kitten but he lived on a street where no one cared much. One day a child grabbed him by the tail causing severe nerve damage at the base of the tail. Someone picked up the injured kitten and took him to the Animal Shelter. The damage was such that the tail had to be amputated, but after the surgery the shelter staff observed that he had lost control of his urination and bowel movements. They considered him unadoptable and decided to euthanize him. At the very last minute, however, a Cats' Angels volunteer asked for and was granted custody of the kitten. After weeks of medication and intensive care, Conroe recovered total control of his bladder but still could not control his bowel movements: he was constantly dripping poop. The vet said he was young enough that he could continue to improve, and we didn't give up hope. We figured that if we fed him a diet of raw meat that resembles what cats eat in the wild without the fiber and fillers that make up most commercial foods, it might be easier on his digestive system and make healing possible. We were right: within days of being fed a raw diet, Conroe improved dramatically. It was like a miracle. All the volunteers had fallen in love with this adorable and spirited kitten and we were overjoyed: Conroe was now adoptable and he would not have to die. He is now a happy kitten, playful and loving and free of pain. He has been adopted by a very special person who will continue to keep him on his special diet.
Woflie the partially blind kitten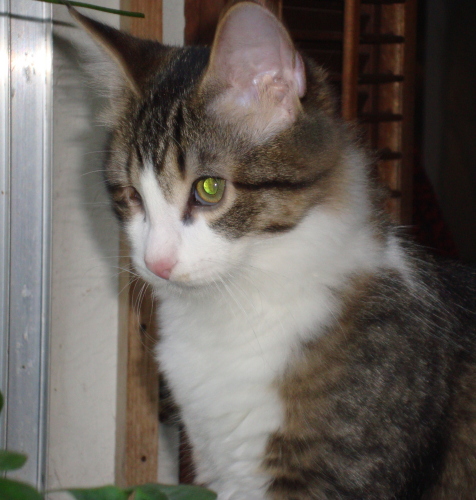 I received a message one day from a person who devotes herself to spay/neuter cats and find barn homes for kittens in Mason County, an area that is mostly farm land. Wolfie is a special needs kitten, she said, he is totally blind in one eye and his vision is poor in the other eye. His mother was killed by farm machinery, and he cannot be placed in a barn like his litter mates because he will be unable to survive. At 10 weeks old, he was half the size of his litter mates, but he was a very spirited little kitten. I accepted to take Wolfie and place him in Cat's Angels adoption program. I took him to the eye specialist. His right eye was undeveloped at birth, it would have to be removed. He had cataract in his left eye. Dr. Shiffrin explained that over time, the cataract might shrink, enough for Wolfie to be able to see around it, but the key factor was that he needed to see movements through this eye sufficiently so the nerve connection from the eye to the brain could be made, otherwise he would never see. The next couple of months would be a critical period for that connection to be made. If he could see some movement and there was enough stimulation of the nerve, then there was a possibility that his vision would improve as he grew. I could not tell if he could see much at all, but one day, I walked into his room and he was looking up: there was a bug fluttering around the light bulb. I got very excited. Two months passed, we went back to see Dr. Shiffrin, and the news was good. Wolfie's vision had improved, the cataract was only covering the center of his eye and he could see around it. According to the doctor, he would continue to improve. Wolfie is now 2 years old. He had surgery to remove his bad eye, and his vision has greatly improved in his left eye. So much so that he now chases bugs and catches them in the air. Wolfie is a very happy cat, he is full of life and cuddly and truly enjoys life. He is waiting for his forever home.
A Christmas Miracle 2010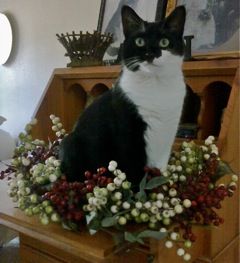 The Monday after Christmas, Karen S. was driving North on IH 35 to her office in Round Rock just before 8 a.m. when something caught her attention: huddled against the concrete wall that separates the South bound from the North bound lanes, there was a small black and white cat. There was no place for Karen to stop in the morning traffic, as the space between the lane and the concrete wall was no more than one foot, so as soon as Karen exited the interstate highway, she called 311. She was told rudely that no one was going to go get a cat on IH35. She then tried to reach Animal Control in Round Rock and was transferred numerous times, without any success. Meanwhile, Frank and Jean A., driving North at 65 mph on IH35, saw something they thought looked like a cat in the median against the concrete wall. Frank looked in the rear view mirror and saw two black ears. Let's turn around, he said to his wife Jean. They did, and as they drove by the cat a second time, she looked up and Frank saw her eyes. She is alive, he said to Jean. They decided to exit the highway and look for a police car that could stop the traffic and allow them to pick up the cat. They did not find a police car, but a fire truck was stationed nearby, and they found a receptive ear in the fire crew. Soon the firemen were on their way to rescue the hapless cat, which they delivered to Frank and Jean who proceeded to take her to the nearest emergency clinic. The diagnosis was a fracture of the pelvis. The cat was also found to have a microchip registered to Cats' Angels. That same morning I received a call from the Georgetown Animal Shelter where the cat was taken. The shelter was closed until Tuesday, but I was assured that the cat was under pain medication and seemed calm. On Tuesday morning, Cats' Angels member Mary Ellen picked up the cat as soon as the shelter opened and took to it to Dr. Anderson at the Anderson Mill Animal Clinic where she underwent X-rays, a full examination, and pain medication. The X-rays did not reveal any bone fracture, but the area at the base of the tail had severe trauma and the cat could not move her tail. She stayed at the clinic under observation for a day. Mary Ellen checked our computer files to find out which cat corresponded to the microchip number. She called me with the name of the cat: Miss Tippy. Miss Tippy was a cat that a friend of mine, Lin, who lives in Spicewood, brought to me in June 2010 with her two kittens. Lin asked me to find a home for the kittens and get the mom cat spayed before returning her to her family in Spicewood. Miss Tippy's family kept her as an outside cat and fed her, but would not spend any money at the vet for her. I made sure Miss Tippy was spayed and fully vaccinated, and I also had a microchip placed in her - the microchip that saved her life. The question was: how did Miss Tippy get from Spicewood to IH 35 in Round Rock, one and a half hour away? Her family told Lin that they had last seen her on Christmas day and had no idea how she could have gotten there. There were two possible explanations: Tippy may have jumped in a pick-up truck in her neighborhood, and the unknowing driver could have been driving his truck in that area when she decided to jump out of the truck. The other possible explanation is that there is a mean person in her neighborhood that wanted to harm this cat. It's hard to imagine that such heartless people exist, but they do. We will never know. Meanwhile, the stars were aligned for Miss Tippy after her heroic rescue, and I received a call from Karen, the first person to spot her on the highway. Karen had been very concerned about the cat, and upon learning that she was registered to a cat rescue organization, she called me offering to adopt her. I had decided that Miss Tippy could not return to her neighborhood to be an outside cat again – it was too dangerous. So I welcomed Karen's request and asked her to work with me in transitioning Tippy to become an inside only cat. Karen agreed, and she is currently fostering her. Miss Tippy needs follow-up care but she is well on her way to recovery, and she has a wonderful home. The moral of the story is that, although there are mean people intent on hurting animals, there are also cats angels everywhere who will go out of their way to rescue an injured animal. I can't thank Karen, Frank and Jean, and the Round Rock fire crew enough for their selfless actions to save Tippy's life. It is a Christmas miracle. Update on Miss Tippy: the damage on her spine at the base of the tail is such that she will not regain feeling in her tail and we are making arrangement for an amputation. Miss Tippy will look different without her tail -- and the white tip at the end of her tail that is responsible for her name -- but it will not affect her quality of life. She is in every other ways making a wonderful recovery.
The price of a "free" cat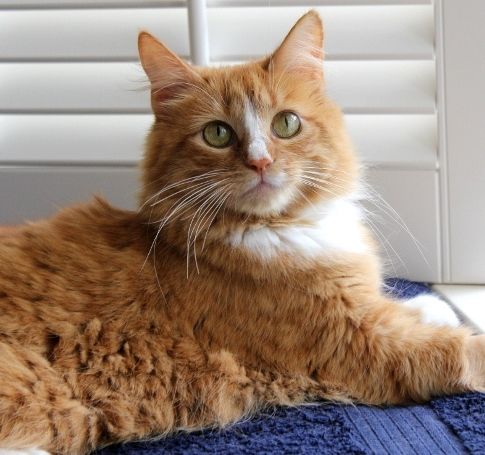 June Bug was a beautiful 2-year old long hair orange and white female Tabby. She was a resident at the Humane Society during the summer 2010 along with cages and cages of surrendered cats and kittens waiting for their luck to turn. Under the pressure of so many cats coming in daily, the Austin Humane Society and the Town Lake Animal Shelter widedy advertized a "free adoption" week-end and people were waiting in line to choose their new cat. On that day, June Bug went home with her new adopter. A few months later, June Bug became a rear leg amputee after she was found hanging upside down, her right leg caught in a privacy fence. We don't know how many days she had been hanging there, but we know that her owner did not bother looking for her when she went missing. A neighbor found her and rescued her, but her leg could not be saved. Cats' Angels was approached by the compassionate lady who found her, and we became involved in her rescue. At first, she recovered wonderfully from her surgery and coud run and play. She could not jump because her rear left knee cap tended to go out most of the time, she needed more surgery to correct that. We could tell that she still had some pain at times, but in spite of her trauma, June Bug turned out to be a kitty in love with life. She was quite social, enjoyed playing with her toys by herself and with people, and she was able to climb the elaborate stairs assembled for her to watch the birds and the squirrels in the yard from a window. She seemed happy to be alive. The time came when we thought June Bug needed a forever home where she would continue to get the attention, care and affection she needed. However, her rear left leg continued to worsen, and she was under increasing pain. A visit to the specialist did not give us much hope for a pain-free, quality life for our beautiful June Bug, and we had to make the difficult decision to set her free of her hurt little body. June Bug was a very brave kitty, she was remarkable in many ways, we love her and like to think that God adopted her. She will brighten the heavens for the angels as she brightened our lives when she was with us. June Bug's owner was informed of what had happened when she was found, but declined to be involved in any way. In fact, the day June Bug went missing, her owner decided to go back to the Humane Society, this time to adopt a "free" dog, which she was able to do. Cats' Angels is strongly opposed to giving away a cat or dog for free, we believe that for most people, a "free" cat or dog has no value and many owners of such animal will not understand the responsibility that comes with a pet adoption.
Happy Tails: Callie, a cat with a soul and lots of character!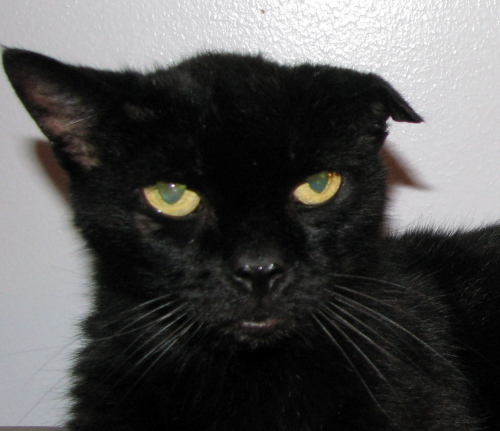 Plucked from the streets of San Marcos, starving and flea-bitten, Callie was rescued and taken home by a kind lady and quickly blossomed into a sweet, loving cat. Callie is a short hair black kitty with yellow-green eyes, one crumpled ear, and lots of character!. She is approx 1 to 2 years old. She is a special needs cat because she is completely deaf. In spite of her ragged looks and her handicap, Callie's rescue person recognized that she was a very special kitty with lots of endurance and inner beauty. Callie needed a quiet and safe, indoor home where she could get lots of love. She found it! Callie is now living a comfortable life in Dripping Springs with the very nice lady who adopted her. She is now one of our happy tails!
The Adoption Process
All of our adoptable cats are healthy and up-to-date on vaccinations, spayed or neutered (if old enough), micro-chipped, and litter box trained. Cats' Angels has an adoption application that we can e-mail upon request. Contact cats_angels @sbcglobal.net. We deliver the cat to you so that we can see the home environment and ensure the best match between the cat and the family. We are often able to make suggestions about how to acclimate the kitty to his new environment. All of our adoptions are on a trial basis for one month or until both the adopter and foster parent are satisfied with the placement. We refund the adoption fee for up to one month. We require the promise from the adopter to NEVER surrender the cat to a shelter. If you can no longer care for a cat you adopted from Cats' Angels, please contact us. We will do our best to help you find a new home for it.
Special Needs Cats
Consider adopting a special needs cat (Pictured: Mari). Some people want to help those animals that are the most in need of love and care. If you are one of them, consider our special needs kitties. Those include cats and kittens, often former feral kittens, that are shy with new people, older cats, and cats that have a terminal disease like feline leukemia or Feline Aid (FIV). Skittish cats require a little patience at first, but can be very affectionate, and can strongly bond with their owner, even more so than well-socialized cats. Feline Leukemia and FIV positive cats have tested positive for the virus, but it may take years for the signs of the disease to show, and meanwhile, they can live a perfectly normal and happy life. In the case of FIV, many cats never succumb to the disease and can live well into their teens, like any other cat that is kept 100% indoors.
Help! My cat has a behavioral problem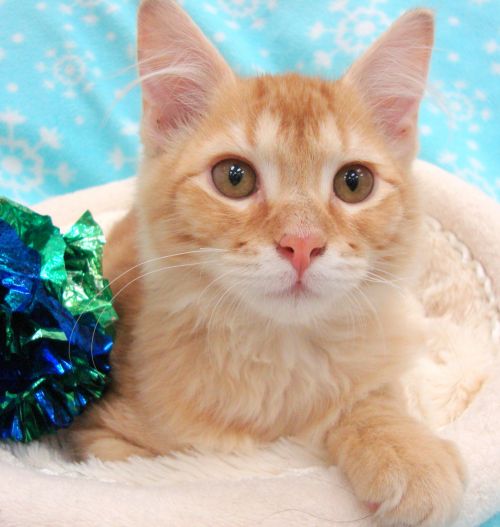 Hello. I am trying to find a new home for my young Siamese cat Otto that I adopted last year. He is acting out and terrorizing my other female Siamese. I took Otto to the Vet yesterday for his annual check up and shots. The Vet and I discussed the issues along with the solutions that I have tried. She recommended he be re-homed as soon as possible for the health and wellness of both cats. Any help would be appreciated. Melissa.
Response to Melissa
Most vets have little or no training in cat behavioral issues, and re-homing may seem an easy and expedient solution to many. It is not. I'll first discuss why Otto is acting as he is. Otto is not mean or aggressive, he's just a young male cat full of energy looking for a playmate, and his behavior is normal for his age and gender. He should have been placed in a home with another playful young male cat or a playful dog. A playful cat and a playful dog will quickly become friends after a careful introduction. It was a mistake to place Otto in a home with a female cat, especially one that is older and favors a comfortable nap on a pillow over a wrestling match with an intruder. Melissa can restore peace in her household by using Back Flower essences. You will find a description of those plant based essences and how they are used for cats on the internet. In this case, I would recommend Vervain for Otto, to address his over-enthusiasm, along with Impatiens if the cat is hyperactive and nervous. I would use Larch for the female, to increase her self-confidence. I would also recommend that Melissa adopt another young male cat to satisfy Otto's need to play and roughhouse, but only if she has a large enough home. Her female will need sufficient space to get away from the two rambunctious kitties. Re-homing in a home that's right for Otto would be ideal if Melissa could find such a home. Unfortunately, there are just too many homeless cats, and not enough homes for all of them. In addition, re-homing through a shelter or rescue group can be tricky: if a cat is used to a loving home, he will not accept to be kept in a cage waiting for an adopter. Finding a new home may take months. A hyperactive cat will develop further behavioral issues and become aggressive if confined in such a way. He may become unadoptable. If your cat has a behavioral problem, e-mail us with a description before you take him to a shelter where he may not survive. We'll share our experiences with you and try to guide you toward a solution other than re-homing.
How to Donate
We are a 503(c)(3) charitable organization and your donations to Cats' Angels are tax deductible. We accept PayPal (see the Donate button at the bottom left of this page). You can also mail donations to Cats' Angels, 8316 Wexford Drive, Austin, TX 78759. For any questions, please email cats_angels@sbcglobal.net. Most wanted on our wish list: • Cat food (Purina cat chow, Fancy Feast or Friskies chicken or turkey, Wellness or Blue Buffalo, canned and dry) • Clumping unscented cat litter •
Fostering & Volunteering
Foster homes are always urgently needed, especially in the spring and summer months when kittens are born. Having enough foster homes literally makes the difference between life and death for many kittens. If you foster one of our cats, Cats' Angels pays all vet expenses. You provide the food, and the love! (Any supplies and food you pay for is tax-deductible and we will provide you with a receipt for tax purposes.) When you foster a cat or kitten, you commit to bringing him/her to our weekend adoption events and continue to foster until permanent homes are found, or you return them to us when you can no longer foster them. Volunteers are also needed to help at our adoption events on Saturday. If you are interested in fostering a cat or kittens or volunteering with Cats Angels, please contact us at cats_angels@sbcglobal.net.
Our Regular Adoption Events
Through the generosity of PetCo on Bee Cave, Cats Angels is able to hold weekend adoption events. Our adoptions are from 11:30 a.m. to 5:00 p.m. on Saturday. We currently need volunteers to help at our adoption events. Click to see our events!
---
Cats' Angels, Inc.
Email: cats_angels@sbcglobal.net
Click here for a list of pets at this shelter

---

[Home] [Information] [Shelters] [Search]